Last Updated on December 18, 2022 | Written by CPA Alec Pow
First Published on December 17, 2022 | Content Reviewed by

CFA Alexander Popivker
1-800-GOT-JUNK is a full-service junk removal service offered by the RBDS Rubbish Boys Disposal Service Inc. company. They have more than 155 franchisees that operate all over the United States of America, Australia, and Canada.
In order to use their services, all you have to do is fill out an online form on their official website or call their toll-free phone number and you will receive a no-obligation, in-person quote in just a few hours.
How Much Does 1-800-GOT-JUNK Cost?
The 1-800-GOT-JUNK company states on its official website that it has a "simple and straightforward" pricing system. You can schedule an in-person, no-obligation price quote by entering their website, clicking on the "Book Online" button, and following the required steps. Also, you can give them a call at the phone number 1-800-468-5865. The online form does not offer you a price quote, but simply sets up a meeting where a 1-800-GOT-JUNK employee comes to your house in person and offers you a no-obligation price quote.
As the official 1-800-GOT-JUNK website does not offer exact pricing for their services, we looked online for some price estimates from previous clients who used them. As with the majority of haul-away services, the price is greatly affected by the amount of junk you have to haul away, your geographical location, and the type of junk you have. For instance, a few pieces of furniture would cost less than a large refrigerator.
Taking into consideration all of these factors, we discovered that the firm tends to charge a minimum fee of almost $145, regardless of how much junk you have, with prices as high as more than $930 to load up the whole truck. The price offer you receive on the work will be the all-inclusive cost, without any hidden costs, to haul away any type of junk you have at the work site. In the table below you will find some quotes we were able to find online for 1-800-GOT-JUNK.
| | |
| --- | --- |
| How much of the truck are you taking up? | Average quote |
| 7/8th of truck space | $625 |
| 3/4th of truck space | $550 |
| 5/8th of truck space | $475 |
| 1/2 of truck space | $320 |
| 3/8th of truck space | $385 |
| 1/4th of truck space | $330 |
| 1/8th of truck space | $210 |
| 100% | $700+ |
Note: According to the 1-800-GOT-JUNK official website, their trucks are 5 feet high, 8 feet wide, and 10 feet long. To get an idea, one truck can fit six full-sized three-seater sofas or eight standard-sized refrigerators.
You might also like our articles on the cost of Bagster pickup services, monthly household garbage services, or roll-off dumpster rental.
According to a member of the Yelp forum, the cost to haul away storage cargo for a car and a mattress was $130 in Long Beach, California. Another reviewer from the same area said that he was quoted $40 for a refrigerator, but ended up paying $130 when the 1-800-GOT-JUNK employees showed up.
From another online source, we found that you would have to pay around $370 to haul away the debris from a recent renovation. The entire junk filled up around 3/8ths of the 1-800-GOT-JUNK truck.
What are the additional costs?
In case you need anything shredded, you will be charged more than $18 per banker box size.
1-800-GOT-JUNK highly recommends placing all of the junk that you need to be removed at the curb and in case you are not able to do so, you will be charged extra depending on the labor involved in the work.
Important things to consider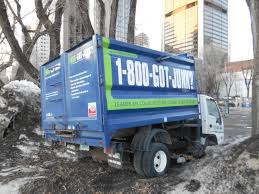 Most of the 1-800-GOT-JUNK jobs are done within 24 hours of arrival, which makes them a non-stop solution for your junk removal.
1-800-GOT-JUNK is a franchise, which means you will have to deal with local operators.
Every team member, owner, and truck is fully insured and licensed according to local laws and rules.
According to the official website of the company, 1-800-GOT-JUNK trucks cannot take away toxic materials such as junk vehicles, paints, oil storage tanks, chemicals, oil drums, oils, and asbestos.
On the other hand, 1-800-GOT-JUNK can help you with renovation and restoration removal, storage unit cleanouts, real estate junk removal and property cleanup, removal of construction materials, rental unit cleanout,s and office cleanouts.
How can I save money?
From time to time, you can find online coupons and/or promo codes for 1-800-GOT-JUNK services. For instance, you can look for such a promotion on your local Yelp page as at the time we wrote this article we found a $10 off coupon in case you booked one of their trucks online.
https://www.thepricer.org/wp-content/uploads/2022/12/1-800-got-junk-cost.jpg
380
610
Alec Pow
https://www.thepricer.org/wp-content/uploads/2023/04/thepricerlogobig.png
Alec Pow
2022-12-17 06:43:10
2022-12-18 22:28:10
1-800-GOT-JUNK Cost