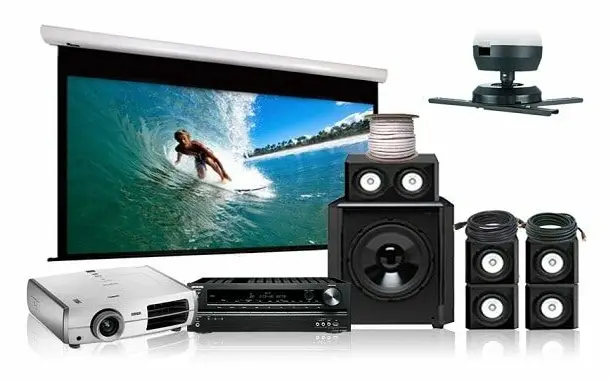 A 3D home theater system helps you see movies in the comfort of your home at a higher quality in what concerns the image and sound.
Watching a movie at the cinema is still an experience quite hard to recreate at home, seeing the big screen and the efficient sound system that creates a very pleasant and relaxing atmosphere.
However, in recent years, audio-video system producers began to offer 3D home theater/home cinema devices on the market, that as the name suggests, seeks to improve the experience of watching a movie.
Currently, there are many types of 3D home theater systems, and in this article, we will explain to you their main features and how much do they cost, in order to help you make the right decision if you intend to buy such a gadget.
The average price for a 3D movie disc goes from $14 to $50.       
The average price for a pair of 3D glasses goes from $100 to $200.     
The average price of a 3D TV goes from $ 1600 to $ 5000 and more.
Typical costs:
The starting price for a full 3D Home Theater is $2,000 and it can easily reach up to $4,000 and more depending on the audiovisual components. Usually, a fully equipped 3D Home Theater contains a 3D TV, a 3D Blue-ray player, and 3D Glasses.
The 3D TV can be either a plasma flat panel technology or an LCD – LED, whose panels are slightly more expressive than the plasma sets. The price for a plasma 3D tv goes from $1,600 for a 50″ panel to $5,000 and more for a 65″ screen size. The price for an LED-LCD 3-D TV goes from $2,000 for a 46″ screen size to $2,600 for a 55″ screen size.
In general, 3D television sets include one pair or four pairs of 3D glasses that enable you to view 3D content, but if they aren`t included in the price, be careful about picking the 3D glasses. One pair won't work for all brands of 3D TVs. A great pair of glasses can cost anything from $100 to $200.
If you want to play 3D Blue-ray movie discs you certainly need to buy a 3D Blue-ray player which may cost somewhere between $200 and $300, and for a 3D Blue-ray disc you will have to pay from $14 to $50.
The average price of a 3D home audio receiver goes from $300 to $1,000 and more, depending on your preferences.
There is a sort of all-inclusive 3D system setup, "Home Theater in a Box", which includes a 3D Blue-ray player, a 3-D audio receiver and some basic speakers and can cost $350 – $1,000, but it does not include 3D glasses or a 3D TV.
What should be included:
A 3D TV includes: manuals, remote control, power cord, tabletop stand, but the 3D glasses are not always included.
If the glasses are battery operated they include batteries and if they are rechargeable they include a USB cable.
The 3D Blue-ray player also includes audio and visual cables and remote control.
Should the average working Joe get a 3D home Theater?
Although you should always create maximum comfort inside your home because let's face it, your house is the place where you spend a lot of your free time, that doesn`t mean that you should neglect the financial part. If you can`t afford one, try to save some money first. If it can make room just barely inside your budget, try not to overspend, and go for cheaper gadgets for your 3D Home Theater.
https://www.thepricer.org/wp-content/uploads/2015/01/Home-Theater-Systems.jpg
380
615
Alec Pow
https://www.thepricer.org/wp-content/uploads/2023/04/thepricerlogobig.png
Alec Pow
2015-01-04 01:21:49
2020-08-15 14:58:48
3D Home Theater Cost