Last Updated on September 19, 2023 | Written by CPA Alec Pow
First Published on May 31, 2022 | Content Reviewed by

CFA Alexander Popivker
The American Automobile Association, Inc., or simply AAA is a federation of affiliated automobile clubs. As a member of AAA, you will have many benefits and one of these is the AAA battery service. In case your old car battery will fail, they will send you a professional to replace it.
How Much Does AAA Battery Service Cost?
As long as you are a member of AAA, you will not have to pay anything if your car battery is dead and has to be jumped. Though, if you need a totally new battery for your car, AAA will offer to sell you a new battery at a very competitive price. In general, the price of a car battery purchased through the AAA service will be influenced by some factors such as the make and model of your vehicle and the year. According to the official AAA website, the average cost of their car battery service would be anywhere between $110 and $170. In case you are not a member of AAA, you will have to pay an additional $30.
You might also like our articles about the cost of car battery replacement, car battery terminal replacement, or fuse box replacement.
However, if you would like to get an exact quote for your car battery, visit the official website page of AAA.
For example, according to the author of the Elise website, the cost of an AAA battery service is $120. Though, she thought that this price was too high and asked Sears for a second opinion. They told her that the battery was in good condition.
Mobile AAA battery replacement service details
If your car battery is malfunctioning and an AAA professional is sent to you, the first thing he will do is check if the battery needs just a simple boost or if it has to be replaced. In the situation where the battery needs just a boost, they will jumpstart your car. On the other hand, if the battery is dead, they will deliver and install and brand-new AAA battery. Also, you don't have to worry about your old battery because it will be disposed of and recycled at no cost to you.
There is a six-year warranty with a three-year replacement for every battery which is replaced with AAA.
What are the extra costs?
Extra service charges may be applied in case the car needs more than a battery. For instance, some car owners may think that the problem is the battery, when there may be a problem with something else, such as a starter. In situations like this, a tow truck may be necessary.
In case you will need a new battery for your car, but you choose not to have it installed by AAA, you will have to tow your car to a local auto repair service and solve the problem. This means that you will have to pay for the tow truck service. Taking into consideration this aspect, the cost of a brand-new AAA battery will be worth the cost, even though it is a little bit higher than other brands as it will save you the hassle and time.
Important things to consider
The replacement of car batteries through AAA is available only in certain metropolitan areas in the United States.
All you have to do when you need a new battery is to call up your toll-free number and ask for this service. In case you have the premium AAA service, you only have to click on a button on your iPad or phone and send them your address. They will receive your address immediately.
How can I save money?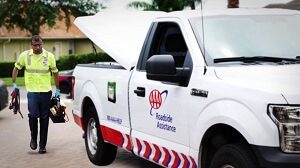 If you are not a member of the AAA club, but you would like to use their roadside services, you will have to pay $30 more than a member. So, take into consideration joining this club.
In some situations, a new battery may not be necessary. Firstly, an AAA professional will test your old car battery and see if it needs only a jump.
Take into consideration going to a local auto parts store to purchase a new battery, if there is someone who can come am pick you up. It is really easy to replace your old car battery by yourself and this may even save you some dollars. Keep in mind that you are paying a premium to use the roadside assistance services.
Some batteries may include a small $15 recycling credit, depending on the type of the battery.
As the prices charged by the AAA battery service may be high, take into consideration to have them jump your car and go to a local car service and ask for a second opinion regarding the state of the battery. According to some reviews on the internet, the opinions offered by AAA and other auto shops were different.
https://www.thepricer.org/wp-content/uploads/2022/05/aaa-battery-service-cost.jpg
380
610
Alec Pow
https://www.thepricer.org/wp-content/uploads/2023/04/thepricerlogobig.png
Alec Pow
2022-05-31 06:19:49
2023-09-19 19:08:23
AAA Battery Service Cost