AC Evaporator Coil Replacement Cost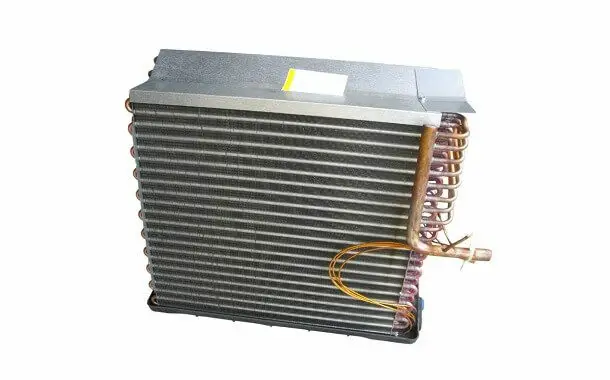 Air conditioning units are used to reduce the temperature of a room. They also help maintain a comfortable temperature by removing moisture and pollutants from the air. An air conditioner is composed of a compressor, condenser, evaporator coil, and an outdoor unit.
The filters, coils, and plates of the air conditioner need periodic maintenance so that the entire device works as it should, and you can enjoy it for longer. When you neglect this aspect, you set up the device for a gradual but sure decline, and in a few years, you may even need a new one.
How Much Does AC Evaporator Coil Replacement Cost?
When your air conditioner system is out of warranty, you will have to pay around $2,200 in order to replace the evaporator coil in your house. In case you want to solve this problem yourself, you will need to spend anywhere between $620 and $860 for the replacement coil and necessary refrigerant to recharge the unit.
On the other hand, if you want to hire a professional HVAC contractor to repair and install the AC evaporator coil, you will have to pay around $620 if you have a warranty or almost $2,000 if you don't have a warranty.
In general, professional installation will include the costs of the uncased or cased evaporator coil, removal and disposal of the old oil, and cleaning and reconnecting the AC drain line.
Average costs
Typical cost average (installed): $1,400
Average contractor-installed cost: $920 to $2,500
Average DIY cost: $620 to $870
Does the warranty cover the AC evaporator coil replacement?
The AC evaporator coil replacement costs may be covered by a manufacturer's warranty only for the evaporator coil itself and you will have to support the labor costs. Though, this will help you save a few hundred dollars.

Factor affecting the AC evaporator coil replacement cost
A key component in the operation of your central AC is the evaporator coil, and this has to match the outdoor condensing unit in both refrigerant type and size (BTU capacity). Here are the main factors that will affect the AC evaporator coil replacement costs.
Evaporator coil size (cooling BTU/tons)
Central air conditioner systems are measured in BTUs (British Thermal Units) and one ton of cooling is equal to 12,000 BTU. The most common sizes in home central units are the following:
5 tons = 18,000 BTU;
2 tons = 24,000 BTU;
5 tons = 30,000 BTU;
3 tons = 36,000 BTU;
5 tons = 42,000 BTU;
4 tons = 48,000 BTU;
5 tons = 60,000 BTU.
The AC evaporator coil has to match your outdoor AC condensing unit. Expect to pay more for the larger coils.
Brand name
You might also like our articles on the cost of Trane air conditioners, air coil conditioner cleaning, or HVAC duct replacement.
Be prepared to spend much more on high-rated brand-name air conditioner systems and coils.
Type of HVAC system and coil
Compared to a packed HVAC system, which has the coil built into the single unit outside your house, a split system comes at a lower replacement cost. Also, if you have a mini-split model, most probably you will have to replace the whole indoor unit, not only the coil itself. This is because the coil and air handler are packaged inside a cassette-type unit installed on an outside wall.
Configuration and physical size
When the existing coil is replaced, the space left behind after coil removal may not match the new coil. The labor costs will increase if sheet metal work is necessary.
Refrigerant type
Expect to spend some money on the refrigerant as it has passed the end of its life. Or if there is no substitute or the exact model is not available, you will have to replace the whole system.
Efficiency rating (SEER – Seasonal Energy Efficiency Ratio)
The AC coil rating has to match a proper TXV like your outdoor unit. The efficiency ratings start from 10 SEER and go up to 27 SEER. The costs will increase proportionally to the SEER rating. But the air conditioners with a high SEER rating are more efficient.
Cost of installation supplies and equipment
The cost of evaporator coil by size
| | | |
| --- | --- | --- |
| Evaportator Coil Size | Average Installed Cost | Coil Cost |
| 5 Ton Coil | $850 – $2,500 | $480 – $700 |
| 4 Ton Coil | $850 – $2,100 | $420 – $650 |
| 3.5 Ton Evaporator Coil | $750 – $2,000 | $400 – $600 |
| 3 Ton Evaporator Coil | $710 – $2,000 | $350- $550 |
| 2.5 Ton Evaporator Coil | $620 – $1,900 | $320 – $500 |
| 2 Ton Evaporator Coil | $610 – $1,800 | $310 – $480 |
| 1.5 Ton Evaporator Coil | $500 – $1,700 | $250 – $450 |
The cost of evaporator coil by brand
| | | |
| --- | --- | --- |
| Unit Brand | Average Installed Cost | Evaporator Coil Cost |
| Generic Coil | $500 – $1,750 | $250 – $510 |
| Whirlpool / Gibson | $620 – $1,800 | $300 – $600 |
| York Coleman | $600 – $1,700 | $300 – $550 |
| Rheem / Ruud | $520 – $1,750 | $300 – $620 |
| Lennox | $635 – $1,710 | $285- $535 |
| Amana / Goodman | $545 – $1,420 | $260 – $510 |
| Trane / American Standard | $645 – $1,720 | $340 – $560 |
| Carrier / Bryant / Heil | $625 – $1,600 | $310 – $530 |
Installation, Inspection, and Permits Costs
As this is considered a repair, a permit is not necessary in every town in order to replace the evaporator coil. However, if you will have to replace the furnace or the outdoor condensing unit at the same time, most probably you will need an inspection and permit. Ask your contractor about it or verify with your local code enforcement office.
Inspection and permits costs
Plumbing, mechanical, and/or other inspections: $55 to $220
Installation supplies costs
When replacing an evaporator coil, you have to take into consideration these costs as well.
Metal seam tape, mastic, Misc fasteners and screws, etc.: $12 to $55
Refrigerant recharge (such as R410, R22, or Freon): $165 to $360
Wrap and duct installation: $55 to $110
Furnace heat exchanger (if it is broken): $410 to $1,655
Plenum supplies or sheet metal transition: $55 to $155
Copper refrigerant line set replacement: $185 to $1,210
Condensate drain line pipe and fittings: $17 to $60
Miscellaneous copper tubing and fittings: $40 to $55
Hourly installation cost
The majority of the contractors will offer you a quote for the evaporator coil replacement based on a flat rate versus the cost/hour. In case you will be charged hourly, be prepared to pay:
anywhere between $60 and $75 per hour for the apprentice and helpers:
anywhere between $82 and $115 per hour for the lead mechanical installer.
Installation time
In general, the AC evaporator coil can be replaced by only one lead installer but if more effort is required and the job is more complicated two workers will probably be needed.
Simple coil replacement, when the unit is easy to access and the old coil and the new coil is the same sizes will take two to three hours.
Most common jobs for an indoor system with basic refitting of plenum and sheet metal work would take three to four hours.
Difficult installation, when the unit is hard to access and a lot of drain line, furnace, and sheet metal work to fit the new coil are needed, would take five to ten hours,
Central AC evaporator coils overview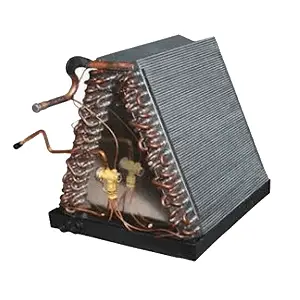 The role of the evaporator is to take over the cold freon in the form of a gas. When the hot air comes into contact with the cold mass of the evaporator, the air is cooled and sent into the room with the help of the ventilation holes.
The most common signs and symptoms of a failing or soon-to-be failing evaporator are poor cold airflow and a strange smell when the AC unit is being used.
Evaporating and condensing coils collect dust throughout a cycle of use. A clean filter will prevent this, but the coils will still collect dirt particles. It is inevitable, especially if you live in a very polluted and dusty city. This dirt will prevent air circulation and isolate the coil, reducing its ability to absorb hot air. To avoid this problem, clean the air conditioning coils once a year, after every summer.
Hire a pro or DIY?
It is recommended to leave this work to a professional AC and heating contractor. Special certifications, skills, and tools are required to replace the evaporator coil. These would include:
sheet metal work and other mechanical skills;
specialty skills and tools.
You may think it is a good idea to replace the evaporator coil yourself and save some money, but most probably you will make mistakes and, in the end, spend much more to repair all the damage.
FAQs
Should I replace the evaporator coil of an older AC system?
You should look for an entire AC system replacement price offer if your system is older than 7 to 8 years and is not covered by warranty. The evaporator coil replacement cost represents 20% to 30% of the price of a new unit. But you will solve the problem only for a limited period of time.
Does changing filter help extend the evaporator coil life?
Yes, the life of the evaporator coil can be extended if you replace the HVAC return filters periodically.
What does a coil warranty cover?
The warrant offered by the manufacturer only covers the cost of the parts. You will have to pay for the installation and refrigerant separately if this is necessary.
Why does an evaporator coil fail?
The most common cause of AC evaporator coil damage is lack of right maintenance and cleaning as this leads to the appearance of corrosion and leaking of refrigerant.
https://www.thepricer.org/wp-content/uploads/2022/10/AC-evaporator-coils-replacement.jpeg
380
610
Alec Pow
https://www.thepricer.org/wp-content/uploads/2023/04/thepricerlogobig.png
Alec Pow
2022-11-01 08:34:36
2022-10-31 09:30:00
AC Evaporator Coil Replacement Cost