Accordion-Style Folding Patio Door Cost
The use of folding doors for the delimitation of spaces helps you get closer to achieving a perfect interior design, not only comfortable but also useful. Due to a particular design and special presence, harmonic doors are recommended to be used both to separate spaces in unconventional environments and to achieve various shapes and structures. Of course, such door models will not replace ordinary doors, especially when it is necessary to ensure an optimal level of noise or thermal insulation. Folding doors are preferred when you need to save space or solve some specific design issues.
The introduction of accordion-style folding doors offers an opening to the home, facilitating access to natural light throughout the year, clean air, and last but not least the views that surround it.
How Much Does an Accordion-Style Folding Patio Door Cost?
The price of an accordion-style door is pretty high. Depending on the supplier, expect to pay anywhere between $720 and $1,100 per square foot on average, including the installation cost. To get an idea, you will have to pay anywhere between $8,500 and $12,500 for a 12-foot opening.
Factors that affect the cost
The cost of an accordion-style folding door does not depend only on the size but is influenced by some other factors such as:
Local labor rates – expect to pay some thousands of dollars more if you live in a geographical area where the costs are high and the installation is not included. Though, the installation can be expensive even in the lower-cost regions.
Climate – you will have to pay an additional cost for the insulation in order to make the doors keep the temperature if you live in a cooler climate. On the other hand, if you live in a very sunny climate, most probably you will want to opt for tinted or low-emissivity (or low-E) glass.
Materials – The material the frames are made from can be aluminum, wood, steel, or fiberglass. As for the glass, this can be low-emissivity (prevents furniture and floors from fading without blocking light), standard, decorative, tinted, mirrored, insulated, and many more. Like with certain types of hardware, screens come at an additional cost.
Advantages of installing an accordion-style patio door
Space-saving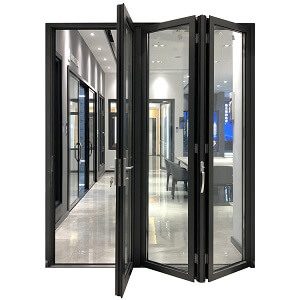 Folding doors (also called harmonic doors) consist of several panels (doors) that open like an accordion and gather to one side. When left open, the doors do not take up any space in the room and this is a major advantage.
You might also like our articles about the cost to install storm doors, EzeBreeze windows, or Bilco doors.
The connection between the inside and the outside
Installing accordion-style patio doors is a very simple and very popular way to get the most out of your garden regardless of the season. The extremely smooth transition from the inside to the outside should be the factor that encourages children to play in the yard and also to gather family and friends outdoors, to enjoy the summer garden.
In the cold months, you can enjoy the outdoor space from the comfort of being inside, near the heat.
Efficient thermal performance
The extremely high quality of the double glass panels of the folding doors offers an extremely good thermal efficiency and contributes to the reduction of heat losses so that your house will always stay warm and comfortable, especially if we are talking about the cold season.
Wide range of models and sizes
Folding doors are a good choice and a simple solution to any interior design problem. To their advantages we must add that they are easy to install, they are cost-effective, they are easy to maintain and are available in various shapes, models and sizes.
Natural light
Folding doors can be an amazing design feature that will fill your home with natural light, giving it energy, freshness, and an incredible view of the outside.
Easy access
The design of the folding doors makes the exterior and interior space look the same, eliminating the boundaries between the house and the yard. This is a particularly useful feature when you have small children or a wheelchair user at home.
Material choice
Your home is a personal statement, so you should always choose the doors that best suit your style and personality. Folding doors are available in a wide range of finishes, colors, and designs, so that they fit perfectly with the rest of the house or stand out, creating a wow factor.
They can be made of aluminum, solid wood, or lumber. If you want a more rustic, more natural, or more traditional look, then choose natural oak folding doors, an absolutely excellent choice.
Solid wood and aluminum doors fit perfectly into contemporary homes, offering a modern look, but also a lower need for maintenance and greater durability.
Key questions about accordion-style patio folding doors
How safe are the accordion-style patio folding doors?
Folding doors are very secure. Their construction and multi-lock system with anti-drill cylinders offer a very high level of security compared to standard glazed doors. Also, high-quality double-glazed panels are incredibly durable and hard to break.
Is it easy and fast to install an accordion-style patio folding door?
Folding doors are not difficult to install, but they require attention and care when installing. When you opt for professional services, folding doors can be installed in one day.
Can accordion-style patio folding doors be covered with curtains?
Folding doors can be covered with curtains or special blinds that are more modern. Blinds are available in a variety of styles, colors, and fittings to help you easily transform the interior of your home. They are ideal for adjusting the amount of light entering the room while providing the privacy you need.
Is it worth the money?
Although quality accordion-style patio folding doors can be expensive, it is an investment that is definitely worth it. Installing folding doors will not only improve the looks of your home but will also give you a whole host of benefits, including more space, better weather protection, greater security, minimal care, and durability.
https://www.thepricer.org/wp-content/uploads/2022/03/Accordion-Style-Folding-Patio-Door-cost.jpg
380
610
Alec Pow
https://www.thepricer.org/wp-content/uploads/2023/04/thepricerlogobig.png
Alec Pow
2022-03-04 06:54:08
2022-03-01 06:57:57
Accordion-Style Folding Patio Door Cost