Last Updated on December 5, 2021 | Written by CPA Alec Pow
First Published on December 5, 2021 | Content Reviewed by

CFA Alexander Popivker
Jim Cramer is a familiar face to anyone who watches CNBC. His Mad Money Show provides an entertaining take on the stock market, with Jim giving his opinions and predictions on stocks trading live each day as well as interviews from star CEOs like Elon Musk or Starbucks' Howard Schultz.
Jim Cramer was a professional trader for many years before he became the host of Mad Money on Fox Business Network. He has helped countless people make millions by playing stocks.
The stock market is a tough place to make money. Regardless of your skill level, Cramer's Action Alert Plus service from TheStreet.com can help you save and take your investments all the way up, as well.
How Much Does Action Alerts Plus Cost?
The Action Alert Plus subscription cost is greatly influenced by the sum of money you are able to pay in advance. According to the TheStreet.com website, the monthly costs are $29.99, but if you choose to pay for an entire year, it will cost you $299.99, reducing the monthly cost by 17%. Also, you can pay $499.99 for two years, this reducing the per month cost to $20.83.
Action Alert Plus details
Action Alerts Plus is a weekly stock newsletter offered through TheStreet.com. As a member, you get trading tips from the renowned investor Jim Cramer. The service will not only send out email alerts when he recommends buying or selling stocks but also, in some situations, even before his television show where he discusses them with other analysts and traders in real-time.
You might also like our articles about the cost of a subscription for FloMarching, Aaptiv, or Fitstar.
Action Alert Plus has two investment options for clients. They can go for the PLUS Gold plan or PLUS Silver plan, which provide 24/7 access to Jim's Charitable Trust Portfolio and weekly market roundups alongside education materials on different topics such as advanced fundamental and technical analysis for every stock. Moreover, members have access to an events calendar and receive market insights and real-time investment alerts.
Members who choose the PLUS Gold plan have direct access to Jim and his team on a members-only forum, plus unlimited access to Jim's core holdings and e-mail. Moreover, with this membership, you will have full access to the Action Alerts Plus Investment Indices by Growth, Blend, Income Stocks, and Value.
Usually, with one of these plans, you may be able to receive Jim's Cramer best-selling, Get Rich Carefully and bonus reports. All of these free of charge.
Important things to consider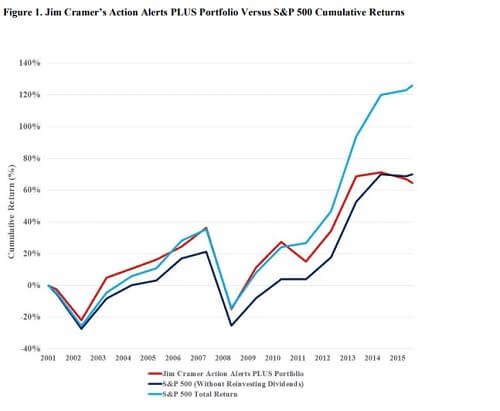 Make sure you get informed from as many online reviews as possible regarding this service as there are different opinions regarding the returns and contentment. However, if you are not satisfied with Action Alert Plus, the company says that it will try to help you, and if that doesn't work, you will get a refund and they will even let you keep all the alerts and free gifts.
All you have to do in order to receive a refund on all the money you paid for the annual membership is to call the company with 30 days of activation. However, even if the 30 days have passed, you can still get a refund for the remaining period.
This platform is mostly recommended to those who have the intention to trade on medium and long-term stocks. Also, it may help those who have an idea about how the stock market works but need some more guidance.
Some of the main advantages of this platform include the humanitarian aspect as all the profit is going towards a charity cause, the transparency because a summary is presented each day on what was traded that particular day and that it involves liquid stocks that are well-known and easy to trade.
How can I save money?
At the time this article was written, you can try Action Alert Plus, free of charge, with no obligations or commitment inside a 14-day free trial.
It would be a good idea to purchase the two-year plan if you know that you are going to join this service for more than one month. This will help you get the best per month price possible.
https://www.thepricer.org/wp-content/uploads/2021/12/action-alerts-plus-cost.jpg
380
610
Alec Pow
https://www.thepricer.org/wp-content/uploads/2023/04/thepricerlogobig.png
Alec Pow
2021-12-05 11:33:59
2021-12-05 11:33:59
Action Alerts Plus Cost