Alaskan King Bed and Mattress Cost
Last Updated on March 6, 2023 | Written by CPA Alec Pow
First Published on August 12, 2020 | Content Reviewed by

CFA Alexander Popivker
When you think of bed sizes, there's a likelihood you think about one of the most usual ones – twin, full, queen, or King.
While these do tend to be the most preferred options, did you think about the other oversized bed size known as the Alaskan King size bed?
Among the biggest dimensions available for sale, the Alaska King is 9 feet wide by 9 feet long. To picture this, it's more than a queen and twin pressed together.
How much does an Alaskan King bed mattress cost?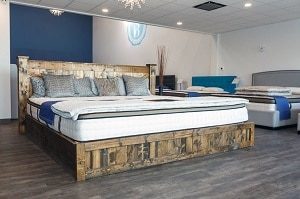 The price of an Alaskan King mattress, just like with any kind of bed, will substantially depend on the brand and also where you buy it from. With extremely limited choices online, it was really hard to find costs as just a few mattress/furniture sellers offered this dimension, either due to the very limited demand and/or minimal availability.
We were able to chat with one mattress retailer that stated that you can place a custom order for this kind of bed, however, the expenses, depending on the quality as well as the brand name you did pick, as said before, might cost just $750 for an economically sized bed mattress to as high as $5,000+ for a TempurPedic-like bed. This is typically the case just like with any kind of bed mattress acquisition, and these costs would certainly not include the costs of the oversized Alaskan king bed frame.
To conclude, there's a 99% chance you will have to personalize this larger bed mattress dimension as you will probably not be able to buy one online or using a local store.
On Reddit.com, members discussed the costs of an Alaskan bed and most never came across one before, yet as we also found out, it would certainly be a custom job because of the larger-than-average dimension.
The top response specified that firms such as McCrosky Mattress in California can do this, but also smaller-sized manufacturers, but if you were to need a brand like Serta or Sealy, then there's a great chance they would not be able to accommodate your demand. At the end of the discussion, they reached the conclusion that the prices can be all over the place, ranging from as low as $500 to $10,000 or even more.
Also read about the cost of a quality mattress, bath fitter, and a new roof.
The Portland Cushion Makers, for instance, can produce a custom-made sized bed mattress matching that of an Alaskan King bed size. According to their official prices page, the cost of a custom-made mattress is detailed, with the expenses based on the width of the mattress and if you were to go one size higher, then you would certainly add an additional $150. Aside from the bed mattress, you would certainly have to consider the box springs also, which might cost $500 or even more.
The additional expenses to have in mind
Because of the larger-than-average size, you still need to factor in the bed frame, and box spring if it isn't included in the first acquisition as well as the bedsheets/comforter as the majority of the time, these may require to be custom purchased also. Each of these costs, much like the bed mattress, will significantly depend upon the quality, brand, and also where you get them from. It's safe to double or even triple your mattress price to get a rough idea of what you're paying for a full bed set.
Alaskan King size mattress graph: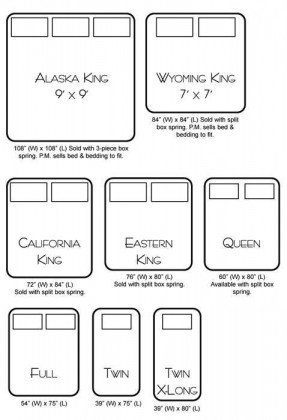 Alaskan King mattress size vs California King size
The main difference between an Alaskan King and a California-sized bed mattress will certainly be the dimensions. As already detailed in the graph above, a California-size King will measure 72 inches by 84 inches, whereas an Alaskan King will have a size of 108 inches by 108 inches.
One more difference to be remembered will be the supplier. As a California King is relatively common, you can easily find it online and in local mattress stores, whereas an Alaskan King will certainly need to be custom ordered almost 99 percent of the time unless you buy it on a second-hand market.
Because an Alaskan King has to be custom purchased, the rate, typically, can be up to 50% more when compared to the California King bed, even if it were made from the same materials.
Extra-large Bed Mattress Dimensions
In some cases, details are a lot easier to absorb when they are arranged in a chart. Here is one detailing the measurements (in centimeters and inches) for the big mattress.
| Specifications | Alaskan King Bed | Wyoming King Bed |  Texas King Bed |
| --- | --- | --- | --- |
| Width (inches) | 108 inches | 84 inches | 80 inches |
| Length (inches) | 108 inches | 84 inches | 98 inches |
| Width (cm) | 273.32 cm | 213.36 cm | 203.20 cm |
| Length (cm) | 273.32 cm | 213.36 cm | 248.92 cm |
| Minimum Recommended Room Size (feet) | 16ft x 16ft | 12ft x 12ft | 12ft x 14ft |
What is a double king-size bed?
This post would not be complete without pointing out the huge double king-size bed. At 152″ x 80″, the double king-size bed is the largest extra-large bed mattress in our lineup.
Seeing the width of this bed mattress which is a lot bigger than the standard mattress size, the double king-size bed is ideal for fitting the whole family.
You should make sure you have a lot of space if you want to buy this one; at over 12 feet large, it will easily extend across the length of most of the room.
Customized Sizes Are Readily Available, Too.
Trying to find something different?
The majority of us do not consider getting a custom-made bed mattress. However, what happens when the basic sizes do not meet your requirements or room requirements?
No worries. Lots of businesses can make custom bed mattresses in basically any size or shape.
That's not all. They can also make family beds with the use of a range of ingredients, consisting of memory foam, latex, and innerspring.
Buying a Large Bed Mattress – Things to Think About
There are lots of things to think about when acquiring a bed mattress. What size do you need? What kind of bed mattress will you sleep best on? How do you know the bed is made without dangerous chemicals?
These things are particularly important to think of when buying a large bed mattress. Listed below you will find some things to think about during your search, and solutions to some issues you might come across.
Do you have the exact measurements of your room?
As you think about a brand-new, big bed, you will wish to ensure a large bed mattress will suit your bedroom. You will also need to choose what, if any, structure you'll need. If it hasn't already been made obvious enough, large beds need a huge room to be placed in.
When measuring your room, make sure to check the area needed for the bed itself. Leave a little space on the sides so you can move around.
Have you discovered a frame for your extra-large bed mattress?
You have more frame and structure alternatives than you believe for your extra-large bed mattress.
Depending upon the size, some large bed mattresses can fit easily on 2 smaller-sized structures assembled together. For instance, a Family King bed mattress can be utilized on 2 Queen size foundations, or a Family LX King bed mattress can be utilized with 2 foundations sized for a California King.
Other sizes, such as an Alaskan King, will need a customized structure. In this case, finding a local craftsperson to make a basic platform foundation might be your best choice.
KEEP IN MIND: you can also try to make use of your extra-large bed mattress without a foundation! Bed mattresses can be put straight on the flooring and will offer the exact same level of support and function as one put on a structure.
Have you chosen the kind of bed mattress you want to get?
What matters the most is how the bed feels to you.
You'll wish to make sure that whoever you purchase your bed mattress from knows how to ask the best questions and get the best bed mattress for you.
With that being said, we have actually assembled a list of bed mattress essentials to aid equip you with the knowledge needed to make the best choice:
Kinds of bed mattresses
Bed mattresses can be CONFUSING. There are numerous different kinds of layers – how does one keep everything straight?
This should aid to make things easier: Here is a list of the most typical bed mattresses on the market (no matter the name or layers utilized):
Memory foam bed mattresses: Contour to your body and relieve pressure points as you sleep.
Gel foam bed mattresses: Contour to your body and relieve pressure points like memory foam, and also are developed to have a somewhat cooler sleeping surface area.
Latex foam bed mattresses: These long-lasting, environment-friendly bed mattresses aren't temperature-sensitive. Latex, when effectively made, has a distinctively supportive, resilient feel.
Innerspring bed mattresses: These conventional bed mattresses support much heavier weights per square inch and can also help to decrease movement transfer between partners.
Hybrid bed mattresses: This is a more recent bed mattress style that takes all of the best aspects of the bed mattresses noted above and integrates them; more on Hybrid bed mattresses can be found below.
Advantages of a Hybrid Bed mattress
First off, let's answer the obvious question: What is a hybrid bed mattress?
Hybrid bed mattresses are a mix of different bed mattress types, offering you the special benefits of each of them in one bed. Hybrid bed mattresses can be found in lots of different configurations; businesses can integrate memory foam with latex, or gel foam layers with innerspring.
Is an Extra-large Bed Mattress Right for You?
This is a good question, and one worth thinking about before buying a large bed mattress. Here are some reasons why you may need an extra-large bed mattress:
Do you need more space?
Who DOESN'T take pleasure in cuddling at bedtime? Nevertheless, if you are like most people, when it is time to sleep, you will need your space.
If this is the case, you need an extra-large bed mattress. It will offer you and your partner a lot of space to stretch out and get comfy. You can shift positions all you want, without any worries of unintentionally slamming the other person.
Family Co-Sleeping
This is starting to be extremely popular; however, what is it, exactly? Co-sleeping is when babies or kids sleep in the same bed as their parents.
There are several advantages to co-sleeping.
It builds bonds between kids and parents
It allows new moms to nurse more conveniently
It makes it easier for parents to attend to and soothe children throughout the night
An oversized mattress is perfect for co-sleeping – it provides everyone with the room they need for great sleep.
https://www.thepricer.org/wp-content/uploads/2020/08/alaskan-king-mattress-cost.jpg
380
610
Alec Pow
https://www.thepricer.org/wp-content/uploads/2023/04/thepricerlogobig.png
Alec Pow
2020-08-12 11:39:11
2023-03-06 07:07:29
Alaskan King Bed and Mattress Cost