Alaskan Malamutes are one of the oldest dog breeds, dating back possibly 4 millennia ago during the Palaeolithic era. They're often mistaken for wolves and it's no wonder why film industries like to make use of their appearance. Remember
Though they may look like a wolf ready to devour anyone in sight, these gentle giants actually have no aggressive instincts usually – making them unsuitable as guard dogs! Their size is intimidating enough at 22-26 inches tall; but don't let that fool you: Mals love nothing more than cuddling up with their owners on the couch or even sitting on people's laps while watching TV together.
How Much Do Alaskan Malamutes Cost?
As the ASPCA reports, there are about 6.5 million companion animals and 3.3 million of them end up in shelters every year; this number is a clear indication that anyone who is planning to buy a furry friend should instead get it from an animal rescue home.
You might also like our articles about the cost of an Akita dog, a Norwegian Elkhound, or a Tibetan Mastiff.
Alaskan Malamutes are a constant breed in shelters and, as a result of this high number of abandoned dogs, many rescue groups were created around the country. The Illinois Alaskan Malamute Rescue Association offers its pups to be adopted at prices ranging from $140-$350 depending on age.
CHAAMP.org is an organization that rescues Malamutes, and also offers them up for adoption. The usual fee to adopt a rescued dog from CHAAMP ranges between $250-$350 depending on the age of the pup or whether they have any health complications – but there are no fees or the fees are almost unnoticeable if you're adopting one over 8 years old.
Next Day Pets sells Malamutes at various prices all around the States. Prices vary from $300 for a 42-week old to $2,500 one-year and twenty-week-old pups; shipping rates also range anywhere between $350-$600. It's best not to have your dog shipped since it can cause distress or even worse conditions while in transit, but if it is the only way, ask if the crate is included in the price.
As a result of the popularity and demand for Alaskan Malamutes, there are now breeders that sell puppies to customers directly. One breeder is Kingfisher's Alaskan Malamutes who has black & white female pups for $2,000 and wolf-gray male pups at $2,200 each.
Puppies who have a coat of red and white can cost upwards of $2,500 if they are healthy. However, pure white puppies will have a price range of anywhere between $2,500-$3,000, depending on where you buy them. It's worth it because these puppies come with all their vaccinations completed.
American Kennel Club (AKC) is a leading dog registry and club that connects buyers to private Alaskan Malamute breeders. These dogs will be more expensive to buy, but don't let the higher price tag discourage you, these Mals come from champion bloodlines which make them guaranteed show winners or breeding quality dogs.
With a champion Malamute, you can expect to pay an extra $1,000 on top of the selling price. There's also a waiting list fee worth $150 and another $250 for keeping your reservation once they're born. They may be shipped at a cost of only $450.
You're about to buy an Alaskan Malamute, but have you considered the costs associated with owning this breed? One-time expenses are a thing that should also be considered.
Cost of transportation
It can be both exciting and stressful coming home with your newfound dog. It's the first experience you'll get to share together, so it is important that you're prepared if you want this ride for the both of you to be as pleasurable as possible.
Prepare a crate with enough space for your dog inside. It should be able to fit throughout the duration of their trip. You should be able to find one for about $60. Choose one that can still serve for an adult-sized dog (22-26 inches) when necessary – this way you won't have to buy another new one later! You should also have with you a towel in case they get dirty during transport; it might only cost about $5 slightly more.
You may also want to think about bringing snacks and treats for the Mal so that they feel at ease with you. In order to do this, though – depending on your choice of flavor- a pack of treats could cost anywhere from $5-$15. If it's going to be an especially long ride, you should plan for bathroom stopovers and walks.
Cost of shelter
Before buying a doghouse you should first measure your dog's size. The door of the house needs to be at least 75% as tall as their shoulder height, and it should have plenty of space inside for them to stand up straight without bumping their head on the ceiling – 25% higher than they are when standing normally. When picking out an appropriate size make sure that length is twice that dimension; ideally, there will also be enough room in front so they can comfortably let themselves into or out with ease.
To make sure your furry little friend is comfortable, you should invest in a doghouse that caters to their size. They may range from $72.19 all the way up to $479.99. To protect their joints and bones it's important for them to have a comforting bed which can cost anywhere between $10-$160. Lastly (and this might come as no surprise) every pet needs food and water bowls so be prepared to buy these items; A set with two dishes will generally cost around $10.
What should be included in the price?
If you choose to adopt from a rescue home or shelter, they will have already vetted your new pet and taken care of any medical needs. Adopting is not only cheaper than buying an animal but also offers more benefits as the animals are guaranteed healthy with all shots up-to-date and fully spayed or neutered.
If it's from a reputable breeder, especially in the case of Mal with champion lineages, puppies usually come at least partially vaccinated (usually done within two weeks) – this includes shots against rabies or distemper/parvo; sometimes even bordetella. It also means that the dog will come with a one-year health guarantee, meaning that any health problems that might be due to the way it was raised or bred by the breeder, you will be entitled to a full refund or replacement of the pet.
Recurring Costs of Owning Alaskan Malamute
Food costs
Feeding your dog can be tricky, especially if you have a pup with special dietary needs. A good start is to ask the vet what type of food and which brand they recommend for Mal; this will give your pet all their necessary nutrients that are specific to their breed's requirements. There are three main types: dry, wet, or raw food – each has its own pros and cons depending on the situation.
The experts believe that whether it's dry or wet food, high-quality brands are better than grocery store brands. The only problem is the price because premium brands may be more expensive and may cost $16 to as much as $51 per bag of 24 pounds which can last for up to a month.
Wet food may be more expensive than dry, but it contains a higher level of nutrients. If your Mal has to eat wet food, prepare for an average cost of $10 – $45 per can or pack that only lasts 1-2 servings and should be stored in the fridge once opened.
Alaskan Malamutes are known to be prone to hip dysplasia because of their large size. To prevent this, you may consult your vet about giving a hip and joint supplement which can cost $12 to $45 depending on the brand that is used.
Hygiene expense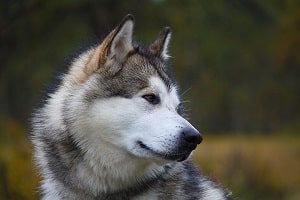 To keep your Mal safe is to keep their doghouse tidy too. Make sure you're cleaning it periodically (once every week) as well as regularly maintaining it by mopping its floors with water weekly. It's important not to use any substance that could harm your dog in this process either.
To disinfect your pet's doghouse, all you need is baking soda worth $2.05 per pound and a non-toxic detergent that costs $12.89 to mix with hot water! The same solution can be used for soaking the materials and accessories too – just make sure to rinse it afterward with some more hot water.
For areas in need of scrubbing, the recommended tool is a stiff-bristled brush that ranges from $21.84 to $49.50 depending on your needs and budget preference. If you find yourself with an odor problem, there are products available at prices ranging between $6 to $50.
For the responsible care and maintenance of your Malamute, be sure to always use organic shampoos that may cost $12.95-$16.97 depending on how often you bathe them each month or week, a hairbrush can also cost anywhere between $5-12. Lastly, full-body grooming services will set you back at least another $85.
Medical expenses
You should make sure your dog gets its annual checkup. It can cost as much as $53 to have a vet examine your pet for any potential health problems but it may ultimately save you money in the long run if they find something that needs attention before things get worse.
A puppy's first six months are one of the most crucial stages in its life. For this reason, it is important to make sure that your new pup receives all necessary shots and tests during these key moments. A package would include a physical exam, DHPP or DHLPP vaccine (Distemper/Parvo/Lepto), fecal test, deworming, and bordetella, and can cost around $65 annually-a small price for safety.
For adult dogs including physical exam, rabies vaccine DHLPP (Distemper/ Parvo/Lepto), heartworm test, and fecal test you can expect to pay $53-$100 annually.
Cost of toys
Alaskan Malamutes are rowdy chewers, so you may want to pay attention to what kind of toys they get. Make sure the toy is durable and safe for them; there's no need for a choking hazard on your hands. These can cost $4.5-$7 depending on which one you buy–but with all these factors in mind, it'll be worth every penny.
Alaskan Malamute Price Factors
The average price of adoption for a Mal is around $250, but prices can differ depending on the shelter you get it from. If buying from a breeder, You may be able to find cheaper ones but of lower quality, usually called @pet quality@ dogs, or more expensive ones if you're looking for show quality instead.
It has been noted that certain breeds of dogs are more expensive than others, with color being a notable factor. White puppies in particular command some of the highest prices along with black and white ones, as well as those who have excellently marked furs such as a combination between reds and whites.
https://www.thepricer.org/wp-content/uploads/2021/05/alaskan-malamute-cost.jpg
380
610
Alec Pow
https://www.thepricer.org/wp-content/uploads/2023/04/thepricerlogobig.png
Alec Pow
2021-05-22 07:23:29
2022-12-22 18:27:37
Alaskan Malamute Cost