American Deli Menu Prices
American Deli is an American fast-food restaurant chain specialized in serving a wide variety of delicious meals such as hot wings, subs, Philly cheesesteak, and gyros. This restaurant has the mission to serve fresh, tasty food, the type of dishes that keep you coming back for more, in a relaxed and friendly atmosphere. This company makes efforts to bring people together with tasty food items.
American Deli's belief is that good times deserve high-quality food. This has proven to be the restaurant staple as it continued to grow in popularity over time. Their menu includes a large variety of options for everyone.
In the table below you will find the latest American Deli menu prices.
Food
Size & Price

Wings Only & Family Packs

Family Pack
30 Pieces – $31.99
40 Pieces – $42.99
50 Pieces – $53.99
75 Pieces – $70.99
100 Pieces – $104.99
Piece Wings
10 Pieces – $10.99
20 Pieces – $23.99

Wings

Wings Combo
10 Pieces – $16.49
15 Pieces – $23.29
20 Pieces – $26.49
Boneless Wings Combo
10 Pieces – $16.49
15 Pieces – $23.99
20 Pieces – $25.59

Chicken Tenders

Chicken Tenders
4 Pieces – $8.99
Combo with Fries & Drink
$10.99

Gyro

Gyro Only
$7.89
Gyro & Wings
$12.69
Gyro Combo
$10.59

Deli Combo

Sub & Wings
$13.99
Salad & Wings
$13.99

Burgers

Beef
$7.69
Combo with Fries & Drink
$10.59
Fried Chicken
$7.69
Burger & 5 pc Wings with Drink
$13.19
Turkey Burger
$7.69

Philly

Beef
$8.49
Shrimp
$9.69
Chicken
$8.49
Philly & Wings
$14.49
Philly Combo
$10.99

Subs

Ham
$7.29
Turkey
$7.29
Sub Combo
$9.69

Fish

2pc Whiting and 4 pc Shrimp
$13.19
Tilapia Combo
2 Pieces – $12.99
Whiting Combo
2 Pieces – $12.99
2pc Fish and 5pc Wings
$14.49
2pc Tilapia and 4 pc Shrimp
$13.19

Shrimp

Shrimp only
8 Pieces – $9.49
4 pc Shrimp & 5 pc wing
$12.29
Shrimp Combo
8 Pieces – $11.99

Fried Rice

Vegetable
$7.99
Shrimp
$9.69
Beef or Chicken
$9.29
House
$11.39

Side Orders

French Fries
$3.99
Okra
$3.99
Sweet Potato
$3.99
Extra Dressing
$0.99
Onion Rings
$3.99
Extra Sauce
$0.99

Salads

Garden
$5.79
Chicken
$7.89
Chef
$7.89
Brand History
The story of American Deli starts back in 1989 when the first location was opened in the South Dekalb Mall in Atlanta, Georgia. People just fell in love with the food served by American Deli and this led to the opening of the second location in Columbus, Georgia pretty soon. This restaurant gained in popularity and as a result, more and more locations were opened in Atlanta, Georgia. American Deli's popularity and reputation continue to grow even to the day. The company has been expanding slowly but steadily all-around Texas and the Southeast. The owner of this restaurant chain is American Deli International, Inc. which is incorporated in the state of Delaware.
You might also like our articles on the prices you will find on the menus of TGI Fridays, Buffalo Wild Wings, or Chili's.
This company was incorporated on December 17, 2008, and was registered in Georgia as well on January 13, 2011. The Chief Executive Officer of American Deli is Peter Kim, the Secretary is Eun Young Kim and the Chief Financial Officer is Suk Kim Yon. The headquarters are located on Northeast Expressway in Atlanta, Georgia.
Among the responsibilities of the corporate office are the hosting of periodic events, providing its franchisees with new menus before the opening of new locations, providing the marketing promotions, and offering the training necessary for the franchisees.
The franchise program offered by American Deli International, Inc. is great for those who want to own and operate their own deli store. The growth and success of this restaurant chain are attributed mainly to the franchise system. This is the company's predominant way to do business.
Nowadays, there are more than 190 American Deli restaurants, the majority of these being located in the Southeast area.  There are restaurants throughout Texas, Georgia, South Carolina, Mississippi, North Carolina, Alabama, and Florida. Most of the locations are placed strategically close to office complexes or malls. These are built both as inline and freestanding units. The company also operates smaller kiosks in food courts.
Our review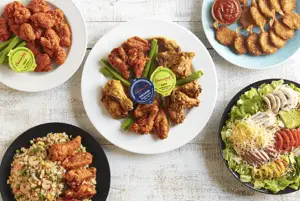 American Deli's menu includes a wide selection of popular American food items such as burgers, salads, submarine sandwiches, fried fish and shrimp, wraps, fried rice, Philly cheesecake, gyros, steaks, chicken fingers, and chicken wings. The New York Style Reuben sandwich is made of dark rye bread, corned beef, sauerkraut, Russian dressing, and Swiss cheese. The Philly cheesesteak is made of grilled extra lean steak or chicken, melted white American cheese, mushrooms, onions, and bell peppers.
These dishes come in various forms. For instance, the sub sandwiches have the option of turkey or ham. Clients can order the new gourmet style beef, shrimp fried rice, vegetable, or chicken. Also, the chicken wings come in different flavors such as hot, teriyaki, or lemon pepper. As for the salads, they can choose from garden salad, chef, grilled or fried chicken, and tuna.
Plan on spending anywhere between $7 and $10 for the gyros, Philly cheesesteaks, burgers, and Reuben sandwiches. Depending on its size, a salad costs anywhere between $5 and $9.  The price of the shrimp is anywhere between $8 and $9, and for the fried rice you will have to pay $5 to $8, while the cost of the chicken fingers is around $7. The fish is served in portions of two to four pieces and costs anywhere between $7 and $15, depending on the size of your order.
American Deli FAQs
At what time does American Deli open?
In general, American Deli opens at 11:00 a.m. every day, but it depends on the day of the week and location. It is recommended to check the schedule of the restaurant you are interested in on their official website.
At what time does American Deli close?
American Deli closes at 10:00 p.m. every day. But again, it depends on the location and day of the week. You should verify the operating hours of the location you are interested in on their official website.
How many American Deli locations are there?
There are more than 190 American Deli locations all over the United States of America.
What does American Deli sell?
You can purchase various food items from American Deli, such as hot wings, subs, Philly cheesesteaks, and gyros.
Who is the CEO of American Deli?
The CEO of American Deli is Peter Kim.
https://www.thepricer.org/wp-content/uploads/2022/05/american-deli-menu-prices.png
380
610
Alec Pow
https://www.thepricer.org/wp-content/uploads/2023/04/thepricerlogobig.png
Alec Pow
2022-05-12 10:19:01
2022-12-22 18:48:40
American Deli Menu Prices