Ansley Golf Club Membership Cost
Founded in 1912 by Edwin P. Ansley, the Ansley Golf Club is a family-oriented club with a history of more than one hundred years. They offer their members social activities like themed parties, holiday events, and more, in two unique locations, one in Roswell, Georgia, and one in Midtown, Atlanta.
It is a five-star Platinum Club of America, which is the most respected listing in the private club industry.
How Much Does an Ansley Golf Club Membership Cost?
According to the past and current members of the Ansley Golf Club, the initiation fee would be anywhere between $35,000 and more than $75,000, depending on the type of membership you choose. When it comes to the monthly dues, these would start at around $300 and go up to more than $550 per month. However, you should keep in mind that in order to become a member you have to be sponsored by five members and get a Board invitation.
According to the Golf Life Navigators website, the initiation fee for the Ansley Golf Club is $50,000 to $75,000, while the dues are anywhere between $5,000 and $10,000 per year. The same source says that there are three membership types: Family Membership, Full Golf Membership, and Junior Executive Membership.
Plan on spending anywhere between $55,000 and $65,000 for the initiation fee at the Ansley Golf Club, according to online niche forums.
Other forums state that if you want to become a member of the Ansley Golf Club you will have to pay a fee of around $36,000, but this cost is available only if you are less than 35 years old.
Ansley Golf Club overview
The Ansley Golf Club is labeled as the friendliest, most fun, and family-oriented private country club in Atlanta.
Members can enjoy two first-rate clubhouses with casual and fine dining accommodations, 27 holes of demanding and unique golf at Settindown and Midtown locations, banquet facilities, full-service catering, youth programs, a Jr. Olympic size swimming facility, a full fitness center with classroom program and personal trainers, eight world-class clay tennis courts, and two pickleball courts.
You might also like our articles about the cost of membership at the Hacienda Golf Club, Sand Hills Golf Club, and Druid Hills Golf Club.
The golf amenities offered by the Ansley Golf Club include a Practice Range, Reciprocation with area clubs, PGA Professionals on staff, a group of single-digit players, a Golf Shop, Snacks at the turn, Men's Invitational, Tee Time Structure, Women's Invitational, Walking, Men's Day, Group Play, Ladies Day, and Couples Events.
In 2015 the Midtown clubhouse underwent a comprehensive renovation to remodel and update the dining rooms, enlarge the outdoor patio space, and improve the fitness center with two new studio rooms and new equipment. Now the members can enjoy a larger fitness center and extra al fresco dining facilities.
Which are the additional expenses?
You should budget extra for taking part in social events, clinics, and tournaments.
The club offers private lesson trainers at the fitness center at an extra cost.
Important things to consider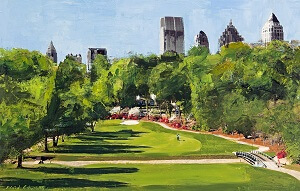 As the Ansley Golf Club is a private golf club, you will need five sponsors in order to become a member, as we already mentioned in the beginning. The Committee reviews these nominations during a sixty-day Club posting period and then sends them to the Board of Directors every month.
Sports Illustrated ranked the nine-hole course in the top five nationally.
In 2017 USGA named the Settindown Creek course the third toughest course in the area. Also, this course has been the host to the Nike Tour Championship and U.S. Open Sectional Qualifiers.
Both members and their guests have to abide by the club's strict dress code on the golf course and all other areas. For instance, on the golf course, all golfers must wear adequate golf clothing. Halter tops, blue denim jeans, tank tops, denim shorts, athletic shorts, tennis shorts, cargo shorts, cut-offs, sweat pants, frayed shorts, and short shorts are not permitted. Also, the use of soft spikes with "flared" tips and metal spikes is prohibited. The shirt must be tucked in and the hats have to be worn front bill.
Also, the use of mobile phones is not allowed in the Clubhouse. While on Club premises, these devices have to be set on silent mode and can be used only for text messaging. Children are allowed to use hand-held devices if they are muted.
https://www.thepricer.org/wp-content/uploads/2023/02/Ansley-Golf-Club-membership-cost.jpg
380
610
Alec Pow
https://www.thepricer.org/wp-content/uploads/2023/04/thepricerlogobig.png
Alec Pow
2023-02-28 06:53:26
2023-02-22 12:12:46
Ansley Golf Club Membership Cost