What is the Average Cost Of The Easter Basket?
Each country has its own way of celebrating a particular festivity, through its own traditions and customs. Easter, like many other holidays in the United States, is a religious and cultural celebration. Here, it is a tradition to organize Easter parades, where men and women display their special costumes.
There are many interesting gifts that can be offered during this period, but the most suitable are gift baskets also known as Easter baskets.
Have you ever wondered why we offer Easter baskets? The holidays simply wouldn't be the same without them! Parents give baskets to children in spring for centuries, so this became a tradition.
Why should you offer Easter baskets as a gift?
Because a basket full of delicious or useful things is a historical solution to giving gifts. Over time, several civilizations have used baskets with different products to offer and have created from this an extremely beautiful custom.
This gift offers flexibility. There are Easter baskets that cost a few dollars and Easter baskets that can cost a few hundred of dollars. The interesting thing is that both options can be of high quality. Flexibility is not only present when it comes to costs, but also when it comes to the recipient. Everyone can enjoy the moment of receiving such a gift.
Because they can be personalized. It is true that there are millions of options of ready-packed Easter gift baskets that look good and are found in most supermarkets, but the charm of such a gift is that it can be customized. For those who do not know how to pack a basket with their own hands, there are companies that create Easter baskets, based on everyone's taste and desire.
How much is the average cost of an Easter basket?
The average cost of an Easter basket this spring is around $70 due to the price increase caused by inflation. Take for example the chocolate, including all the chocolate treats, which got more expensive by about 5%.
According to Living on the Cheap, American families expect to pay somewhere between $25 to $100 per Easter basket gift for a child, with an average of approximately $62. Easter baskets are offered on Sunday morning to loved ones, and usually contain all sorts of sweets from chocolate bunnies, decorated eggs, and homemade cookies, to stuffed bunny toys, books, chewing toys for babies, video games for teens, a bottle of wine for friends or grandparents, and so on.
If you don't have time or enough inspiration, there are several companies or even supermarkets from where you can buy all sorts of Easter baskets. Gourmet Gift Baskets offer different types of Easter baskets containing sweets, baked goods, wines, gourmet assortments, toys, etc.  These baskets are for all ages and are priced from less than $35 to $125+. Here are some examples:
Easter Gourmet Candy and Snack Gift Box $34.99
Classic Easter Bunny Gift Basket $49.99
Classic Gourmet Easter Basket $64.99
Premium Easter Moet and Chocolate Gift Tower $134.99
Here are some other suggestions to offer as Easter baskets:
Lindt Gold Bunny Basket you can offer your work colleagues for less than $10 at Walmart;
Crave Box Care Package containing 50 pieces of treats like Oreos, chocolate chip cookies, Skittles, cheese crackers, popcorn, and more for less than $30;
Gourmet Gift Baskets Gags and Games Candy and Toy Gift Bucket are metal buckets that include 12 items costing about $70;
JOYIN 7 Pcs Easter Basket Plushies is a cute option for toddlers and includes plush animals, a sweet carrot, and Easter eggs, costing around $40.
How to save money on Easter Basket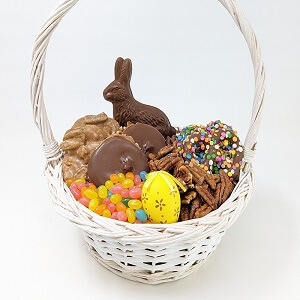 The most inexpensive method when offering Easter baskets is to DIY. Here are some tips:
Reuse Easter baskets or buy a cheap Easter basket from a dollar store. There is no need to invest too much in a one-minute usage.
Use a basket alternative like a box, or a plastic bowl, and decorate it yourself. You can get creative and save some money, as kids and most loved ones will be interested in what's inside the basket.
Offer fewer Easter candies, as most of the time only half of them are eaten. Choose only what you think they will like.
Dollar Shopping is a great idea for buying some small toys or a scented candle, besides lots of candies.
Factors that influence the price of an Easter basket
Type of Easter basket – Depending on what type of Easter basket you choose to offer, whether it is pre-made or you did it yourself, the cost can range from less than $10 to more than $150. Depending on the items from the Easter basket the prices will differ, and if you buy it online always check the shipping fees.
You might also like our articles about the cost of a dozen eggs, an Agora rabbit, or a Flemish giant rabbit.
Age-Appropriate – This is another factor that may influence the price of an Easter basket because most of them have age recommendations.
To whom can you offer an Easter basket?
Usually, when purchasing an Easter basket, the person you offer it to must be taken into account.
Easter basket for colleagues. For co-workers, bosses, or business partners, the perfect basket is one that contains few but very good quality items. A bottle of fine drink, a bar of high-quality chocolate, and office accessories can all be found in such a basket without problems. Easter motifs with eggs and bunnies may also be present, although it is not mandatory. If they are present, it is good to be as discreet as possible.
Easter basket for parents and grandparents. Parents will greatly appreciate the baskets made by their children's and grandchildren's hands, regardless of their age. In the basket, you should not forget to add a picture, a message, and obviously, many delicious things.
Easter basket for children. The gift basket is perfect for a child as long as it is properly arranged. It is good to have sweets in the basket, but not too many, not being extremely healthy. You can also find a toy, an educational game, and many paschal elements. Perhaps a book with Easter stories can be very appropriate.
Basket for friends. The freedom that the one who creates a basket for friends has is huge. Depending on the preferences of your friends, you can find a lot of interesting things to put in the basket. As with corporate baskets, you should not miss a good quality wine bottle. Maybe a board game can be added as well.
Final words
Nowadays Easter baskets have also become a fun way to offer gifts, and many can't resist it. We've found that both adults and children like to receive them in the same way, even if it's not the bunny who gives them. To adults, we usually like to offer personalized baskets, filled with all their favorite things.
It is also fun to offer Easter baskets to kids with candy and other sweets and watch the spark in their eyes light up as they discover what is in them. The joy of our loved one sometimes makes us forget the costs involved.
https://www.thepricer.org/wp-content/uploads/2023/04/easter-basket-cost.jpeg
380
610
Alec Pow
https://www.thepricer.org/wp-content/uploads/2023/04/thepricerlogobig.png
Alec Pow
2023-04-06 07:43:11
2023-04-06 07:35:16
What is the Average Cost Of The Easter Basket?