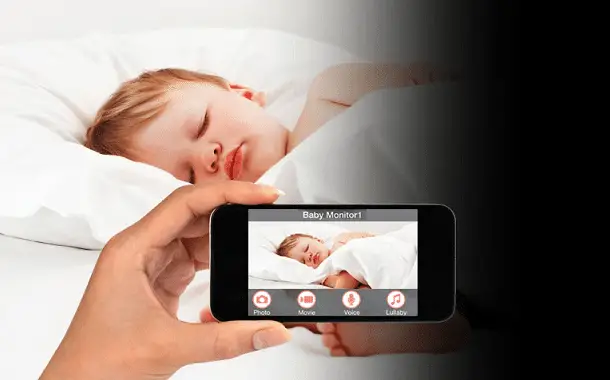 Baby monitoring systems are an essential tool for nursery. These systems allow you to do your chores around the house and yard and at the same time be aware of what happens with and around your child.
With the monitoring system you can immediately find out when the baby cries or calls you and with a video monitor, you can keep an eye on your child.
There are several important features that you need to keep in mind when you buy a baby monitor.
There are baby monitors powered only by drains, but also by mobile systems, whereat the current supply, at least for the parent unit is ensured by a battery and provides better mobility. The sound distance transmitted between units varies between 100 m and 330 m in the open field.
The transmission distance is always calculated in an open field and obviously it decreases in a house, depending on the wall structure (wood, brick, concrete). The best baby monitors in terms of distance transmission are digital monitors, that transmit on waveband between 900 MHz and 2.4 GHz. Baby monitors use a selected radio frequency band to operate so don't be scared because it may cause interference.
The new generations of digital systems have all sorts of special functions, such as vigil light, measuring and displaying temperature and humidity, bidirectional transmission (walkie-talkie type).
A special category, extremely useful for new mothers at their first baby or mothers with prematurely born babies, are apnea systems. These devices have a special sensor that fits under the mat and detects your baby's respiratory movements.
If the baby does not breathe for 20 seconds, an alarm will be triggered and you can intervene in time to resuscitate him. For those who already experienced the first months of a mom's career, I think it's a usual habit to wake up many times at night to check if the baby is breathing (apart from the normal nursery awakenings). This type of baby monitor deserves nothing less than an +A, for giving a new mommy a bit of peace along the night.
The latest creations in this market are videophones. You have to pay attention, again, to the technology type they use: analog or digital, an analog videophone transmits images and sounds at a distance up to 100 m in an open field, and a digital videophone can transmit at distances of up to 300 m in an open field.
Videophones also have special functions such as infrared vision – for nocturnal monitoring, AV output to see the baby also on any TV big screen, the possibility to simultaneously monitor several house rooms by fitting adjacent cameras.
In conclusion, the steps in choosing a baby monitor should be next:
Type of house: block, opt for an analog monitor (because you do not need a long-range), and for a house always choose a digital, to have no surprises.
Child's age: for a newborn, the first choice would be the apnea monitor or audio monitor, and for older children audio monitor, maybe bidirectional or video monitor.
Allocated budget and quality-price ratio: ideally you should test the product at home and then acquire it, to prevent buying a useless product for an attractive low price.
Typical costs for a full package:
The average price for audio-only baby monitors: from $15 to $75.
The average price for video baby monitors: from $50 to $200.
Is it a nice buy for the average working family in the US?
If you`re working on an average wage in the US, you won`t have any financial problems when purchasing a monitoring system for your baby. It will help you be a better parent and have a more relaxed sleep at the same time.
https://www.thepricer.org/wp-content/uploads/2014/11/baby-monitoring-system.png
380
618
Alec Pow
https://www.thepricer.org/wp-content/uploads/2023/04/thepricerlogobig.png
Alec Pow
2014-11-23 15:48:27
2020-08-18 14:57:26
Baby Monitor Cost