Weddings are a pivotal part of people's lives, especially the groom's and bride's. For them, it is a momentous step in the process of building a family. It signifies the couple's love and commitment to each other which is reflected in the vows that they take and exhibits the faithfulness towards those vows later in life. Many people dream of their weddings from their childhood and carry a lot of expectations for their special day and all the other days related to their marriage. Therefore, it becomes the responsibility of the people around them to make these handfuls of days memorable, the bridesmaids and groomsmen carrying the most responsibility in this duty.
It is a matter of great honor to play the role of the best man or maid of honor in a wedding, but with great power comes great responsibility… and costs! The bridesmaids do not only have to worry about the gifts, attire, or the wedding duties but also the bachelorette party – the last celebration for the bride-to-be with her friends before she departs from the single life and steps onto the vivid expedition of marriage. Such a time sure seems a lot of fun and something that the bride-to-be would deserve, but it can cost up to exorbitant heights. Therefore, it is better to prepare and plan in advance for a bachelorette party.
Average Costs
The costs of a bachelorette party are generally divided among the friends of the bride-to-be who attend the party which, in most cases, are the bridesmaids. They are expected to pay for the bride-to-be as well in most cases.
So here are the typical costs of some bachelorette parties.
Simple and Casual Parties
These parties usually cost around $15 to $30 per person, and they tend to take place at the host's home with planned activities for the attendees. There is a wide variety of meals to consider in these parties. They can be a backyard barbecue, homemade pasta, ice-cream sundae or loads of pizza from a good pizza place. Basically, anything that can be referred to as an informal dinner. Activities can range from traditional games, bowling, a movie night, or the old-school Ouija board.
Make The Party Memorable and Rent a Limo
Moderately Up-Scale Parties
These parties can range from $40 to $150 per person, depending on how up-scale the party is meant to be. These parties feature gourmet dishes as the meal, either cooked in or dined out. The ladies could go to steakhouses, fondue restaurants, or exotic food places like Chinese, Mexican or Greek restaurants. Traditional activities in these parties include jewelry-making, yoga or dancing classes, or the traditional bar hopping.
Elaborate Parties
These parties can cost around $200 per person but can also go over $300 depending on the activities. These parties can take place at the host's home with a hired professional chef to cook gourmet meals for the attendants, or the party can plan to go over to a trendy and lavish restaurant for a five-course meal. Activities can be a spa day, concerts, or nightclubs.
Destination Parties
These parties have a category of their own. The bride-to-be is expected to pay for her travel fares in these parties, but some generous groups of friends distribute her expenses amongst themselves. Although the costs are highly dependent on the destination of travel, it usually goes over $1000 per person for traveling within the US.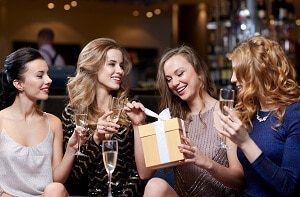 Need Help With Your Wedding Preparations? Read This Article About The Cost of a Wedding Planner
Additional Costs
Generally, party props are made for the bride-to-be like a bachelorette sash and a tiara. Other party props can include confetti and party game accessories. These can increase costs. Party favors are also considered by many people and these can cost between $5 and $15 per person.
Hiring entertainment for bachelorette parties can significantly raise costs to $130-$175.
Transport costs need to be taken into account if the use of intoxicants will be expected since it is ideal not to drive in that condition for safety. Rides can be hired for certain time duration and can cost from $45 to $300.
Should the Average Working Jane Throw a Bachelorette Party?
While some do not think much about the costs and give the best experience they can to their friend, most bridesmaids cannot afford to spend recklessly. Therefore, it is better to consult all the attendees beforehand, including the bride to make sure she feels at ease with the arrangements and set a budget. Keeping the budget in consideration, the best party can be given to the bride-to-be.
https://www.thepricer.org/wp-content/uploads/2016/10/bachelorette-party-price.jpg
380
610
Alec Pow
https://www.thepricer.org/wp-content/uploads/2023/04/thepricerlogobig.png
Alec Pow
2016-10-19 18:43:06
2020-08-15 21:33:15
Bachelorette Party Cost