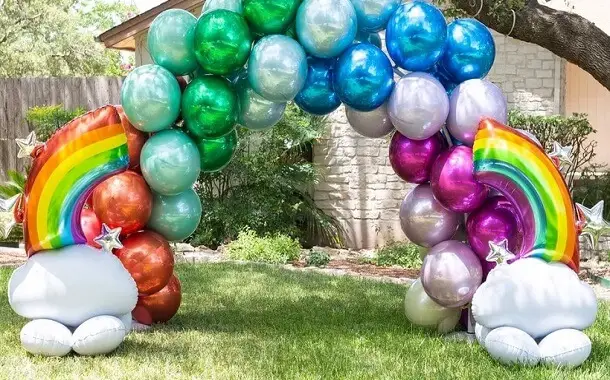 The balloon arch is suitable for a birthday party, promoting your business, opening a new store, restaurant, or showroom, or for signaling various promotions.
Balloons have a special effect and make people feel excited and happy. You can add a touch of magic to your event with balloon decorations and arrangements.
How much does a balloon arch cost?
The cost of a balloon arch will depend on different factors such as the location of the event, the actual designs like a spiral, linked arch, strings of pearls, etc., and the size. You should be prepared to pay anywhere between $17 and $30 per linear foot for a basic balloon arch. So, you will have to get around $600 out of your pocket for a balloon arch that is twenty linear feet wide.
Expect to spend anywhere between $300 and $1,200 for a balloon arch installation, depending on the location of the event and the type and size of the arch.
On the other hand, the cost of a six feet free-flowing balloon garland is around $160 for a standard spiral.
It is best to ask a vendor to present you with a price list with different pictures of balloon designs and decorations. Also, they can provide a plan that meets both your budget and event needs.
The exact price will depend on the type of balloons you choose, whether or not you want to have any helium balloons (for instance, air-filled balloon garland is cheaper than helium balloon garland), and how complex the design is.
How much does a balloon wall cost?
Balloon walls are usually installed at the entrance or exist to an event or party. These are decorations made of inflated balloons and can be curved or linear. Also, they come in a large variety of sizes and colors.
The cost of a balloon wall installation depends on the location of the event and the type and size of the wall. Though, you should be prepared to spend, on average, around $80 per foot.
Balloon arch overview
A balloon arch is a decoration created from inflated balloons, that are usually attached to a structural frame. Typically, these are used as decorations for entrance or exit to a birthday party, special events like weddings or baby showers, dance floors, or corporate events.
A balloon arch can be curved or linear and comes in various sizes and colors to fit different ceiling heights and space allowances.
Some people incorrectly call them balloon garlands, depending on the shape. Actually, garlands may be cheaper than full arches and are those balloons people imagine draping behind a dessert table or other background.
Usually, balloon décor companies list other balloon designs like balloon clusters, balloon bouquets, double balloon arches, or helium arches next to the classic balloon arches or organic arch displays.
Why do balloon arches cost so much?
A balloon arch is so expensive because it takes a lot of labor and time to install such a décor, depending on the size of your order, arch options, and the number of balloons.
These can not be bought pre-made from a store, and need a little bit of hard work to install, especially for complex designs.
Moreover, the installers must ensure that they do not damage the ceilings or any walls with the balloons. Also, they have to carry the costs of a business, including the insurance and overhead costs.
Which are the additional costs?
There are some other additional costs to keep in mind that will increase the overall price of a balloon arch, depending on your needs.
Rush fees
In case you have a last-minute order, even though you order a standard balloon arch, you will have to pay a rush fee. This is because the balloon decorator will have to rearrange their schedule to respond to your request.
Installation fee
Most companies will offer rig charges or an installation fee, in case you are not able to set up the balloon arch by yourself or you don't have time to install it.
Usually, this is a linear cost which means that the longer it takes to install the balloon arch, the higher the installation costs will be.
In general, the installation costs would be anywhere between $80 and $220, depending on how difficult the setup is.
Delivery fee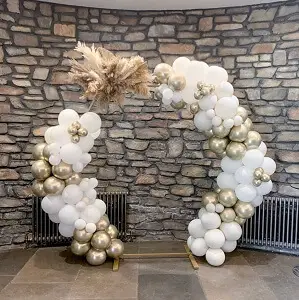 Some party supply stores or balloon providers may ask you for pickup or could offer free delivery in exchange for a minimum order within a certain radius from their location or a set zip code, while others could have a pre-set delivery fee included.
Remember that most companies will charge an extra delivery fee if you live outside of the delivery radius of the store. In general, this is a linear cost, which means the bigger the distance, the higher the delivery fee.
Usually, this will look like a cost per mile. However, the overall delivery costs will also be affected by the delivery time and event date.
Type of balloons
A balloon arch can be made of different types of balloons and this will affect the final price. You can go for high-end or specialty balloons, these being the most expensive and so increasing the overall costs. Also, biodegradable or organic balloon arches, for illustration purposes, may cost more than the standard type of balloon.
Latex is the most common type of balloon and this is made from natural rubber. These cost less and can be used only once. But it should be noted that some people are allergic to latex.
Foil balloons, known also as mylar balloons, cost more. These can be used multiple times and come in different types of designs, colors, and characters to match the party theme.
You can order balloons in different styles and sizes. The oversized deco balloon sizes are 18", 24", and 36", while the standard sizes are 5", 10", and 12". Some people choose balloon letters to write phrases such as "Happy Birthday!" or the guest of honor's name on them.
Strike fee
If you need someone to come and uninstall the balloon arch after your party or event is over, some balloon arch providers will charge a strike fee.
Usually, this is a linear cost, which means that the longer it takes to uninstall the balloon arch, the higher the costs.
Extra items like complex designs, personalized balloons, backdrops, or balloon columns
The majority of the Balloon arch providers offer various add-ons like backdrops or balloon columns to complement the arch. These extra items will come at an extra cost.
Make sure you ask the balloon décor artist what extra package deals or services they have to offer to get a full estimate for your party.
Another popular add-on is the personalization of balloons, with many people choosing to have the age/name of the birthday person or their company logo printed on the balloons. If you opt for this service, you will have to pay an extra cost.
Tips on saving money on a balloon arch
You can save money on a balloon arch in a few ways. One of these is to opt for a simpler design. You can greatly reduce the overall expenses by choosing only one type of balloon.
Also, you can search for artists on social media. Sometimes they will offer specials and discounts to their followers, depending on the size of your order.
Another way to save money on labor is to ask your friends or family to help you with the installation of the balloon arch.
Make a DIY Balloon Arch
Creating a decoration is within everyone's reach. Here are some ideas and rules to keep in mind:
Choose the balloons carefully depending on what you set out to create (balloons are classified into latex and foil and are of different sizes, shapes, and colors); if you want to inflate balloons with helium, you have to keep in mind that latex balloons float for 1-2 days, and foil balloons for 2-3 weeks.
Do you want the balloons to float? If so, you need a disposable helium cylinder (it's easy to handle and very practical), raffia, and weights. Inflating the balloons can also be done with air using a pump or an electric compressor.
The balloon arch and garland are made with the help of bouquets of latex balloons equally inflated with air (1 bouquet = 4 balloons, which are tied together) and with the help of raffia, which ties the bouquets together (1m = 7-8 bouquets).
Figures from modeling balloons (dog, rabbit, hat, sword, etc.) are easy to create, as only the pump and modeling balloons are needed.
You can combine the decorations with confetti, glitter, and other special items to create a pleasant impact on those who look at them.
Important things to consider
When trying to build a balloon arch, if you need it built properly, you have the possibility to request an offer for high-quality balloon decorations created by professionals, certified CBA (Certified Balloon Artist – USA).
When thinking about having a balloon arch at your event, you should consider the location as this must be large enough to allow the installation of such a décor.
For instance, at some outdoor locations such as petting zoos, farms, close to waterways, and other public spaces, you are not allowed to install balloon arches because of the potential hazards to nature and animals.
On the other hand, most indoor locations will allow you to have a balloon arch thanks to the easy cleanup. It is ideal to install balloon decorations indoors because, in this way, they are protected against direct sunlight. The sun and temperature changes may determine balloons to pop.
https://www.thepricer.org/wp-content/uploads/2023/03/Balloon-Arch-Cost.jpg
380
610
Alec Pow
https://www.thepricer.org/wp-content/uploads/2023/04/thepricerlogobig.png
Alec Pow
2023-04-03 08:51:45
2023-03-29 10:26:35
Balloon Arch Cost