We understand perfectly what it's like to be in the city, with your phone in your hand, and Facebook showing you all those pictures of your girlfriends on vacation. Sun, beaches, turquoise waters, and, above all, those curls caressed by the wind, so natural and sexy.
The stylists call them "beach waves" and they seem to be always in trend during the warm season. Moreover, you don't necessarily need to be in an exotic location to get them. There are some tricks that allow you to look like you're on vacation, even if you have a little longer to wait until the sea, salt and wind will style your hair.
How much does a beach wave perm cost?
The cost of a beach wave perm will be affected by factors such as the length and type of hair and the salon you choose. This hairstyle is considered a labor-intensive and more artistic treatment. Two or more perming solution bottles will be necessary, and because of this, the price of a beach wave perm would be anywhere between $85 and $400.
If you choose to go to My Salon 21, in Draper, Utah for a beach wave perm, you will have to pay around $100.
However, according to a Glamour article, the cost of a beach wave perm starts at around $370.
Beach wave perm overview
The perm works by using certain chemicals that change the texture of the hair, whether they create fine waves or massive curls. In the traditional version, the hairstylist will wrap the hair in curlers and apply the perm solution that will create the curls. After the solution is left to act, the specialist rinses the hair, dries it, and applies a substance that neutralizes the solution and stabilizes the shape created on the hair.
But new formulas and techniques give new life to the permanent procedure: instead of using curlers, hairstylists can use various materials that will help you achieve the perfect curls. For example, with the help of textiles or foam rollers.
New techniques lead to the formation of different types of curls, from spiral curls to slightly wavy hair, in beach wave style. Specialists claim that nowadays women turn to the permanent version to highlight their natural hair texture, whether it's S-shaped curls or waves without a perfectly defined shape.
You might also like our articles on the cost of perm hair, DreamCatchers extensions, or Box Braids.
How long does a beach wave perm procedure last?
First of all, when you go to the hairdresser for a perm you must know that you will need at least two and a half hours. After you get your hair permed, the lifespan of the procedure largely depends on how long your hair is. Short hair that is trimmed regularly can last three or four months.
What are the additional expenses?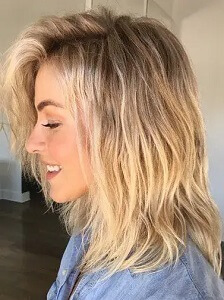 It is recommended to use conditioners and shampoos, particularly for permed and curly hair. Be prepared to pay anywhere between $30 and $50 for a good product. According to the hairstylists, the waves will stay tight for almost three weeks after the procedure. But as time passes by, the bends will reduce by 20%. However, after the procedure, you can use a curling iron anytime you want. The wavy look can be improved by using a frothy mousse.
How should you care for your beach wave permanent hair?
The best way to make your new curls shine is to let your hair air-dry about three-quarters of the way, then use a blow dryer with a diffuser. If you want to use a hair plate you must make sure that the temperature used is around 150 degrees Celsius. If the plate is too hot, you risk destroying your perm.
Another grooming trick is to use products specifically designed for curly or wavy hair. In particular, choose products that offer flexibility, hydration, and elasticity to the hair.
Does the beach wave perm affect the hair?
There's a preconceived idea that perms leave your hair dry and damaged, but if done right, modern perms shouldn't affect the health of your hair. "Perming yourself can definitely ruin your hair. But if it's done by a professional, the hair shouldn't be affected", says Karla Ottenberg, a very popular hairstylist.
But that doesn't mean all permanent procedures are the same. Anyone can get a perm, but if you have highlights or bleached hair, it's a bit more difficult. "If I use a perm for dyed hair on natural hair, it probably won't work. There are perm solutions now that are designed to work on both types of hair", says B Torabi, ai hair specialist.
How can I save money?
Look around for a few salons in your area and compare their prices. Also, see if there are any promotions and coupons available on their website. Groupon source may be a good place to find a deal and save some money.
https://www.thepricer.org/wp-content/uploads/2023/01/beach-wave-perm-cost.jpg
380
610
Alec Pow
https://www.thepricer.org/wp-content/uploads/2023/04/thepricerlogobig.png
Alec Pow
2023-01-05 06:03:53
2022-12-30 14:06:59
Beach Wave Perm Cost