Bel Air Athletic Club Membership Cost
The Bel Air Athletic Club is more than just a gym. This is a premier fitness center that offers facilities for athletic training, relaxing, and rehabilitation as well.  Besides these, the club organizes social events where people can socialize.
The Bel Air Athletic Club is located just one mile away from downtown, in Harford County, Bel Air, Maryland.
How Much Does a Bel Air Athletic Club Membership Cost?
The average monthly cost of the Bel Air Athletic Club Membership would be anywhere between $110 and $160, or even more. Though the exact price of the membership is depending on its type and the number of children you add to it.
Besides these monthly fees, you will have to pay an enrollment fee that could be anywhere between $0 and $320, depending on the promotions available at that moment. This fee has to be paid only one time when you join the club for the first time, and this also depends on the promotions and discounts being held at that time.
According to a member of the Yelp forum, the cost of a Bel Air Athletic Club Membership is around $190 per month.
Also, a real estate agent posted on the Active Rain website that a few years ago, in 2019, the cost of the membership would be around $100 per month for an individual, $140 per month for a couple, and $200 per month for a family with four members.
Bel Air Athletic Club details
According to the official website of the Bel Air Athletic Club, all members would benefit from personal training options, after-school programming, cardio training, social events.
Also, the club comes with a women's only fitness area and yoga, a cycling studio, a weight management center, an indoor track, full-service locker rooms.
You might also like our articles about membership prices at the Atlanta Athletic Club, New York Athletic Club, or Detroit Athletic Club.
Besides these, members can enjoy playing basketball, racquetball, and relax at the pool, sauna, or café.
Important things to consider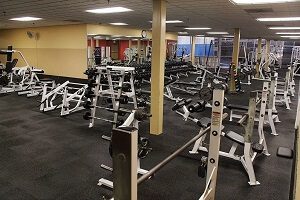 In order to access the club, you have to present your club membership card to the Front Desk for verification and registration upon entering the club facilities.
You will not be allowed to access the club without your membership card. In case you lose it, you will have to pay a replacement fee.
All the members and their guests have to be dressed properly while using the facilities of the club. You will need shirts and shoes at all times.
The guests are allowed to visit the club only three times per month and have to be accompanied by a member when using the club facilities.
The club is not responsible for any lost or stolen items. However, if they find any lost articles these are stored until claimed for 30 days. The articles that are not claimed are donated to a non-profit organization.
In case you want to cancel your membership, you will have to provide your termination request directly to the club, in person, or to send it via certified mail to their location, which can be found on their official website.
What are the extra costs?
You will have to budget an extra sum of money for the classes that are not included in the original membership fee.
Also, you will have to pay an extra fee for the private personal training sessions.
Guests will have to pay a guest fee.
The extra fee to add two additional children to your membership is around $35 per month, and the costs decrease to $15 and then $10 per month for every next child added.
How can I save money?
Like any other gym, the club offers special discounts and promotions from time to time. Before joining, make sure you check their Yelp page or ask a membership representative about any discounts. Also, you should take a look at other websites such as Groupon.com.
There are employers in the area that are offering their employees discounts at various gyms. Ask your employer or directly the gym about this benefit, if you are living in the Bel Air area. For example, employees of the Johns Hopkins Hospitals benefit from discounts at the Bel Air Athletic Club. They will have to pay around $90 per month for an individual with a $110 one-time fee, while for couples the monthly fee is $130 and the initiation fee is $160.
https://www.thepricer.org/wp-content/uploads/2022/02/bel-air-athletic-club-membership.jpg
380
610
Alec Pow
https://www.thepricer.org/wp-content/uploads/2023/04/thepricerlogobig.png
Alec Pow
2022-02-03 06:06:35
2022-02-02 06:30:01
Bel Air Athletic Club Membership Cost