Last Updated on November 22, 2021 | Written by CPA Alec Pow
First Published on November 22, 2021 | Content Reviewed by

CFA Alexander Popivker
The Berta wedding dress is an amalgam of sensuality and avant-garde.
For a bride looking to make an impact, these figure-hugging wedding gowns with plunging necklines are a perfect choice. These form-fitting dresses show off your femininity as they hug every curve and outline it in flattering ways without being too revealing or risque for those who want their big day to be a memorable one.
How Much Does a Berta Wedding Dress Cost?
The average cost of a brand new Berta wedding dress starts at $7,500 and goes up to more than $12,000. These prices are greatly influenced by the retailer you buy it from and the type of dress.
For example, you could buy a Berta wedding dress from Nordstrom.com for $8,200 to $10,500.
Some members of the WeddingBee.com forum said that you should be prepared to spend around $6,500 for a Berta wedding dress.
According to BridalMusing.com, the average price of a Berta wedding dress is anywhere between $8,000 and $9,500.
Berta wedding dress details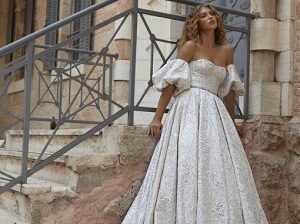 For over 40 years, the Berta brand has set high standards for excellence in its designs. With each new collection comes an innovative update to traditional techniques and styles with a unique vintage touch that will never go out of style.
When you wear a Berta dress, it's like the clothes are telling their own story. Every detail has been carefully considered and crafted with love by an experienced seamstress who cares about every inch of fabric they use in making these beautiful creations for all women to enjoy.
The Berta collection is a must-have for any bride looking to show off her curves and feel beautiful on such an important day. The carefully curated pieces range from deep plunge necklines to figure-hugging silhouettes with cut-out designs that will make every other woman envious of your stunning dress. Each piece of artful design is made from sumptuous silks and intricate laces sourced from Paris and Milano.
What are the extra costs?
You have the option to add a veil for most of the dresses and one would cost around $1,600.
In case your Berta dress is shipped be prepared to pay more than $220 for transportation.
You might also like our articles about the cost of a wedding dress in general, a gypsy wedding dress, or a wedding tiara.
You should always take into consideration that a tax is often applied as a percent to the total price. For example, if your dress costs $10,000 and the tax rate is 7 percent, then you will have to pay another $700.
Important things to consider
Berta's designs are luxurious and artfully created with an attention to detail that can be seen in every stitch. One would expect her wedding gown, which costs a considerable amount of money, to last forever.
If you're looking for a designer wedding dress, then look no further than Berta. The designer offers many different styles and colors that will match your personal taste in clothes to create the most memorable experience. You can visit their website or head straight to one of their bridal salons where the staff is trained on how best to serve customers.
You can find Berta dresses in the United States at one of these retailers: L'Fay Bridal, Saks 5th Avenue, Nordstrom, but also at some smaller bridal boutiques, that are listed on the official website.
How can I save money?
If you want to save some money on your wedding dress consider buying a slightly used one. For example, on PreownedWeddingDresses.com you can find a wedding dress that costs anywhere between $1,300 and more than $7,200.
Also, you would pay even 90% less for a replica that looks just like a Berta wedding dress. For instance, TheBrokeAssBride.com has some models that resemble the Berta dresses at a cost of less than $1,600. In case you have to purchase in bulk, you can find replica dresses on DHGate.com at a price of less than $180 each, but the quality would be less than decent.
https://www.thepricer.org/wp-content/uploads/2021/11/berta-wedding-dress-cost.jpg
380
610
Alec Pow
https://www.thepricer.org/wp-content/uploads/2023/04/thepricerlogobig.png
Alec Pow
2021-11-22 08:53:59
2021-11-22 08:53:59
Berta Wedding Dress Cost