BMW Windshield Replacement Cost
The problem of fissured or cracked windshields is quite common for many car owners, regardless of the amount of attention and care.
Among the most common luxury car brands are the BMWs and when the windshield of such a vehicle is broken it should be fixed as soon as possible. Because the windshield is a very important part of a car, and the effects of mounting a windshield can be very unpleasant, it is recommended that the installation of a new windshield be carried out in a professional service by authorized personnel that has the knowledge and technology required for such a complex operation.
How much does a BMW windshield replacement cost?
The cost of a BMW windshield replacement will be affected by some factors such as the year and make and model of the car. You should expect to pay anywhere between $300 and $800, with an average cost of $400. However, for some models, you may have to pay only around $210, while for the newer models you will have to get around $1,000 or even more out of your pocket.
You might also like our articles on the cost of windshield wiper motor replacement, windshield repair, or driver-side window replacement.
The exact amount of money you will have to pay to replace the windshield will be greatly influenced by the age of your BMW, whether it has advanced tech such as rain sensors or HUD built on it and the model.
In the table below you will find the average cost of windshield replacement for some of the most popular BMWs.
| | |
| --- | --- |
| Model | Price |
| BMW 7 Series | $800 |
| BMW Z4 | $600 |
| BMW 4 Series | $620 |
| BMW 5 Series | $520 |
| BMW X1 | $520 |
| BMW X7 | $470 |
| BMW X3 | $370 |
| BMW X5 | $380 |
| BMW 3 Series | $410 |
As you can see, the average cost for windshield replacement is anywhere between $410 and $620 for most of the BMW models. Though, you should keep in mind that this price range is just an estimate and the exact cost will depend on your mechanic's location and the age of your car.
In general, you will have to pay more if you need to replace the windshield of a new model than what you would have to pay for an old model.
New vs. Used Windshield Cost
If you want to save some money on this car repair you can purchase a used windshield from a salvage yard. Here you can find old cars that have their windshield in a good condition.
You will have to pay around $110 or even less for a windshield from a salvage yard.
However, there is a disadvantage when purchasing a used windshield. Nobody can guarantee its safety and it may have problems that you are not able to see. Also, any warranty you have may be voided when installing a used windshield. There are warranties that cover only the repairs where OEM parts are used. Before installing any used parts make sure you check your BMW's warranty.
What are the extra costs?
As with the majority of car problems, a broken windshield rarely comes alone. In general, you will have to fix some other car parts when replacing your windshield.
Windshield wiper motor
You may have to also replace the windshield wiper motor, depending on the complexity of the windshield damage. The cost of the wiper motor parts would be anywhere between $110 and $210 for most of the BMW models, and you will have to pay another $110 for the installation.
Wipers
In general, you will also have to budget for the wiper when replacing the windshield. Most probably you will need new wipers which fit the windshield if the windshield is not an OEM piece.
Expect to pay around $110 for a new set of wipers for the majority of BMW models.
Water stripping
The water stripping is that piece that creates a seal that keeps air out and helps hold the windshield in place.
This repair is cheap and most often will be included in the cost of the windshield replacement.
Rain sensor
Usually, modern BMW models come with rain sensors installed. When it is raining these automatically turn the wiper on. These sensors should also be replaced when you get a new BMW windshield.
Plan on spending around $45 for the sensor parts and another $85 for installation.
Factors that influence the BMW Windshield Replacement Cost
Aftermarket or OEM parts
Aftermarket parts are created by third-party companies with or without the original manufacturer's supervision, while the Original Equipment Manufacturer's parts are produced by the original manufacturer of the car. In general, the cost of the OEM part is higher, but their quality is better.
Make and Model
You can find many different models of BMWs on the market and some are more expensive than others. For instance, you will have to pay more to replace the windshield of a BMW 8-Series Gran Coupe than for a BMW X1.
Age of your BMW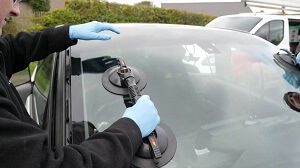 In general, the windshield replacement cost will be higher for the newer models of BMW than for the old models. However, it would be more expensive to replace the windshield of a very old model as the parts will be hard to find.
HUD Windshield
Most of the modern BMW models come with an advanced heads-up display (HUD) installed in the windshield or rain sensors. It will be more expensive to repair this type of model.
Extra repairs
When replacing your windshield, your mechanic will most probably recommend you also replace the wiper motor and the windshield wipers. Also, the windshield frames and the rain sensors may need to be replaced.
Repair vs replace
In general, it would be more expensive to repair a broken shield than to replace it.
FAQs
How long does it take to replace a BMW windshield?
Executed by a reputable company, replacing a windshield can take between 30 and 60 minutes. However, it should be kept in mind that it is recommended that the car be immobilized after this work for a minimum of 3 hours.
Which option should I choose? OEM or aftermarket?
This depends on your quality requirements as well as laws/contracts. In addition, many car insurers will only accept OEM products, so keep that in mind when making a decision.
Replacement or repair?
The first question most car owners ask themselves when facing a cracked or chipped windshield is whether it should be repaired or replaced. There are pros and cons to both options, and sometimes replacement is the only possible option. E.g:
most experienced windshield repair/replacement technicians recommend replacing the windshield in the event of cracks along the edges of the windshield. This is because this type of defect tends to spread very quickly and is very difficult to stop.
replacement is mandatory if it is on the side of the driver;
if the windshield has suffered a very large crack or chip (over 2 inches), it will most likely need to be replaced.
The first thing you need to know is whether or not the windshield can be repaired, and since each case is different, it is best to seek the advice of a professional in the field to be sure. DIY (do-it-yourself) repair/replacement kits can also be an option.
https://www.thepricer.org/wp-content/uploads/2022/05/bmw-windshield-replacement-cost.jpg
380
610
Alec Pow
https://www.thepricer.org/wp-content/uploads/2023/04/thepricerlogobig.png
Alec Pow
2022-05-21 08:25:01
2022-05-24 05:16:42
BMW Windshield Replacement Cost