Lifting your boat out of the water can be a difficult and time-consuming process. In order to avoid this, you will need a boat lift.
No matter where you store your boat, whether at a private pier, at a marina, or your own backyard, you will have many advantages if you will keep it on a lift. This way you won't have to paint the bottom, worry about it floating away, or even sinking.
How Much Does a Boat Lift Cost?
Boat lift costs depend on some factors such as the type of the lift, where you buy it from, and the size of the boat that has to be lifted. However, the costs start at around $2,100 and can go up to more than $21,000. But when you budget for a lift, plan on spending around $520 per piling and $1,110 per ton.
For example, depending on the boat's weight, you may pay anywhere between $720 and $3,550 for a cantilever boat lift. For instance, you can purchase it from the popular brand Hewitt for $1,650 to $3,550.
On the other hand, for a vertical boat lift, you will have to pay anywhere between $6,100 and more than $21,000, depending on the extra features you would like to add and the size of the boat. For instance, the price would increase if you would add a power feature.
Also, depending on the features you want to add and the weight of the boat, you will pay between $2,100 and $10,500 for a hydraulic boat lift.
You will need an elevator boat lift for larger boats. These types of lifts can lift weights anywhere between 1,500 and 16,000 pounds and you will have to pay anywhere between $8,200 and $22,500 for one of those.
Plan on spending $8,200 to more than $17,000 without installation for a specific boat lift like Pontoon boat.
According to the members of the TheHullTruth.com forum, the cost of an 11,000 pounds aluminum lift is around $4,500.
Also, according to Air Dock Boat Lifts price list, you will have to pay around $8,500 for a boat lift that is capable to lift up to 24,000 pounds and only $730 for a PWC model boat lift that is capable of lifting up to 650 pounds.
Boat lift types
Hydraulic
A hydraulic boat lift will hold up to 10,000 pounds. The strength of marine-grade aluminum ensures that this is a durable investment.
Cantilever
A cantilever boat lift is a great choice for those that want to save money and not have the hassle of moving their boats around. They're typically made of corrosion-resistant aluminum, which means there's no need to worry about maintenance or rusting.
You might also like our articles about the cost of boat upholstery repair, boat docks, or kayaks.
Vertical
The lightweight design of this type of lift makes it easy to move and control. Most often, they are electric-powered making their operation very simple. They can lift weights ranging from 1,000 to 10,000 pounds.
Elevator
It has the same functionality as a forklift and can hold up to 16,000 pounds. This is "side-mounted" to a dock or a seawall and the material it is made from can be aluminum or galvanized steel.
What are the extra costs?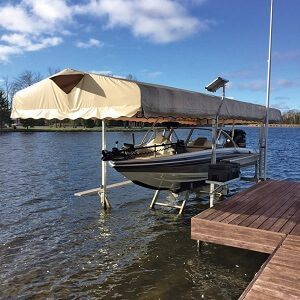 The installation costs may or may not be included in the price of the boat elevators. If not, you will have to pay anywhere between $550 and $1,100.
You will need a boat railway to bring it up on shore or into a boathouse. Depending on the roller sizes and the length of the track, plan on spending $1,550 to $3,550 on this.
You can customize your boat lift and add extra features. For instance, a motor stop, a pontoon stabilizer bar, carpeted bunks, or a pontoon rack kit are just some of the extra characteristics you can add.
Not only the boat has to be maintained to prolong its life, but the boat lift as well. This means that you have to make sure the bolts, nuts, runners, and other pieces of equipment are in good condition. Through periodic maintenance, you will avoid any repair costs in the future. You can maintain the boat lift yourself by periodically lubricating the steel cable, the gears, and other moving parts with grease. Also, you will have to check for any cuts in the wire insulation, defaults in the electrical cables, or cracks in the belts.
You should be prepared to spend on shipping fees in case you are going to purchase the boat lift online or from a retailer that will have to have it shipped.
Important things to consider
The boat lift has to be raised to the normal level position when it is not used, even if it is only for one day. Also, you must shut all power to the lift from the circuit breaker for safety reasons.
You must take into consideration the characteristics of the boat such as the length of its waterline, the weight of the boat, rigging and equipment, not the displacement and its overall length when choosing the right boat lift.
You can find valuable information regarding the lifting process on your boat's operator's manual. After you gather all this information you can contact the boat dealers around you and ask about any available equipment.
How can I save money?
You may be able to save up to 60% for the models that are slightly used. It will always be cheaper to purchase the boatlift from a third-party boat dealer instead of purchasing directly from a manufacturer.
Make sure you ask for price offers from different dealers and choose the one that is ideal for you.
If you have the right knowledge and the necessary materials you can build a boat lift yourself. There are guides and video tutorials on the Internet that can teach you how to do it.
https://www.thepricer.org/wp-content/uploads/2021/12/boat-lift-cost.jpg
380
610
Alec Pow
https://www.thepricer.org/wp-content/uploads/2023/04/thepricerlogobig.png
Alec Pow
2021-12-31 23:12:56
2021-12-27 23:18:08
Boat Lift Cost