Bought in 2007 by one of the world's leading construction companies, Doosan Infracore, Bobcat (a subsidiary of Doosan Bobcat Inc.) is an American company founded in the 1940s that specializes in the manufacturing and sale of construction site equipment. The subsidiary is distinguished by the production of exclusively compact equipment that allows the performance of works of all types. The Bobcat brand produces the following machines: compact wheel or crawler loaders, mini-excavators, telescopic loaders, and other equipment, such as four-wheel loaders.
These tractors are known for being tough enough, so you can tackle any terrain with ease regardless of whether it's wet or dry, comfortable thanks to their ergonomic design that makes them versatile across many types of the job site and high performing due to how efficient they operate.
How much does a Bobcat tractor cost?
The price of a Bobcat is hard to predict because it depends on so many variables, like what type and how you configure the machine. You'll need to think about who will be using your equipment – professional contractors in construction or farmers? Is the seller located close to you or far away at another location that requires special delivery services? There are also shipping fees when buying from overseas dealerships.
Anyway, with the help of third-party online websites, we gathered some estimates. The table below shows the suggested retail prices for tractors. Again, these can vary depending on how you build your machine and where it's sold – in stores or online retailers like Amazon. The average cost for a Bobcat tractor starts at $25,000 and goes up to more than $95,000, depending on its type.
You might also like our articles about the cost of a Bobcat skid steer loader, mini excavator, or bulldozer.
You won't find prices published on the company's official website, but according to our research, the most significant factor in pricing will be the load capacity. Generally speaking, a higher capacity means that you'll pay more money for it. The price for a small skid steer machine that has the capacity to operate up to 1,400 would be around $21,000, while the cost for one that can operate up to 1,600 pounds would be approximately $26,000. For a larger machine, with a capacity of 2,000 pounds, expect to pay almost $32,000, and for the one with a capacity of 3,000 pounds around $55,000.
| Type of Tractor | Average Price |
| --- | --- |
| Excavators | $58,000 to $100,000+ |
| Compact Track Loader | $50,000 to $70,000+ |
| Loaders | $28,000 to $48,000+ |
| Utility Truck | $25,000 to $45,000+ |
| Skid Steer | $42,000 to $65,000+ |
Bobcat tractor details
You can choose from a wide variety of Bobcat tractors such as utility work machines, skid steers, utility vehicles, compact excavators, compact truck loaders, and mini track loaders. The company has many models of skid steers, including the S-Series and M types. These machines are designed for tight spaces as well as dealing with virtually any terrain. The average operating weight of most Bobcat tractors is anywhere between 2,500 and 10,000 pounds, and the operating capacity is between 700 and 4,000 pounds.
What are the extra costs?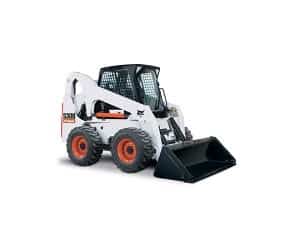 A custom cab enclosure with heating and sound insulation will cost an additional $5,000. In addition to this, a few other options can be added, such as a suspension seat or upgraded tire package for about another $3,000 more on top of the original price quote.
Bobcat attachments are among the best in quality and variety, with over 100 options available for any Bobcat-branded equipment. For example, you can choose from a backhoe to bucket blades or even concrete mixers. Most of these items will run between $1,000 and $2,500, depending on what interests you most.
How can I save money?
You can save 25% to 50% off the entire cost if you choose to buy a used tractor, but still, good working and with less than 3,000 hours logged.
Renting a tractor offers many benefits for people who only plan on using it occasionally, such as saving money and time. For those who do not want the extra hassle of dealing with maintenance or licensing requirements if they purchased one outright, renting is an ideal solution, especially since most rentals come equipped with all necessary gear.
Tractors are essential to construction sites and other activities, but they're also expensive. Fortunately for many of us, financing options are available with low-interest rates from banks and dealers that can help cover those costs. For example, when this article was written, we found some dealers offering zero percent loans on specific makes/models, so you don't have to pay any money upfront.
https://www.thepricer.org/wp-content/uploads/2021/10/bobcat-tractor-cost.jpg
380
610
Alec Pow
https://www.thepricer.org/wp-content/uploads/2023/04/thepricerlogobig.png
Alec Pow
2021-10-01 06:24:36
2021-12-09 12:47:54
Bobcat Tractor Cost