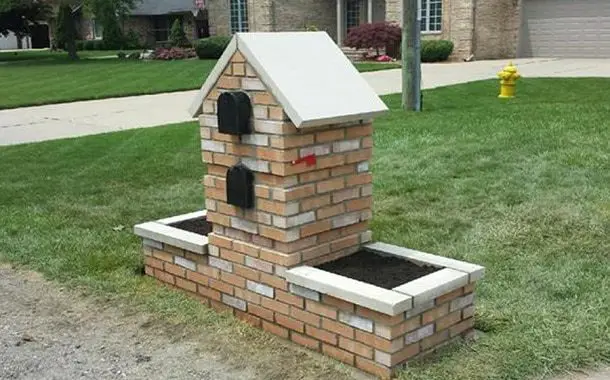 A brick mailbox is among the many alternatives that you can go for when picking a mailbox, and this kind of mailbox, when compared to other similar items, is known to be more durable, longer-lasting, and can match your building's decoration.
Just how much does it cost to build your own brick mailbox?
Usually, the price to build your very own, custom-made brick mailbox can be anywhere between $700 to more than $1,800 if you were to work with an expert. The expenses will depend upon the design you pick, the size, your geographical area, and the specialist you go for. The expenses will be closer to the $700 to $1,000 range if the mailbox is hollow on the inside and about double this price range if you needed the specialist to fill the whole interior with concrete, which can make it last longer. Considering that a lot of projects can be done to be unique, think about getting several quotes free of charge from Google.
Premade brick mailbox kits are readily offered online, and these sets will include all of the tools and materials you need in order to make the mailbox yourself. Depending on the particular design and size, the majority of the premade packages will cost anywhere from just $400 to more than $1,100.
This will not include the specialist's work, should you need one to help you.
The price quotes discussed above ought to include the brick mailbox design plan, the products, materials and tools needed, and the labor. All bricks can be customized to match existing brickwork and all boxes should, at the very least, come in the standard size mailbox.
MJ Masonry Mailbox, for example, has close to 20 types of prefabricated sets online, with rates that start at $495.
You might also like our articles about the cost of block foundation repair, hardwood stair installation, and in-ground hot tub set up.
Another website – Mail Box King – has a very similar business model, with costs varying from $550 to $800.
What are the additional expenses?
While optional, planters for a brick mailbox will cost between $40 and $150 each.
Fancier bricks, specifically if they need to be custom made, can increase the final price.
Stone numbers embedded into the mailbox can cost $10 to $30 per number.
Unique keystones can cost anywhere from $40 to $150 each.
Setting up lights near the mailbox can cost around $100 to $300+, also.
Updating your mailbox to a larger than typical size can cost $40 to $80.
Remember that if issues or repair work will emerge in the future, they can get rather pricey when compared to a standard mailbox.
If you have an existing brick mailbox and it needs to be taken down, then a specialist might charge additionally to get rid of the bricks.
Tips to keep in mind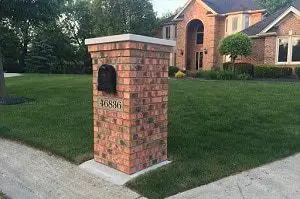 Throughout the building of the mailbox, a professional will dig and put a footer to fix the mailbox. As soon as this footing is produced, the bricks will be laid according to the design you picked, with a basic mailbox set up inside it.
Remember that you will need a strong concrete structure or base for your brick mailbox to be properly secured. This will ensure that your mailbox will be long-lasting and properly fixed.
If you reside in a community that has a homeowner association, talk to them before you get a brick mailbox. Lots of associations will require particular looks or colors of mailboxes for every house in the neighborhood.
Also, read about the USPS mailbox policies before you start installing it. No matter where you live, your mailbox will need to be so far from the roadway, and the mailbox inside the brick will need to stand out a minimum length. It also can't hurt to talk to the roadway department to know how far it must be from the curb or roadway.
Do you need any ideas for a brick mailbox? Why not check out some of the images on Pinterest?
How can you save some money?
The first step is to get as many quotes as possible. However, do not concentrate on the rate entirely. You will need to ensure these professionals are accredited, offer a warranty, are insured, have excellent recommendations, and have reliable evaluations online. If you get a quote that's too good to be true, the specialist might be cutting corners or they might not even be lawfully able to carry out the project. This isn't a risk you will wish to fake.
Think about the Do It Yourself path if you do not mind getting your hands dirty. On the Do It Yourself route, you can find detailed guides, showing you just how you can install one by yourself.
https://www.thepricer.org/wp-content/uploads/2020/11/brick-mailbox-cost.jpg
380
610
Alec Pow
https://www.thepricer.org/wp-content/uploads/2023/04/thepricerlogobig.png
Alec Pow
2020-11-15 02:06:01
2021-12-10 06:37:53
Brick Mailbox Cost