Last Updated on December 7, 2020 | Written by CPA Alec Pow
First Published on December 7, 2020 | Content Reviewed by

CFA Alexander Popivker
Candy Canes are perfect for eating, tree decorations, table place settings, gift wrapping, stocking stuffers, and many more!! There are iconic! And, of course, they are the number one selling non-chocolate candy in December.
However, they are not so popular during the year because there are associated with Christmas. They are also bought at Thanksgiving and  Saint Nicholas Day. There is a legend that says that it all started in Germany. It was a choirmaster in Cologne who gave out sugar sticks to the children on the way to the native ceremony. The sugar sticks are in form of a hook so they can be the shape of a shepherd's staff. The first documented case of candy canes was in 1847.
You might also like our articles about the cost of a Christmas gift, a Christmas meal, and Christmas decorations.
Peppermint flavor is a blast! It is a strong-smelling plant, a cross between a watermint and spearmint. It is medicinal and its purpose is to ease stomach pain and treat indigestion and nausea.
The company that reinvented the candy canes was The McCormack company in 1950. Until then, candy was all white. They added the red and white stripes making them the biggest production at that time. They made 1.8 million sticks of candy every day. Today, the candy canes make up a sum of $1.4 billion Christmas candy market.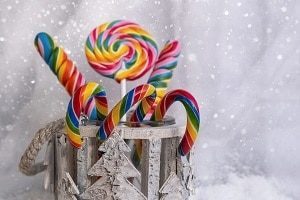 The recipe is rather simple but is energy-consuming. All the basic ingredients are sugar, water, corn syrup, and flavoring. (more explicit are 3 cups of granulated sugar, 1 cup light corn syrup, ½ cup water, 1 and ½ teaspoons peppermint extract, 1 teaspoon red gel food coloring, and 1 teaspoon white gel food coloring) The hard part is boiling the sugar, then pulling it until it is stiff, but pliable, turning it into the hook shape. They are about 6 inches (15 cm) tall and about 0.25 inches (6mm) thick. Of course, there are some improvements in modern products such as lower calories versions.
Candy canes can be found everywhere! In every sweets shop, big shops, Amazon, and in every kid`s hand. They came in boxes or singular, in any sizes. There is a great variety: blue candy canes, bulk ones, chocolate ones, giant, green, mini, peppermint, purple, rainbow, wrapped, etc.
At Walmart you can find giant peppermint candy canes in a box for $5, mini ones 260 pieces $17.99, 40 original size $15.10/ box.  There is also Amazon, Tesco, etc.
Surprise – surprise: Mac&Cheese Candy Canes – 6 in a box $8.88, Bacon Candy Canes 6 pack $13.99, Oreo Cookies and Creme Flavored 12 count in a box $41.51.
As already noted, candy canes are perfect gifts, especially if Christmas is really close and you don't know what to get for the young ones. They have always been part of the Christmas decorations and there is really no way to imagine this holiday without candy canes all over the place. If you want to avoid spending too much, try to buy them in bulk, instead of buying them by piece. This way you can get them at half of the price, or even cheaper. Also, try to get them from big supermarket chains, instead of gift shops, to make sure you're getting them at the smallest price possible.
https://www.thepricer.org/wp-content/uploads/2020/12/christmas-candy-canes.jpg
380
610
Alec Pow
https://www.thepricer.org/wp-content/uploads/2023/04/thepricerlogobig.png
Alec Pow
2020-12-07 13:58:47
2020-12-07 13:58:47
Candy Canes Cost