Car Headliner Repair Cost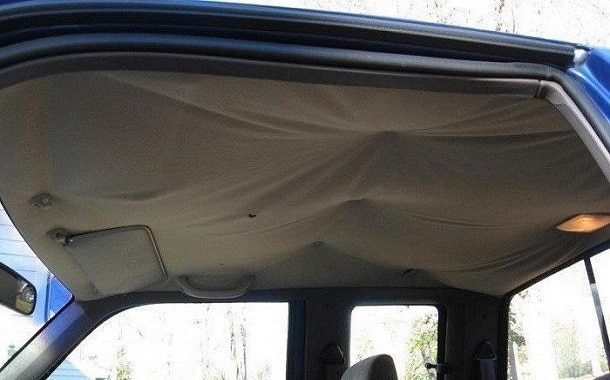 With time, a vehicle's headliner can start to sag, typically due to the quality. Also, in many cases, it might end up being torn for any other reason and even have water discolorations, leading to an awful appearance.
While a headliner does not have to be fixed, most choose to consider this possibility due to cosmetic reasons.
Whether you wish to repair the headliner by yourself with the help of a Do It Yourself package or work with an expert, the expenses will differ.
The usual car headliner repair work prices
The expenses to fix your vehicle's headliner will all depend on the expert you select, where you live, and the kind of vehicle you drive. For only the headliner part, a common four-door sedan will cost about $100, whereas an SUV or minivan will cost about $250. When it comes to expert work, it's best to double this rate to get to a closer quote, which means that a four-door sedan will cost about $200+ for a brand-new headliner set up by a professional or about $500 for a professional to set up a brand-new headliner in a bigger automobile or a more expensive vehicle. This price would surely include both the products and the hourly labor price for the professional.
Costs vehicle owners were made to pay
VW Jetta – $370
Mini Cooper – $495
Jeep Cherokee – $470
Honda Civic – $195
Honda Accord – $425
Dodge Ram – $225
Dodge Dakota – $350
Chevy Silverado – $370
On Amazon, for example, a lot of the most popular sellers offer material for headliners by the yard, with the typical cost varying anywhere from $10 to $45 per yard. Depending upon the automobile you drive, a basic minivan would require about 3 yards, whereas a four-door sedan might just require just around 1.5.
Top-selling headliner replacement packages at AutoZone are retailing for about $60, however, do remember that these packages are developed for those who wish to get the job done by themselves. Many experts will not set up third-party products and will ask you to buy the products straight from them.
An interview with an expert vehicle upholsterer has shown that a replacement headliner for a sedan would cost about $180, while an SUV/van owner must be prepared to pay closer to $380. When it comes to making use of their services, they declared they would charge $200 for vehicles and $240 for SUVs, bringing the total price closer to $550.
The additional expenses to think about
Hung headliners will need bigger labor rates – In some older vehicles with "hung" headliners, they are typically suspended by rods, which will mean that it's stitched into the headliner and sewed tight along the external edges. This means that the front and back windscreens, usually, will have to be taken down together with the weatherstripping along the windows. As you can picture, this can take more of the specialist's time, resulting in a greater labor cost.
More expensive vehicles will cost more – Some very expensive vehicles, such as some types of BMWs, usually need the rear windscreen taken out to get the whole shell out of the car, according to some experts. Some other brand names have liners that are too bigger to fit through the doors without flexing or breaking them, which, regrettably, means the costs will be way higher when compared to a simpler job.
Vehicles with a sunroof – Vehicles with sunroofs will also consume more time due to the cleaning and lubrication needed after getting rid of the shell. A well-known expert will lube the tracks, drain pipes, and make changes before the brand-new headliner is ready to be installed. In many cases, a vehicle with an electrical sunroof will need to have it taken down in order to reach the vehicle's whole shell, once again, increase the labor time.
Mishaps to try to avoid
Plenty of individuals online advise saving some money by spraying fabric paint straight on the headliner to offer it a much better look. While it might seem like a good idea, it really isn't. Painting it right away reduces the vehicle's worth and it can typically look even worse than before you started to paint it.
You can also read our articles about the cost of car undercoating, rust repair, and keyed car fix.
Old material, as it starts to droop, can be glued back to the ceiling. At least that's what people consider an easy fix. Sadly, re-gluing the headliner will not work because as the headliner starts to weaken, the foam and board, which stick to the headliner will start to "dust" or end up being crumbly. If you were to use glue on this dust, as you can probably imagine, it would not stick to the ceiling of the vehicle.
Like gluing, some people usually believe stapling might work in the case of sagging material. Once again, this isn't going to work. Why? Even if you go for a stronger-than-average stapler, the material will still sag, making it look sloppier. All a stapler is going to do is keep it from drooping more.
How to change a vehicle headliner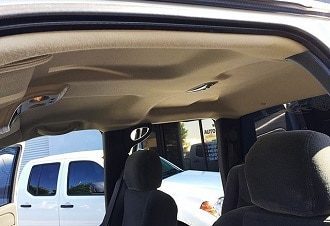 All screws, bolts, and/or clips, depending upon the car's setup, will be taken out in order to get rid of the headliner board which holds it to the roofing system. After that, any sun visors, clothing hangers, side handles, speakers, dome lights, and/or mirrors, again, depending upon the setup, will be taken off too.
The headliner, after everything mentioned above is taken off, will now be totally loose and it can be taken down by slightly moving it side to side.
After the headliner has actually been taken out, the soundproofing foam will now be visible, and now, a specialist will inspect it to see the condition and whether it should be changed or not. In many cases, this foam might have to be either changed in its whole or partly reinforced.
With the headliner, as soon as it is taken out, it will be laid out on a flat surface area and all of the flaky foam which was holding it up will now be removed with the help of either a wire brush or sandpaper.
The brand-new material will be set out on the board and cut to size, leaving some extra fabric around the edges.
As soon as the fabric is cut to size, an adhesive will be added to the board and the material, while being smoothed out, to glue them together.
The edges will then be repaired and the adhesive will be let to dry.
After it has actually dried, new holes will be cut where it will be screwed in and the headliner will be installed, along with the other parts, in reverse order.
https://www.thepricer.org/wp-content/uploads/2020/09/car-headliner-repair-cost.jpg
380
610
Alec Pow
https://www.thepricer.org/wp-content/uploads/2023/04/thepricerlogobig.png
Alec Pow
2020-09-23 07:14:31
2022-03-13 22:42:46
Car Headliner Repair Cost