Car Stereo Installation Cost
The car stereo market is flooded with many options. If you want to upgrade or your current one no longer works for whatever reason, installing a new one can be done pretty easily.
How much does car stereo installation cost?
Usually, car stereo installation, without including the stereo system, will cost anywhere from $0, if you were to have it installed by the shop you buy it from, to more than $300 for a gadget that would have multiple features and would need complex wiring. This shouldn't worry you, because usually, basic installs will only cost between $45 and $100. In the end, the final price will come down to the type of car stereo you go for, the professional or company you choose for the installation, and the complexity of the job.
For instance, a car deck installation and standards speaker installation can cost up to $130 at Best Buy's Geek Squad.
At the same time, Fry's Electronics offers free basic installations when they are running their promotions, and outside of these promos, the costs will be about the same as those found at Best Buy ($65 for the car deck installation and another $65 for the standard speakers installed, if this is needed).
Car stereo installation details
The installation of a new car stereo includes removing the old one, connecting wiring harnesses and antenna adapters, and installing mounting kits to blend in with the dashboard. If Bluetooth connectivity is needed near your visor you can get that installed at the same time as the rest of the kit as well.
You might also like our articles about the cost of Backup camera installation, keyless entry installation, or sunroof installation.
When you work with a reputable installer, they might be able to back up their service for the full life of your system. This limited warranty covers any issues that arise over time as long as the unit itself has not been modified in any way by an unauthorized person.
Any additional expenses to consider?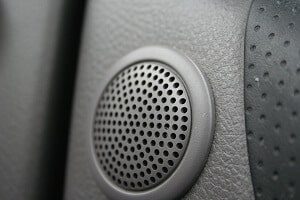 If you're looking to replace your old car stereo, it's important to be aware of the many costs associated with installation. For example, a separate wiring harness might be needed for connecting the new device to the factory wires in order to avoid cutting up original wire harnesses or stripping out connections; an antenna adapter may also need to be purchased depending on the type of setup you go for. If there are any other parts necessary (such as a dashboard kit), all of the needed parts should add up to about $40-$60 more.
Some people may be installing new speakers with their car stereo. To install these, they have to spend anywhere from $70-$180 depending on the company you get them from. If adding an amplifier is needed as well, the cost will range anywhere between $100 and $200 depending on the complexity of the job and the number of channels you will opt for.
Bluetooth microphones are often installed near the visor. They can be sold separately, in which case the installation prices may go up. This feature is something worth considering while changing your car stereo if the vehicle has this function.
Is there any way to spend less?
If you're buying a stereo and want it installed for free or cheap, go with the big retailers. Many of them offer low installation costs if you buy from their stores directly. And don't forget to ask about any promotions they might be running when purchasing these types of kits.
You can install a new sound system on your own with the help of reputable retailers like Crutchfield. If you buy the system from them, they provide all installation equipment and step-by-step instructions so you don't need to rely solely on contractors for any work that needs to be done.
https://www.thepricer.org/wp-content/uploads/2021/07/car-stereo-installation-cost.jpg
380
610
Alec Pow
https://www.thepricer.org/wp-content/uploads/2023/04/thepricerlogobig.png
Alec Pow
2021-07-27 08:47:27
2021-07-27 08:47:27
Car Stereo Installation Cost