Carnations are, without a doubt, some of the most famous flowers. Grown in gardens, used in bouquets of flowers, floral arrangements, or bodices, carnations remain flowers appreciated by many due to their lacy appearance, discreet scent, and long shelf life of flowers, even cut. But few know what the history of this flower is, what the true meanings of the carnation are, and how you can convey a message with the help of a bouquet of carnations.
The scientific name of the carnation is Dianthus, a name that comes from the Greek words "Dios" and "anthos", which means "flower of the gods" or "divine flower". That is why, in some cultures, the carnation was considered sacred and, consequently, was used in flower garlands for sacred ceremonies.
In the Victorian era, when flowers were a true messenger, carnations were the flowers of strong feelings, affection, and love. Depending on the color, carnations had different meanings. Red carnations were associated with marital love, pink carnations with maternal love, white carnations with spirituality, and yellow ones with rejection. Carnation was also considered the flower of health.
How much do carnation flowers cost?
Carnations are such a classic and beautiful flower, but they are not too expensive.
The cost of carnations will depend on the quantity, type, color, and where you purchase them from, with most places charging anywhere between $1-$2 per stem. If your budget is tight or if you're looking to go big for Valentine's Day then maybe it would beneficial in buying the more economical option like white carnations, which start at only 75 cents per stem.
Also, you can buy four bunches or 100 stems with $110 or 350 stems with $210, from FiftyFlowers.com with shipping included in the price.
The wholesale clubs like Sam's Club sell 150 stems of mini carnations for $70 to $85, or 300 stems for $125 to $150. Also, at Costco, you can buy 150 stems for $95.
Depending on the setup, you may pay $30 to $80 for a bouquet sent online or from a local flower company.
Carnation details
Carnation flowers are among the most wanted flowers: they have both commercial and ornamental value. They are great as border plants, in layers, in rock gardens, and even in pots. They are found in a variety of colors such as red, brick, orange, purple, yellow, pink, white, cream, etc. They have thin leaves, arranged on either side of the stem. Depending on the species, it blooms in spring, summer, or autumn. The flowers appear in bouquets, at the top of the stems. They have 5 petals, with serrated edges in most species.
You might also like our articles about the cost of roses, sunflowers, or peonies.
Carnations come in a variety of shapes and colors. The type you buy will depend on what your needs are, as well as the size of flower that you're looking for. If it's large flowers that catch your eye then look no further than the large-flowered carnation which has one big bloom per stem, while if smaller is more important to you then either choose from our selection of mini or dwarf flowered varieties.
Carnation care
The light. For carnations, light is a very important factor. For optimal growth and abundant flowering, they need at least 6 hours of sunshine a day.
The ground. Carnations support sandy and calcareous soils with a slightly alkaline pH. It prefers well-drained soil, not wet, so watering should be done moderately. The soil must drain water well because excessive moisture leads to root rot and drying of plants.
Fertilization. It is recommended to administer specific fertilizers for flowering plants, in liquid form or granules.
What are the extra costs?
An extra cost that should be taken into consideration is for any additional decorations and vases.
Carnations are not just a flower of beauty and elegance. They also provide a great look for floral artists. Some artists provide great services, such as dyeing them to the perfect shade on demand. Many florists charge extra for this procedure because it takes skill that must be practiced; however, if you want your plant painted in vivid colors like never before, then this is one way to do so with ease.
Important things to consider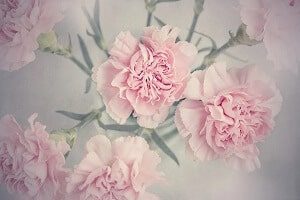 Cutting the bottom of a flower can create an incredible plant. It's best to cut its roots in either fall or winter for maximum freshness and healthy growth. If planting outside of spring, make sure it is placed in soil that will nourish it with nutrients until new flowers bloom again.
Carnations require sun, moist soil, and occasional watering.  To keep the flowers looking their best for as long as possible you should place them near a window in your home where they can get plenty of light or outside if it's warm enough.
Avoid placing your flowers in direct sunlight to prolong their colors and keep them fresh.
Once cut they'll last up to 15 days which is an impressive shelf life for any flower.
A surprise is that carnation petals can be used even in the kitchen. Depending on their variety, the taste of the petals can be sweet or slightly spicy. Carnations can be used both in decorating sweets, but also in combination with fine cheeses, salads or pasta. Ice cream, syrups, jams or liqueur can be flavored with carnation petals.
How can I save money?
You might not know it, but there are often marked-up prices for flowers at retail stores. If you're planning a big wedding or another event that requires lots of flower bouquets and decorations then get in touch with at least three local florists before ordering anything from the store to make sure they'll be able to meet your needs within your budget.
If you need more than 100 stems, consider wholesale clubs such as Sam's Club.
With cashback sites, you can purchase a bouquet online with discounts. Consider looking for coupon codes on these websites first to help save money while still being able to enjoy the convenience of ordering flowers from home.
https://www.thepricer.org/wp-content/uploads/2021/08/carnations-cost.jpg
380
610
Alec Pow
https://www.thepricer.org/wp-content/uploads/2023/04/thepricerlogobig.png
Alec Pow
2021-08-14 12:27:18
2021-08-08 10:24:56
Carnation Flowers Cost