Carrabba's Italian Grill is an American restaurant chain specializing in Italian – American cuisine. The headquarter is located in Tampa, Florida and the owner is Bloomin' Brands.
This restaurant is well known for the Sicilian flavors and the company invests a lot in updating the techniques and recipes as the chefs make regular visits in Italy. Every meal is prepared to order and emanates generous flavors and authentic aromas.
In the table below you will find the latest Carrabba's Italian Grill menu prices.
Food
Size
Price

Dinner Menu

Meatballs & Ricotta
 
$5.79
Grilled Asparagus With Prosciutto
 
$5.79
Bruschette Scotty Thompson
 
$5.29
Three-Cheese & Sausage Stuffed Mushrooms
 
$6.39

Appetizers

Calamari
 
$10.99
Mozzarella Marinara
 
$9.39
Shrimp Scampi
 
$10.39
Calabrian Roasted Wings
 
$10.99
Cozze In Bianco
 
$10.99
Tomato Caprese With Fresh Burrata
 
$9.29
Zucchini Fritte
 
$9.29
Wood Fried Pizzas
 
 
Margherita Pizza
 
$12.49
Pepperoni Pizza
 
$12.79
Chicken Bryan Pizza
 
$13.99
Carnevale Pizza
 
$13.89

Specialties

 
 
Chicken Bryan
 
$17.99
Chicken Marsala
 
$17.99
Chicken Parmesan
 
$16.49
Tuscan-Grilled Chicken
 
$14.79
Pollo Rosa Maria
 
$18.39
Parmesan Chicken Arugula
 
$16.39
Eggplant Parmesan
 
$14.59
Veal Marsala
 
$20.99

Soups

Mama Mandola's Sicilian Chicken Soup
cup
$5.39
Mama Mandola's Sicilian Chicken Soup
bowl
$6.39
Minestrone
cup
$5.39
Minestrone
bowl
$6.39
Sausage & Lentil
cup
$5.39
Sausage & Lentil
bowl
$6.39

Pasta

Linguine Pescatore
 
$18.59
Fettuccine Carrabba
 
$16.49
Lasagne
 
$14.99
Linguine Positano(and basil)
 
$11.49
Linguine Positano(Chicken)
 
$14.39
Linguine Positano(Shrimp)
 
$15.99
Fettuccine Weesie
 
$17.69
Rigatoni Campagnolo
 
$15.89
Lobster Ravioli
 
$18.39
Mezzaluna
 
$15.59
Spaghetti(Pomodoro sauce)
 
$12.49
Spaghetti(Bolognese meat sauce
or Meatballs )
 
$14.49
Steaks & Chops
 
 
Tuscan-Grilled Sirloin
6oz
$15.39
Tuscan-Grilled Sirloin
9oz
$18.49
Tuscan-Grilled Ribeye
 
$24.29
Tuscan-Grilled Pork Chop
One Chop
$15.49
Tuscan-Grilled Pork Chop
Two Chops
$18.99

Salads

Caesar Salad (Chicken)
 
$13.99
Caesar Salad (Shrimp)
 
$15.69
Johnny Rocco Salad
 
$16.69
Italian Salad (Chicken)
 
$13.99
Italian Salad (Shrimp)
 
$15.69
Side Salads (House)
 
$4.69
Side Salads (Caesar)
 
$4.69
Side Salads (Italian)
 
$4.69
Toppings
 
 
Spicy Sicilian Butter
 
$3.49
Garlic Aioli
 
$3.49
Marsala Sauce
 
$3.49
Bryan Topping
 
$3.49
Scampi Topping
 
$3.49

Seafood

Tomato Basil Salmon
 
$19.49
Spiedino Di Mare
 
$19.69
Tilapia Bellimbusto
 
$15.79
Mahi Wulfe
 
$19.59
Simply Grilled Mahi
 
$16.99
Combinations
 
 
The Johnny
 
$21.49
Carrabba's Italian Classics
 
$19.59
Chicken Trio
 
$22.99

Sides

Sautéed Broccoli
 
$3.59
Garlic Mashed Potatoes
 
$3.59
Penne Pomodoro
 
$3.59
Garlic & Rosemary Fries
 
$4.59
Sautéed Spinach
 
$4.59
Grilled Asparagus
 
$5.79
Fettuccine Alfredo
 
$5.79

Wines

Italian Reds

Bonizio Rosso by Cecchi
6oz
$6.69
Bonizio Rosso by Cecchi
9oz
$9.79
Gabbiano
6oz
$8.49
Gabbiano
9oz
$11.99
Gabbiano
bottle
$32.49
Ducarosso
6oz
$8.99
Ducarosso
9oz
$12.99
Ducarosso
bottle
$38.49
Allegrini
6oz
$8.99
Allegrini
9oz
$12.99
Allegrini
bottle
$37.59
Pian di Nova
6oz
$11.49
Pian di Nova
9oz
$16.49
Pian di Nova
bottle
$43.49
Guado al Tasso
bottle
$47.99
Marchesi di Barolo
bottle
$63.49
Gaja Ca' Marcanda Promis
bottle
$65.29

Merlot

Bogle
6oz
$6.89
Bogle
9oz
$10.49
Bogle
bottle
$29.69
Decoy by Duckhorn
6oz
$9.79
Decoy by Duckhorn
9oz
$13.89
Decoy by Duckhorn
bottle
$35.79

Interesting Reds

Apothic
6oz
$8.49
Apothic
9oz
$12.49
Apothic
bottle
$33.99
Aruma
6oz
$9.99
Aruma
9oz
$14.69
Aruma
bottle
$40.99
Stags' Leap Winery
bottle
$54.89

Pinot Noir

Coppola Votre Santé
6oz
$7.39
Coppola Votre Santé
9oz
$10.79
Coppola Votre Santé
bottle
$30.59
Elouan
6oz
$11.39
Elouan
9oz
$16.29
Elouan
bottle
$42.69

Rosé

Mezzacorona
6oz
$7.39
Mezzacorona
9oz
$10.79
Mezzacorona
bottle
$30.49
Martini & Rossi Sparkling
6oz
$8.99
Martini & Rossi Sparkling
bottle
$30.59

Chardonnay

Tormaresca
6oz
$8.49
Tormaresca
9oz
$12.49
Tormaresca
bottle
$33.99
Kendall-Jackson
6oz
$9.69
Kendall-Jackson
9oz
$15.99
Kendall-Jackson
bottle
$35.79
Antica
bottle
$54.79

Sauvignon Blanc

Coppola
6oz
$8.79
Coppola
9oz
$13.79
Coppola
bottle
$35.79
Villa Maria
6oz
$9.79
Villa Maria
9oz
$13.89
Villa Maria
bottle
$36.79

Italian Whites

Bonizio Bianco by Cecchi
6oz
$7.69
Bonizio Bianco by Cecchi
9oz
$9.69
Bonizio Bianco by Cecchi
bottle
 
Coppola Rosso & Bianco
6oz
$6.99
Coppola Rosso & Bianco
9oz
$10.79
Coppola Rosso & Bianco
bottle
$28.79

Sparkling & Sweet

Riondo
6oz
$9.59
Riondo
9oz
 
Riondo
bottle
$33.19
Seven Daughters
6oz
$9.79
Seven Daughters
9oz
$12.49
Seven Daughters
bottle
$33.29
Saint M
6oz
$8.79
Saint M
9oz
$12.99
Saint M
bottle
$33.99

Cabernet Sauvignon

Beringer Founders' Estate
6oz
$6.89
Beringer Founders' Estate
9oz
$11.79
Beringer Founders' Estate
bottle
$28.99
Dark Horse
6oz
$8.59
Dark Horse
9oz
$12.79
Dark Horse
bottle
$33.99
Josh Cellars
6oz
$9.39
Josh Cellars
9oz
$13.79
Josh Cellars
bottle
$35.79
J. Lohr " Seven Oaks"
6oz
$9.79
J. Lohr " Seven Oaks"
9oz
$15.99
J. Lohr " Seven Oaks"
bottle
$35.79
Joel Gott "815"
6oz
$10.19
Joel Gott "815"
9oz
$14.99
Joel Gott "815"
bottle
$40.99
Sequoia Grove
bottle
$61.79

Sangria

Blackberry
6oz
$7.69
Blackberry
9oz
$10.99
Blackberry
pitcher
$30.49
Peach
6oz
$8.79
Peach
9oz
$10.99
Peach
pitcher
$23.49
Classic Red
6oz
$8.79
Classic Red
6oz
$10.97
Classic Red
pitcher
$29.69

Kids Menu

Grilled Chicken Breast
 
$7.19
Chicken Fingers
 
$7.19
Penne Mac & Cheese
 
$6.39
Spaghetti and Meatball
 
$7.19
Grilled Cheese
 
$6.69
Cheese or Pepperoni Pizza
 
$6.29
Cheese Ravioli
 
$6.99
Bambini Sundae
 
$3.59

Specials

Peppermint Frost Martini
 
$7.99
Winterberry Kiss
 
$7.19
Peppermint Hot Chocolate
 
$3.69
Added h Baileys Irish Cream
 
$3.29
Grouper Capperi
 
$20.39
Rigatoni Al Forno
 
$12.79
Rigatoni Al Forno(Chicken)
 
$17.69
Rigatoni Al Forno(Sausage)
 
$15.39
Classics Combination
 
$11.89
Cinnamon Apple Crostata
 
$8.49
Short Rib Marsala
 
$23.29

Lunch Specials

Endless Soup & Salad
 
$7.39
Lunch Trio
 
$8.89
Italian Sandwich Combo
 
$10.59
Brand History
Carrabba's Italian Grill restaurant was founded in the year of 1986 by Damian Mandola and his nephew. These two opened the first restaurant on Kirby Drive in Houston, Texas. Pretty soon the second location was opened at the intersection of Voss Road and Woodway.
To honor his sister Rose, Damian renamed the restaurant "Rossie Carrabba's" after a significant expansion of the company.
In 1993, another ten Carrabba's restaurants were opened in Florida and Huston, under a joint venture with Outback Steakhouse, Inc. OSI bought the rights to expand the Carrabba's chain all over the United States two years later, in 1995.
You might also like our articles about menu prices for Ruth's Chris, Benihana, or Nusr-Et.
The first airport location was opened in 2008 in Tampa International Airport, after the Outback Steakhouse, Inc made a partnership with HMSHost.
In 2003 there were more Carrabba's restaurants in Florida than in any other state in America.
The first Carrabba's international location was opened in 2015 in Brazil and the restaurant was renamed "Abbraccio".
Carrabba's continued with its expansion and in 2020 they opened the first restaurant in Moncton, New Brunswick, Canada.
Nowadays, there are more than 250 Carrabba's locations in the United States, Canada, and Brazil.
Our review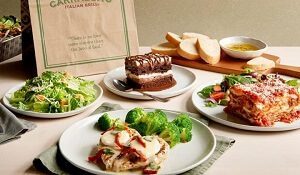 Carrabba's menu includes many of the dishes with recipes from Damian's sister, Rose, and his mother, Grace. The PBS cooking show Cucina Sicilia is hosted by Mandola and Carrabba and here is where these recipes are usually presented to the public.
One of the customer's favorites is the Chicken Bryan. This includes an 8oz grilled chicken breast, a basil lemon-butter sauce, sundried tomatoes and goat cheese. The name of this dish comes from the city of Bryan, Texas, the home of the Carrabba family.
Besides this, a wide range of soups and salads, the traditional Italian pasta and pizzas, and grilled meat are also served. Even though the prices may look a little too high, it is worth it because the portions are generous. Plus, every order comes with additional bread with dipping oil and herbs.
Carrabba's restaurants also offer you the possibility to customize your order. Moreover, their menu includes gluten-free dishes and under 600 calories dishes.
The atmosphere from these restaurants is a relaxed casual one and the interior design features brick and wood elements and a dim light. There are locations that have a strict dress code and offer valet parking.
It is recommended to make a reservation at the Carrabba's restaurant if you want to make sure you get a seat, especially at important events and during holidays. The staff is friendly and very attentive, and the meals are served pretty fast.
Carrabba's FAQs
At what time does Carrabba's Italian Grill open?
Carrabba's Italian Grill restaurants open at 11:00 a.m., depending on the location and the day of the week. It is recommended to check the schedule of the location you are interested in on their official website page.
At what time does Carrabba's Italian Grill close?
In general, Carrabba's Italian Grill closes at 10:00 p.m., but it depends on the day of the week and the location. You should check out this info on their official website.
What are the best dishes served at Carrabba's?
Some of the best dishes you can order at Carrabba's include Chicken Bryan, Tuscan Grilled Chicken, Grilled Asparagus with Prosciutto, Whole Grain Spaghetti with Pomodoro Sauce and Minestrone Soup.
Which is the best pasta at Carrabba's?
According to the customers, the best pasta at Carrabba's is the lobster ravioli.
What desserts can I enjoy at Carrabba's?
Some of Carrabba's desserts include Tiramisu, Traditional Cannoli, Sogno di Cioccolata (Chocolate Dream), and Strawberry Cheesecake.
Who created the Carrabba's restaurant?
Carrabba's was founded by John Charles Carrabba, III and Damian Mandola.
Who owns Carrabba's?
Carrabba's restaurants are owned and operated by Bloomin' Brands, with the headquarters in Tampa, Florida.
What is the slogan of Carrabba's?
Carrabba's slogan is "There is no love more sincere than the love of food".
https://www.thepricer.org/wp-content/uploads/2022/03/carrabbas-italian-grill-menu-prices.jpg
380
610
Alec Pow
https://www.thepricer.org/wp-content/uploads/2023/04/thepricerlogobig.png
Alec Pow
2022-03-10 13:44:31
2022-03-10 13:47:21
Carrabba's Menu prices