Last Updated on September 13, 2023 | Written by CPA Alec Pow
First Published on December 3, 2020 | Content Reviewed by

CFA Alexander Popivker
$14 – $29 Per Linear Foot Installed
The expense of chainlink fencing is determined by the length, height, kind of fence, and addons being set up. A 5 foot high, 100-foot chain link fence with 2 gates is roughly $2,100, or $21 per foot.
Typical Expense of Chain Link Fences and Their Setup
You should be ready for a typical expense of around $23 per linear foot to have a 5-foot high chain-link fence set up around your property or house. DIY'ers should be ready to pay around $14.65/linear foot to purchase the fencing and rent the necessary tools to set up the fence yourself.
Chain link fences set up by an expert will typically include the cost of all fence materials you will need, fence poles, gates, concrete to set up the brand-new fence, any licenses and worksite studies for property lines and underground utilities that are required, and so on. If you have an old fence that will have to be taken out, you should plan a bit more.
Typical Do It Yourself expense – $14.65/ Foot
Typical Professional Set Up Expense – $23/Linear Foot
Usual Price Average – $14 – $29/Linear Foot
Summary of Chain Link Fencing
Chain link fences are among the longest lasting and long-term kinds of fencing you can set up around your house. Whether you're installing it for house protection or safety around a swimming pool, the expense of chain link fence per foot makes it an affordable fencing option. Compared to vinyl, wood, privacy, split rail, and practically every other kind of fencing, the expense of setting up a chain-link fence is fairly within the same price range as others, however, there are some additional factors to consider due to the tension put on end poles and corner posts.
You might also like our articles about the cost of a wooden split rail fence, a wood or timber retaining wall, or block foundation repair work.
In this article, you'll find out about alternatives that you have for setting up a chain-link fence, the additions that can impact the expense of the fencing itself, along with elements that can increase the price of setup.
Fencing Supplies and Materials Price Details
Chain Link Fence Cost Elements
Like any big-ticket product you set up at your house, the kind of fencing, what the fencing offers, and other functions such as gates or wire type, are going to have the most impact on your budget for a brand-new chain link fence.
Height of the Fence – Chain link fences are typically sold in 4′, 5′, or 6′ foot heights for property usage. 8′ – 12′ fences are available, however, it's not something typically used around a house.
Linear Feet of Fence Set up – Bigger locations to be fenced in will use more linear feet fencing, more top rails, and posts, and will determine the chain link fence expense per foot.
Natural or Covered Wire – Chain link mesh is galvanized steel wire or in a vinyl-coated mesh in a range of colors (brown, green, white, etc) to match your requirements. Covered wire mesh fences will cost more than the basic galvanized type.
The density of Fence Wire – There are a couple of different densities, or wire gauges to work with. In general, a thicker wire will cost more money but is a much better fit for safety purposes.
Number and Kind Of Gates – Each pathway and driveway gate (2-gates that will lock in the center) will contribute to your expense.
Open Mesh or Personal Privacy Slats – In addition to vinyl layered mesh, you can have personal privacy slats set up (weaved) in between the mesh, or a strong covering set up to one side to supply personal privacy.
The expense of Setup Materials
After you choose the height and design of fencing for your task, you'll also require the materials listed below in order to finish the fence setup. Many businesses will supply this all-inclusive of their per-foot setup expense.
$35 – $75 – Concrete Mix for Posts
$10 – $25 – Stakes, String, and Marking Paint
$100 – $150/Day – Power Auger Rental for Drilling Post Holes
Authorizations, Survey, and Wire Mesh Fence Setup Expenses
Once you have actually picked the fence and you're thinking of whether to install it yourself or employ an expert, you need to factor in all the expenses of the fence set up. While most of it will be labor costs, there are a couple of added expenses to make certain your brand-new fence does not encroach on your next-door neighbor's lawn, which during the setup, you do not mistakenly dig through an underground wire, gas line, or other utility services. These are seen as the overall expense for the fence set up.
Authorizations and Property Survey
$75 – $150 – Worksite Survey to Find Property Lines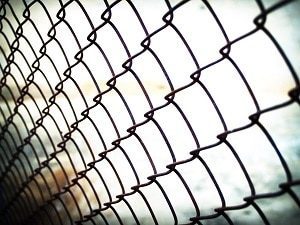 You must always read regional and community regulations and have a home worksite survey done, before setting up any kind of fence. This will help you prevent pricey errors such as installing your fence on a next-door neighbor's residential or commercial property or setting up a kind of fence not allowed by your city.
In a lot of cities around the U.S.A., you can
call 811
on your phone, a minimum of 3 days before you plan to start the job, and a utility locator service will come to your area and mark all public underground utilities in the location you plan to set up the fence. The service is totally free for the most part, however, if you will need to find non-public services like an undetectable fence wire or underground swimming pool utilities, they will have to charge you.
Fence Setup Factors to consider
The majority of fencing businesses are going to determine the chain link fencing setup expense by the foot, and factor that into their overall priced quote, along with labor expenses. There are numerous elements that help them figure out the expense per foot, that they will charge for your particular project. In addition, they will most likely charge a set cost per-gate you want to set up. Pathway gates have a price, while driveway gates have a different cost.
Ease of Access to the Location – if the fencing setup team needs to walk a half-mile with all their tools and materials to get to your area, it's going to cost more.
Trees and Other Obstructions – It's a lot easier to set up fencing in a straight line. If trees, big stones, structures, or other blockages will need to be removed or the fence has to go around them, it will cost more.
Shape and Level of the Area – A square, flat area is the simplest and least expensive to install a fence on. Odd shaped areas, or yards that are extremely uneven and hilly, will increase the work that goes into the setup.
The Type of Soil – Clay and rock-filled soil will cost more per foot, due to the amount of time it will require you to dig the post holes.
The Season – If you wish to save some money on your brand-new fence, call the business in late fall (but before the ground freezes) or in early spring, before everybody else does. If the fence business is not busy with work, they are most likely to provide you a lower-priced quote.
Completed Setup Time
Although many businesses do not charge by the hour to set up a chain-link fence, it's handy to know the amount of time they will need to have it set up.
2-3 days – Basic Setup
3-4 days – Many Typical Setup
3-5 days – Larger Installations
Day 1-2 of any fence setup is normally spent on marking the area, digging the post holes, and setting the posts into concrete to let it set and solidify 1-2 days. Sometimes with big areas or where the ground is hard to go into, it might take up to 2 days simply to set the posts.
Days 2-3 are normally when the top rails are set up, and the chain-link is attached to the posts. The task is completed by setting up all wire straps, post caps, and the gates.
Days 3 and beyond are for setting up bigger gates, setting up personal privacy slats and covering if it's not already in place, and so on.
https://www.thepricer.org/wp-content/uploads/2020/12/chain-link-fence-price.jpg
380
610
Alec Pow
https://www.thepricer.org/wp-content/uploads/2023/04/thepricerlogobig.png
Alec Pow
2020-12-03 13:14:41
2023-09-13 12:20:17
Chain Link Fence Cost