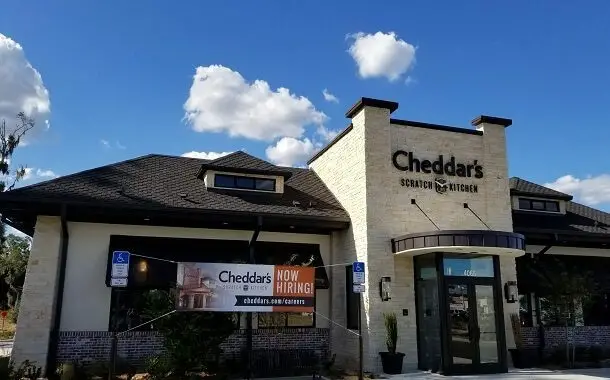 Cheddar's also known as Cheddar's Casual Café is an American restaurant chain with locations all over the United States. This business is based on the multi-concept "Classic American" restaurant, where you can enjoy a wide variety of American food items like burgers, steaks, chicken, salads, seafood, and desserts. You can also find a full bar in its locations. Cheddar's strives to offer the best services with the most welcoming, passionate, and friendly staff.
It is said that the restaurant also puts a lot of energy and time into cooking the food fresh, from scratch. In order to provide fresh meals every time, it is said that the restaurant has twice as many cooks as other restaurants. Also, fresh, simple, and natural ingredients are used to prepare from scratch all the recipes. Preparation of slow-cooked meats starts early in the morning and there is a permanent sauteing, chopping, whisking, and stirring in the kitchen.
Cheddar's is a great place for both families and friends to come and enjoy a tasty meal in a welcoming atmosphere. In the table below you will find the latest Cheddar's menu prices.
Food
Size
Price

Appetizers

Chips & Homemade Queso
$5.19
Santa Fe Spinach Dip
$6.09
Cheddar's Cheese Fries
Small
$6.09
Cheddar's Cheese Fries
Regular
$7.39
Chicken Tender Basket
$7.39
Loaded Russet Potato Skins
$7.49
Chicken Fajita Quesadilla
$8.69
Ultimate Nachos
$8.69
Homemade Onion Rings
$5.59
Wisconsin Cheese Bites
$7.09
Triple Treat Sampler
$9.09

Chicken

Chicken Tender Platter
$8.79
BBQ Chicken Platter
$8.79
Homemade Chicken Pot Pie
$7.79
Dijon Chicken & Mushrooms
$9.49
Lemon Pepper Chicken
$8.79
Grilled Chicken Alfredo
$9.29
Country Chicken Fried Chicken
$10.09

Lighter Side

Lemon Pepper Whitefish
$8.19
Grilled Baja Chicken
$8.69
Citrus Miso Glazed Salmon
$8.79
Sweet Heat Chicken & Shrimp
$8.79

House-Smoked Baby Back Ribs

Half Rack
$10.59
Full Rack
$15.69

Steaks

6oz. Top Sirloin
$9.69
8oz. Top Sirloin
$10.99
12oz Ribeye
$14.99
20oz Bone-in Ribeye
$19.39

Scratch Burgers

The Original
$6.19
Bacon Cheeseburger
$7.99
SmokeHouse Burger
$7.09

Sandwiches

Maple Bacon Chicken Sandwich
$8.19
Buffalo Chicken Wrapper
$8.39
Cheddar's Club
$7.99
Monte Cristo
$8.39
Philly Cheesesteak
$8.39

Ultimate Lunch Combo

Choice of Half-Sandwich & 1 Pairing
$6.89
Choice of Half-Sandwich & 2 Pairings
$7.79

Soups

Homemade Chicken Tortilla Soup
Cup
$3.89
Homemade Chicken Tortilla Soup
Bowl
$4.89
Homemade Baked Potato Soup
Cup
$3.89
Homemade Baked Potato Soup
Bowl
$4.89

Favorites

Chicken Fried Steak
$9.09
New Orleans Pasta
$10.39
Vegetable Plate
$7.49
Key West Chicken & Shrimp
$9.69
Gigi's Baked Spasagna
$9.29

Salads

Chicken Caesar Pasta Salad
$8.39
Crispy Chicken Salad
$8.69
Grilled Chicken Pecan Salad
$8.69
Signature Shrimp & Chicken Salad
$9.99

Combinations

Chicken Tenders & Shrimp
$10.39
Top Sirloin Steak & Chicken Tenders
$13.69
Top Sirloin Steak & Ribs
$14.89
Half Rack of Ribs & Shrimp
$14.59
BBQ Chicken & Half Rack of Ribs
$14.19
Top Sirloin Steak & Shrimp
$14.19
Half Rack of Ribs & Chicken Tenders
$14.39

Fish

Blackened Redfish W/ Crab Sauce
$14.39
Grilled Salmon
$10.59
Cornmeal Catfish
$9.49
Grilled Catfish
$9.49
Grilled Tilapia & Shrimp with Mango Salsa
$9.69
Beer Battered Fried Shrimp
$10.39
Fish Tacos
$7.79

Kids

Grilled Cheese
$5.39
Chicken Tenders
$5.39
Junior Burger
$5.39
Mac & Cheese
$5.39
Penne Pasta Marinara
$5.39
Grilled Chicken
$5.39

Made-From-Scratch Sides

Steamed Fresh Broccoli, Homemade Black Beans, Buttered Off-The-Cob Corn, Mac & Cheese, Freshly Made Coleslaw, Seasoned Rice, French Fries, Broccoli Cheese Casserole, Mashed Potatoes, Red Beans & Rice, Loaded Baked Potato, & Southern Green Beans
$3.19
House or Caesar Salad
$4.29
Honey Butter Croissants
3 Croissants
$3.59

Desserts

Dessert Minis
Each
$2.29
Dessert Minis
Trio
$4.49
Hot Fudge Cake Sundae
$5.79
Cheddar's Legendary Monster Cookie
$5.39
Apple Crisp A La Mode
$5.39
Brand History
Dough Rogers and Aubrey Good believed in the idea of preparing and cooking fresh meals for the customers of a restaurant, so in 1979 they founded Cheddar's Casual Café, Inc. company based in Irving, Texas. Their first restaurant was opened in Arlington, Texas. In 2003 the company was bought by Brazos Private Equity Partners. Though, in 2006 it sold the chain to Catterton Partners and Oak Investment Partners.
You might also like our articles on the prices of the menus of Papa Murphy's, Cheesecake Factory, or P.F. Chang's.
Over the years Cheddar's received many favorable ratings and awards. For example, in 2012 it was ranked by Zagat as the nation's No. 1 full-service restaurant chain. Also, in 2009 and 2012, Consumer Reports named Cheddar's number one in Grill and Pub Style Category.
There are around 170 Cheddar's locations in different states in America. Examples of such locations include Fairview Heights in Illinois; Fort Worth, Arlington, Dallas, Bedford, Irving, and Grand Prairies in Texas; Brandywine in Maryland; West Melbourne, Fort Lauderdale, Sanford, Fort Myers, Orlando, Tampa, Wellington, Clearwater and Pinellas Park in Florida; Chandler in Arizona; Pooler and McDonough in Georgia; Wichita in Kansas; Gastonia and Charlotte in South Carolina; Greenville in North Carolina; Germantown, Chattanooga, and Memphis in Tennessee.
Our review
Cheddar's menu includes appetizers, sides, salads, combinations, soups, ribs, burgers, steaks, sandwiches, classics, and favorites. Also, there is a "Lighter Side" menu that contains entrees that are under 575 calories. The kids' menu is also part of the Cheddar's menu. It contains meals for children aged 12 and under.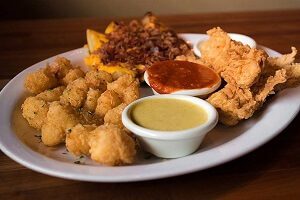 The Lighter Side menu includes Citrus Miso Glazed Salmon, Grilled Baja Chicken, and Sweet Heat Chicken and Shrimp. Each of these items costs anywhere between $8 and $10. For the Favorites, you will have to pay anywhere between $7 and $12, and these include New Orleans Pasta, Vegetable Plate, Kew West Chicken and Shrimp, Chicken Fried Steak, and Baked Spasagna.
Combinations consist of different pairings of chicken tenders, steaks, shrimp, and ribs served with two sides. These cost anywhere between $11 and $16. For the Classics, which consist of chicken and fish meals you will have to pay $8 to $12.
Sides include Sweet Potato, Black Beans, Steamed Fresh Broccoli, French Fries, and Sweet Baby Carrots, to name a few. These are priced from $3 to $4.
Plan on spending anywhere between $6 and $10 for an appetizer. These include the Triple Treat Sampler, Chips and Homemade Queso, Chicken Tender Basket, Wisconsin Cheese Bites, Texas Cheese Fries, Loaded Potato Skins, Homemade Onion Rings, and Ultimate Nachos.
For a salad such as Grilled Chicken Pecan Salad, Chicken Caesar, Crispy Chicken, or Asian you will have to pay anywhere between $8 and $10, while for a Baked Potato Soup or Tortilla Soup you will have to get out of your pocket $4 to $5.
Burgers cost anywhere between $8 and $10. Some of these include the Original Hamburger, Smoked house Burger, Bacon Cheeseburger, and Jalapeno Burger. Also, for a sandwich, you will have to pay $8 to $10. These include the Philly Cheesesteak, the Buffalo Chicken Wrapper, the Tuscan Chicken, and the Monte Cristo sandwich.
Cheddar's does not accept call-ahead seating or reservations. This is why sometimes you may have to wait a little bit longer for your order and you will not be able to come and dine there with a large group.
Cheddar's FAQs
At what time does Cheddar's open?
In general, Cheddar's is open at 11:00 a.m. every day. However, it depends on the location and day of the week. It is recommended to verify the opening hours of the restaurant you are interested in on their official website.
At what time does Cheddar's close?
Most of the Cheddar's restaurants close at 11:00 p.m. from Sunday to Thursday, and at 12:00 a.m. on Fridays and Saturdays. Though, it may vary from one location to another. So, you better verify the closing hours on the official website of the restaurant.
Does Cheddar's offer free bread?
Complimentary free bread is offered for each Cheddar's customer.
How many calories does a Cheddar's croissant contain?
A Cheddar's croissant contains 114 calories.
How many carbs do the Cheddar's French fries contain?
A portion of Cheddar's French fries contains 152 g of carbs.
How many calories does a Monte Cristo sandwich have?
A Cheddar's Monte Cristo sandwich has 1122 calories, 24% protein, 56% fat, and 20% carbs.
https://www.thepricer.org/wp-content/uploads/2022/05/cheddars-menu-prices.jpg
380
610
Alec Pow
https://www.thepricer.org/wp-content/uploads/2023/04/thepricerlogobig.png
Alec Pow
2022-05-26 10:03:19
2022-12-22 18:48:39
Cheddar's Menu Prices