Chick-fil-A a Birthday Party Cost
Chick-fil-A does not provide only great food, but also great services. Many of their locations offer party packages for clients of all ages. If you are a fan of Chick-fil-A products, then a birthday party package from them may be a good option to consider.
How Much Does a Chick-fil-A Birthday Party Cost?
The cost of a Chick-fil-A birthday party depends on the amount of food you need. Be prepared to spend on average anywhere between $9 and $15 per child. For example, the cost of a six-nugget package is around $11, while for a four-piece nugget meal you will have to pay around $10.
According to Chick-fil-A's official website, the cost of a birthday party for up to ten children is $75, and $6 for each extra child.
To get a better idea of the cost of a Chick-fil-A birthday party, plan on spending anywhere between $175 and $280 for a party of 20 children.
According to an article on the Yahoo website, the cost of a Chick-fil-A birthday party would be anywhere between $11.50 and $15.50 per child.
However, the costs are going to vary because every location is independently owned by a franchisee. It is recommended to visit the company's official website to find out more information about Chick-fil-A birthday parties.
Chick-fil-A birthday party – short presentation
Chick-fil-A offers a large variety of catering options for birthday parties.
The birthday party room will be reserved for 90 minutes. Also, the cost will include half an hour with the Chick-fil-A Cow mascot.
You might also like our articles about the price of a birthday party at Chuck E. Cheese, Loblaws, or a movie theater.
A typical Chick-fil-A birthday party is going to include a kid's size Icedream, coloring crayons and sheets, small fries, and chicken nuggets. Also, every child who is present at the party will receive a unique birthday party T-shirt, a gift bag, balloons, and a coupon for a future meal.
A "Partee" coordinator will be present in the room during the party. She or he will be able to accommodate any special request, assist the special cow mascot, take orders and help hand out the food.
What are the additional expenses?
The desserts and cake will not be included, except for the Icedream. Plan on paying extra if you want to bring your own dessert or cake.
At some locations, extra taxes may apply. For example, you may want to tip your party coordinator. Though, other locations may not allow the tipping of these coordinators.
If you want to order gallons and trays for adult guests, these will come at an additional cost.
Important things to consider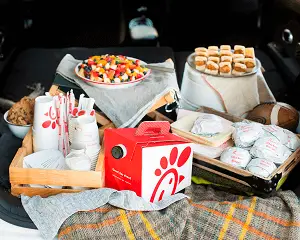 In general, Chick-fil-A birthday parties are available only during specific time blocks, usually on Saturdays after 02:00 p.m.
Every birthday party must have a minimum of six children.
Try to make a reservation a minimum of three to six months in advance for your party because the spots fill up fast.
In case the restaurant has a playground, it will not be closed for the party. So, the playground will still be open to other children who are not invited to your birthday party.
According to most parents, Chick-fil-A birthday parties are perfect for those who don't need planned entertainment because the only entertainment involved is the playground and younger children could get bored pretty fast.
How can I save money?
As every Chick-fil-A location is independently owned, you may be able to negotiate the birthday party price with some owners.
If you really want to have Chick-fil-A food at your birthday party, you can purchase more kids' meals and take them back to your home instead, where the party is organized.
If you are lucky enough, on some occasions, you may be able to find local Groupon-type discounts for a Chick-fil-A birthday party.
https://www.thepricer.org/wp-content/uploads/2022/11/chick-fil-a-birthday-party-cost.jpg
380
610
Alec Pow
https://www.thepricer.org/wp-content/uploads/2023/04/thepricerlogobig.png
Alec Pow
2022-11-30 10:11:06
2022-11-28 09:09:23
Chick-fil-A a Birthday Party Cost