Chicken Salad Chick Menu Prices
Last Updated on December 23, 2022 | Written by CPA Alec Pow
First Published on December 18, 2022 | Content Reviewed by

CFA Alexander Popivker
Chicken Salad Chick is a fast-casual restaurant chain, based in Auburn, Alabama, which is specialized in preparing and serving chicken salads. Besides these, their menu also includes gourmet soups, side items, deli sandwiches, and desserts. Moreover, they offer great catering deals, in case you are planning a party.
The prices charged by Chicken Salad Chick are reasonable and affordable, and you can feed your whole family without spending a lot of money. For instance, their chicken salads are sold by the pound, which is, in general, around $12. But you can find out more about it by taking a look at the table below where are presented their latest menu prices.
Food
Size
Price

Famous Chicken Salads

By The Pound
Barbie-Q
$12.64
Buffalo Barclay
$12.64
Classic Carol
$12.64
Cranberry Kelli
$12.64
Dixie Chick
$12.64
Fancy Nancy
$12.64
Fruity Fran
$12.64
Jalapeno Holly
$12.64
Jazzy Julie
$12.64
Kickin' Kay Lynne
$12.64
Luau Lydia
$12.64
Mimi's Mix
$12.64
Nutty Nana
$12.64
Olivia's Old South
$12.64
Sassy Scotty
$12.64

Deli Sandwiches

Pimento Cheese
$6.31
Roast Beef
$6.31
Turkey Hoagie
$6.31
Virginia Ham
$6.31

Specials

Original Chick (choice of any sandwich or scoop and 1 side item, pickle spear, & the cookie)
$8.73
Gourmet Chick (choice of any sandwich or scoop and 2 side items, pickle spear & the cookie)
$9.88
Chick Trio (any 3 chicken salads or side items served on a bed of lettuce, accompanied by a pickle spear & wheat crackers)
$9.88
Soup & Sandwich (soup cup of the day & half of any sandwich)
$6.89

Side Items

By The Pound

Broccoli Salad
Individual Side
$4.59
Broccoli Salad
Per Pound
$3.21
Fresh Fruit
Individual Side
$8.61
Fresh Fruit
Per Pound
$3.21
Grape Salad
Individual Side
$8.61
Grape Salad
Per Pound
$3.21
Pasta Salad
Individual Side
$8.61
Pasta Salad
Per Pound
$3.21
Potato Chips
$8.61
Seasonal Salad
Individual Salad
$1.37

Gourmet Soups

Soup
Cup
$4.01
Soup
Bowl
$5.16
Soup
Quart
$14.36

Catering Scrumptious Desserts

Assorted Cookies
12 Pc.
$11.49
Cream Cheese Brownie Platter
$43.69
Strawberry Platter
$31.04

Catering Gourmet Soups

Soup
Quart
$14.36
Soup
Gallon
$45.94

Catering Party Platters

Serves 10-12 People per Platter

Assorted Deli Sandwiches
$42.54
Assorted Fruit
$42.54
Cheese Ball
$44.84
Chicken Salad Sandwiches
$22.99
Meat & Cheese
$52.89

Catering Chicken Salads

Meal Includes 1 Scoop or Sandwich, 2 Sides, Cookie & a Pickle Spear.

Executive Box Lunch
$12.06

Catering Beverages

Tea (Sweet or Unsweetened)
Gallon
$6.89
Lemonade
Gallon
$6.89

Desserts

Cookie of the Day
$1.14
Brand history
The Chicken Salad Chick company was founded by the couple Stacy and Kevin Brown in 2008, in Auburn, Alabama. The story behind this business is pretty delightful. The stay-at-home mother, Stacy Brown wanted to find the perfect chicken salad for her family. So, she would try her favorite meal on every occasion she could, every café, mall, and restaurant that she visited, only to find that perfect mix and taste.
You might also like our articles on the prices you will find on the menus of Salad and Go, Lee's Famous Recipe Chicken, and Chicken Express.
In the end, after this broad research, she believed that she had the perfect recipe and started to prepare and sell her own chicken salads, right from her own kitchen. The business was a real success and booming only after three weeks. So, her husband, Kevin Brown, get involved and came up with the idea to open a restaurant.
But immediately after the business boomed Stacy was called by the Health Department, which shut her down due to legalities referring to the commercialization of products that have been prepared in your own home. Though this was not a bad thing, instead sped up the process of opening the first Chicken Salad Chick location.
This restaurant was a real success since the opening of the first location. Currently, more than 280 stores and franchise locations are opened in 19 states in the United States of America.
Our review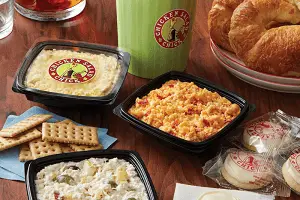 As you would expect, Chicken Salad Chick restaurants are decorated in a Southern-like style and are very clean. Also, they are brightly lighted and the walls are painted in warm, muted colors. Their staff is very friendly and attentive and does its best to make your dining experience as pleasant as possible. If you are in a hurry and don't have time to seat and eat, you can take something to go.
Their menu includes fifteen styles of chicken salad, that are served in a leafy green salad or on bread and lettuce as a scoop. Moreover, they offer salad by the pound for take-out, which is around $12. Also, the Chicken Salad Chick menu includes grape salad, pasta salad, pimento cheese, macaroni and cheese, fruit salad, egg salad, and broccoli salad. As for the daily soup specials, you can choose between potato soup, tomato bisque, chicken tortilla, chicken & artichoke Florentine, and broccoli & cheese.
A very popular choice among the customers is their Classic Carol salad, but the Sassy Scotty is also very appreciated. It is made from chicken, cheddar cheese, bacon, and ranch dressing. Also, we should not forget about their selection of Deli sandwiches and freshly baked cookies.
Chicken Salad Chick succeeded in creating a reputation for offering its customers fresh, gourmet-style, delicious food, served with a Southern flair. With this particular mix, they built their own niche and became a healthier alternative to other fast-casual restaurant chains.
Chicken Salad Chick FAQs
At what time does Chicken Salad Chick open?
Chicken Salad Chick opens every day at 10:00 a.m. However, it may vary from one location to another and you should visit the restaurant's official website to see which are the opening hours of your nearest location.
At what time does Chicken Salad Chick close?
Chicken Salad Chick closes at 08:00 p.m. Monday through Sunday. But again, it depends on the location and the day of the week. It is recommended to verify this information on the company's official website.
What is Chicken Salad Chick made of?
The Chicken Salad Chick is made of shredded chicken, white meat, mayonnaise, finely minced celery, and the restaurant's secret seasoning.
How long does Chicken Salad Chick last in the fridge?
You can store the Chicken Salad Chick in the fridge for around five days.
Does Chicken Salad Chick prepare their chicken salad daily?
Yes, Chicken Salad Chick makes their chicken salad fresh, every day, from the best quality ingredients.
What type of bread does Chicken Salad Chick use?
Chicken Salad Chick uses wheatberry or traditional white bread.
https://www.thepricer.org/wp-content/uploads/2022/12/Chicken-Salad-chick-menu-prices.jpg
380
610
Alec Pow
https://www.thepricer.org/wp-content/uploads/2023/04/thepricerlogobig.png
Alec Pow
2022-12-18 07:10:17
2022-12-23 14:45:48
Chicken Salad Chick Menu Prices