Christmas Vacation to Prague Cost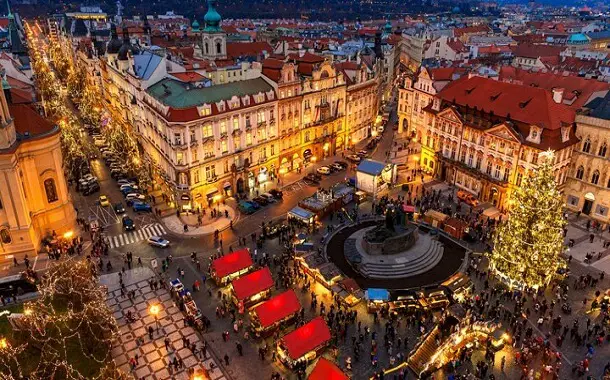 Christmas is supposed to be the time of the year when you spend quality time with your family and loved ones. It is time to make some beautiful memories with people you value in your life. During Christmas, you are supposed to let go of all your worries and stress and just have fun. The perfect way to do it is to take off for a vacation. Going on a vacation, you will leave behind all the work-related stress and give your complete focus to your family and friends.
However, planning a trip is no easy feat. There are numerous things that need to be taken into consideration. The first thing that you would need to decide is the budget you have for the vacation. Then, you will need to think of the perfect destination that would fall in your budget and would be suitable for you and your family. If you are looking for a cheap vacation destination that would allow you to have a wonderful time with your family, Prague would prove to be the perfect option.
The cost of the trip
Prague is well known to be one of the most affordable tourist destinations, and there are various packages introduced during Christmas time to make the place even more approachable for you.
Is Skiing Part of Your Perfect Vacation? Here's The Cost of a Christmas Vacation to Aspen
A plane ticket to Prague will be in the range of $800 to $1,500, depending on the company you wish to fly with and the part of the US you fly. Booking well in advance will get you better rates for the tickets.
When it comes to accommodations, you will have three main options during Christmas time: hotels, apartments, and the special Prague packages. Since Christmas is the time when tourism is at an all-time high, you will need to make your booking well in advance if you want to find a room in a hotel. The average cost of a single hotel room during Christmas time is around $40 to $50, while the cost of a double room is around $60 to $70. If you are looking for a luxurious experience, you can opt for a deluxe room, which would be available at roughly $100, depending on the hotel that you opt for. Apartments are available in the range of $60 to $190, depending on the number of rooms you want and the location of the apartment. The Prague Christmas packages refer to packages that offer a tour of the city along with accommodation. These amount to around $150 to $400, depending on the duration of the stay and the things included in the package.
Want to Get Into The Christmas Spirit? This is How Much a Santa Costume Will Cost
Prague would not disappoint you when it comes to entertainment. You will find plenty of cheap and affordable ways to amuse yourself. It has multiple bars and pubs that offer international beer as well as local Czech beer at low rates. You can have a good time at around $50 per day. You can also enjoy the clubs and nightlife that the city offers. Various clubs ensure that you get the opportunity to let your hair down and party to your hearts' content with the range of cost for entrance being between $5 and $12.
During Christmas time, the city also hosts multiple concerts. The concerts would cost you around $24 to $60 per person.
The city also has lots of beautiful tourist spots, where you can enjoy sightseeing at your leisure. Various tours are available for this purpose, which cost around $25 to $60.
Should the average working Joe celebrate Christmas in Prague?
Most people tend to resist the temptation of going on a vacation due to financial constraints. However, Christmas is the time when most vacation spots introduce various package deals to ensure that maximum people are able to benefit from it. A Christmas vacation to Prague would ensure you have a great time without having to spend a huge amount if you take advantage of one of its promotional packages. Take into consideration the plane tickets that will be a little pricey, but everything else should be affordable. Although Prague is a place you will never forget, be sure that going on the trip won't hurt your financial safety.
For Other Great Travel Destinations, Visit Our Travel Category
https://www.thepricer.org/wp-content/uploads/2016/12/prague-during-christmas-trip-cost.jpg
380
610
Alec Pow
https://www.thepricer.org/wp-content/uploads/2023/04/thepricerlogobig.png
Alec Pow
2016-12-18 16:37:46
2020-08-15 21:57:39
Christmas Vacation to Prague Cost