City Barbeque Menu Prices
City Barbecue is an American fast-casual barbeque restaurant chain based in Columbus, Ohio with more than 50 locations across different U.S. states. You may be within driving distance from a City Barbecue restaurant if you are in Georgia, Kentucky, Guam, Indiana, Illinois, Wisconsin, Michigan, Ohio, or North Carolina.
You can order for pick-up, delivery, or catering from City Barbecue, but the most popular way to enjoy a meal remains the dine-in.
In order to get an idea about how much you should budget for a delicious meal at City Barbecue, below you will find their latest menu prices.
Food
Size
Price

Family Dinner

Family Pack
$28.74
Kids Plate
$5.74

Smoked Meats

Beef Brisket
Per lb
$18.39
Pulled Chicken w/ Bama Sauce
Per lb
$15.28
Pulled Pork
Per lb
$14.94
Texas Smoked Sausage
Per lb
$13.79
Turkey Breast
Per lb
$16.09

St. Louis-Cut Ribs

By The Bone
$2.59
Slab
Full
$26.44
Slab
Half
$14.94

Chicken

Breast/Wing
$9.19
Chicken Breast Sandwich
$9.76
Half Chicken
$11.49
Leg/Thigh
$6.89

Smoked Meats

Beef Brisket
$9.19
Lo Los Pulled Pork w/ Slaw
$8.04
More Cowbell
$9.53
Pick Two Meats
$15.51
Pulled Chicken w/ Bama Sauce
$7.81
Pulled Pork
$7.58
Smoked Sausage
$9.07
Turkey Breast
$8.04

Shareables

Cheesy Bacon Fries
$7.46
Fried Pickle Chip Basket w/ Chipotle Ranch Dipping Sauce
$7.46

Sides

Add 2 sides to any entree for only $3.29
Baked Beans w/ Brisket
Each
$2.63
Baked Beans w/ Brisket
Pint
$6.89
Baked Beans w/ Brisket
Quart
$11.49
Baked Beans w/ Brisket
Pan
$33.34
Collards w/ Pork
Each
$2.63
Collards w/ Pork
Pint
$6.89
Collards w/ Pork
Quart
$11.49
Collards w/ Pork
Pan
$33.34
Corn Pudding
Each
$2.63
Corn Pudding
Pint
$6.89
Corn Pudding
Quart
$11.49
Corn Pudding
Pan
$33.34
Cornbread
Each
$2.63
Cornbread
Pint
$6.89
Cornbread
Quart
$11.49
Cornbread
Pan
$33.34
Fresh Cut Fries
Each
$2.63
Fresh Cut Fries
Pint
$6.89
Fresh Cut Fries
Quart
$11.49
Fresh Cut Fries
Pan
$33.34
Green Beans w/ Bacon
Each
$2.63
Green Beans w/ Bacon
Pint
$6.89
Green Beans w/ Bacon
Quart
$11.49
Green Beans w/ Bacon
Pan
$33.34
Gumbo
Each
$2.63
Gumbo
Pint
$6.89
Gumbo
Quart
$11.49
Gumbo
Pan
$33.34
Hush Puppies
Each
$2.63
Hush Puppies
Pint
$6.89
Hush Puppies
Quart
$11.49
Hush Puppies
Pan
$33.34
Mac and Cheese
Each
$2.63
Mac and Cheese
Pint
$6.89
Mac and Cheese
Quart
$11.49
Mac and Cheese
Pan
$33.34
Potato Salad
Each
$2.63
Potato Salad
Pint
$6.89
Potato Salad
Quart
$11.49
Potato Salad
Pan
$33.34
Side Salad
Each
$2.63
Side Salad
Pint
$6.89
Side Salad
Quart
$11.49
Side Salad
Pan
$33.34
Sweet Vinegar Slaw
Each
$2.63
Sweet Vinegar Slaw
Pint
$6.89
Sweet Vinegar Slaw
Quart
$11.49
Sweet Vinegar Slaw
Pan
$33.34

Fresh Salads

Premium Salad
$7.46
Smokehouse Turkey Salad
$9.76

Party Packs

Family Pack
$28.74
Party Pack 1
Serves 6
$52.84
Party Pack 2
Serves 10
$80.44
Party Pack 3
Serves 16
$136.79
Party Pack 4
Serves 24
$195.44

Sample The City

City Sampler
$21.84
Judges Sampler
$33.34
The Motherload
$68.99

Add-Ons

Corn Bread (bakers dozen)
$14.94
Half Chicken (w/ purchase of a Party Pack)
$10.34
Jumbo Party Salad (feeds 20-24)
$52.89
Party Salad (feeds 10-12)
$28.74
Slab of Ribs (w/ purchase of a Party Pack)
$20.69

By The LB.

Smoked Whole Pork Shoulder
Per lb
$12.64
Smoked Whole Brisket
Per lb
$17.24

Sandwich Packs

Brisket Sandwich Pack
$56.35
Pulled Pork Sandwich Pack
$44.85

Drinks

Bottled Soda
Bottle
$2.88
Bottled Soda
Case
$45.99
Brewed Tea
Regular
$2.29
Brewed Tea
Large
$2.86
Lemonade
Regular
$2.29
Lemonade
Large
$2.86
Lemonade
Gallon
$9.19
Soda
Regular
$2.29
Soda
Large
$2.86
Sweet Tea
Regular
$2.29
Sweet Tea
Large
$2.86
Tea
Regular
$2.29
Tea
Large
$2.86
Tea
Gallon
$5.74

Desserts

Banana Pudding
Each
$3.21
Banana Pudding
Pint
$6.89
Banana Pudding
Quart
$11.49
Banana Pudding
Pan
$33.34
Peach Cobbler
Each
$5.74
Peach Cobbler
Quart
$12.64
Peach Cobbler
Pan
$34.49
Triple Chocolate Cake
Each
$4.01
Triple Chocolate Cake
Whole
$33.34
Brand history
City Barbecue was founded 24 years ago, in 1999 by Rick Malir, Mike Taylor, Jim Burdos, John Kean, and Frank Pizzo. They opened their first location at 2111 W Henderson Road, Columbus, Ohio. The building was a former doughnut shop from Upper Arlington, Ohio.
You might also like our aritcles on the menu prices at Mission BBQ, Sonny's BBQ, and Dickey's BBQ.
The opening of the first location was delayed by several situations and, in order to sustain the business, Malir began to fulfill catering orders out of his house.
City Barbecue received many awards and recognitions over time for their work. Some of these recognitions include the Top Barbecue Restaurant in Columbus in 2012 offered by Business Insider, the Country's Best Barbeque Chain in 2017 offered by The Daily Meal, One of the Top 25 Barbeque Spots in the Country in 2014 offered by Men's Journal.
Also, between 2016 and 2018 City Barbecue was named the best employer (under five hundred employees) in Columbus, Ohio. In 2019 the company won a Pillar Award for Community Service, which is a recognition honoring "organizations that set the standard for outstanding service to their communities".
City Barbecue runs a fundraising program where they offer 20% of their sales to organizations such as Mission 22 and FFA. Also, they donate regularly to charities.
Our review
City Barbecue meals are filling and hearty, so probably you will not want to eat before heading to one of their restaurants. The focus of Barbecue City's menu is smoked meat, ranging from beef and pork to turkey and chicken. Though, they offer some other food items as well, including a wide variety of sides and sandwiches, salads, desserts, and drinks.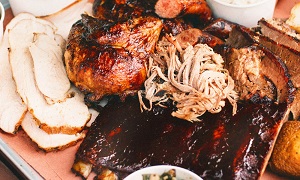 The food offered by this restaurant is very delicious and appreciated by clients. Actually, two of their BBQ menu items have been awarded individually. The National Turkey Federation named the City Barbecue's turkey breast the best in America, while the Beef Brisket won the Grand Champion Award at an international BBQ contest.
If you want to try different types of meat from this restaurant's menu, you can order a sampler platter and taste all of their best offerings at once, including ribs, brisket, turkey, and pulled pork.
City Barbecue food is so delicious because they prepare almost everything from scratch and they have their own recipes for every dish. All of their BBQs are smoked in-house and the clients can even watch the pitmaster preparing it. Every BBQ item is carefully smoked with wood at certain temperatures for several hours. Also, their sauces are unique, and at each restaurant, you will find a sauce station where you can choose your favorite sauce for your meal.
You may not expect it, but the City Barbeque offers many gluten-free options such as Briskets, Chicken, and Pulled. Plus, they have gluten-free sides as well, including smashed potatoes, vinegar slaw, famous potato salad, baked beans, collard greens with pork, and green beans with bacon. Moreover, this restaurant offers high-protein, low-calorie, and low-carb options. So, there will always be something for everyone.
City Barbecue FAQs
At what time does City Barbeque open?
Most City Barbeque locations open at 11:00 a.m. Monday through Sunday. However, it depends on the day of the week and you should visit the company's official website to see which are the opening hours of the location you are interested in.
At what time does City Barbeque close?
In general, City Barbeque closes at 09:00 p.m. Sunday through Thursday, and at 10:00 p.m. on Friday and Saturday. But again, it depends on the location and the day of the week.
What type of barbeque does City Barbeque serve?
City Barbeque serves American barbeque. Their BBQ will make you think of the Carolina pulled pork and the Texas brisket.
Is everything really smoked on-site at City Barbeque?
Yes, every City Barbeque location has three smokers on site. These are never turned off and are fed with local hickory wood.
How many City Barbeque locations are there?
There are more than fifty City Barbeque restaurants located across eight U.S. states.
https://www.thepricer.org/wp-content/uploads/2023/04/city-barbecue-menu-prices.jpg
380
610
Alec Pow
https://www.thepricer.org/wp-content/uploads/2023/04/thepricerlogobig.png
Alec Pow
2023-04-23 06:22:24
2023-04-19 08:39:34
City Barbeque Menu Prices