Clear bra refers to the process by which you can protect your car from rust, and scratches, but also give it a pleasant aesthetic appearance, without paying large sums of money for special paint. There are both advantages and disadvantages to car wrapping, which is why you need to do your research before making a decision.
How Much Does a Clear Bra Cost for a Car?
There are several factors that will affect the cost of a clear bra for your car such as the place where you are living, the car parts you want to protect, the brand of the clear bra, the vehicle you want to have wrapped, and the professional you hire (in case you choose one). The prices will vary as the car owners choose to cover specific parts.
However, a car owner should expect to spend anywhere between $750 to more than $2,200 for a complete clear bra package, that is designed to offer protection to most of the vehicle's painted areas.
In the table below you will find the average cost of a clear bra for different car parts.
| Part | Price Range |
| --- | --- |
| Hood and Fender | $150-$350 |
| Lower Bumper | starts at $350+ |
| Above Windshield | $120-$250 |
| Mirror Protection | $75-$120 for both |
| Headlights | $75-$120 for both |
| Door Handles | $50-$100 for all |
Note: These price estimates are charged by professionals and you should keep in mind that some of them will combine most of these parts and offer a discounted package. Make sure you ask if there are available any discounts.
You might also like our articles on the cost of ceramic coating, PPF, or spray-in bedliner.
According to a member of the online forum Tesla, the cost of a clear bra package for a car is anywhere between $1,450 and $1,800, depending on what will be covered. Another member on the same forum said that they were charged less than $1,100 for covering the rear bumper scuff area, the front part of the hood, A-pillars, the front bumper, and mirrors.
From a Reddit.com thread, we found that the price for covering the mirrors, the full hood, the front fender, and the bumper for an Audi A3 is $1,350.
Depending on the number of panels you want, you will have to pay anywhere between $950 and $2,700 for this job. The cost is so high because this film is typically custom cut and applied by hand.
Clear bra overview
"Clear bra" is a TPU polyurethane film, multilayer, 100% transparent, that won't influence the colors beneath it, with active self-heal technology against scratches, but also a hydrophobic effect. It is very resistant, does not break, and cannot be pierced by an object.
Car manufacturers deliver new cars with this ultra-resistant film already installed. It is mounted around the wheel arches or door sill protection on sports cars or SUVs.
Paint Protection Film or PPF was originally designed and developed by the US military as a way to protect rotors and other sensitive parts of helicopters. The thick film was applied to edges and potential impact areas, designed to be durable and easily replaceable in an environment where aesthetics was far from a necessity.
As with many modern applications, what began as military technology eventually found its way to the commercial sector and over several decades, slowly developed into the various products we have today, protecting our cars.
How is a clear bra installed?
How to maintain a clear bra for a car and what maintenance products are used?
Once the surface of the car is protected, you should know that maintaining the PPF film is easy.
The assembly is carried out wet, and for this reason, the car should not be washed in the first 7 days.
After this period, you can wash the car normally. If it is pressure washed, use the lance from at least 50 cm away and avoid using high pressure at the edges of the film.
If difficult spots from birds or insect marks have appeared on the surface, remove them as soon as possible, just as you would to to maintain the paint. Care must be taken so that the acid does not deform the glossy layer of the foil.
Surface scratches and spider web-like ones will disappear after a period of time. If you want to speed up the process, apply warm (not boiled) water. This will help the surface to regenerate.
Use carnauba wax and dedicated PPF sealant.
Advantages and disadvantages of a clear bra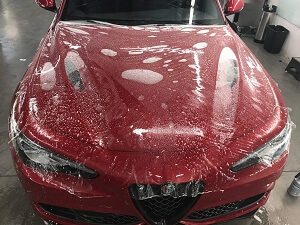 Applying a clear bra coating helps seal the paint by repelling water. You can spray liquid silicone on the snow shovel or the bottom of the sled to achieve the same hydrophobic function. This is not a revolutionary concept. Even though the thin ceramic layer acts more like a durable Carnauba wax, it doesn't provide the same shine as traditional wax.
Most people apply PPF if they want the paint to last longer, using a low-maintenance regimen that ignores traditional detailing needs. Even though it only creates a very thin layer to reduce micro-abrasions on the paint surface, it will not stand more severe abrasions.
Can I use ceramic coating in combination with PPF?
Yes. Because the impact of debris is more profound at high speeds, savvy supercar owners choose PPF over ceramic every time. In fact, when you consider that PPF was originally developed for military use to protect vehicles that are more expensive than any supercar, it's clear why it's the best choice.
However, ceramic coatings are cheaper and can be applied to the entire surface of the vehicle, including the chassis, which is why they are more popular with more economical consumers. But for anyone looking for real paint protection, only a film like XPEL is worth using.
Important things to consider
These protective films are mainly applied to the hood, front bumper, mirrors, door sills, etc.
Most manufacturers offer a guarantee of between 5-7 years and even 12 years. The film contains ultraviolet stabilizers to prevent discoloration or degradation of the product.
https://www.thepricer.org/wp-content/uploads/2023/04/clear-bra-cost.jpg
380
610
Alec Pow
https://www.thepricer.org/wp-content/uploads/2023/04/thepricerlogobig.png
Alec Pow
2023-04-12 08:34:26
2023-04-07 08:52:40
Clear Bra Cost for a Car