The Clydesdale horse breed takes its name from the Clydesdale farm horses in Scotland. Having a larger stature than ordinary horses, their muscular and strong body makes them ideal for manual work. Clydesdale horses were famous as mascots of various beer brands such as Budweiser or the Anheuser-Busch company.
The Clydesdale breed, along with the Shire, has been promoted by the Royal House of Great Britain over time, being very important horses for the agricultural sector.
How Much Does a Clydesdale Horse Cost?
The amount of money you are going to spend on a Clydesdale horse will depend on factors such as the place you buy it from, your geographical location, and the quality you want. Expect to pay around $13,000 for a young Clydesdale in a show condition and only $600 for an older horse.
However, most purchases would be anywhere between $2,200 and $6,000. The price of a gelding trained to ride, with very few defects is anywhere between $850 and $1,900, while for a well-bred, trained, show-quality, horse with a good disposition, that already won many awards, you will have to pay $2,200 to $6,000.
Keep in mind that these cost estimates are just the beginning and you need to consider the costs involved with owning a horse. According to Clydesdale horse owners, you should budget at least $450 to $700 per month to take care of your animal and more than $1,000 if you want to board the horse off your property at a local barn.
You might also like our aritcles about the cost of a horse in general, a pony, or an Akhal Teke.
According to online adverts, the lowest price for a back Clydesdale stallion is $380, while the highest price is for a registered mare with a foal, $8,700. As already mentioned above, most of the adverts are anywhere between $3,200 and $5,500.
You should expect to pay $1,600 to $2,700 for a Clydesdale horse, according to Greatest Collectibles.
The most expensive Clydesdale horse was sold at an auction in 2011 for $212,500.
What is going to be included in the selling price?
If you adopt a Clydesdale horse from a private seller/breeder or a rescue, they should provide, at a minimum, a temperament report/description so you know how the horse is acting while training or around strangers, a health record, any show-related awards, up-to-date vaccinations, and deworming evidence. However, these may vary, so you should ask the seller exactly what they offer.
Which are the additional expenses?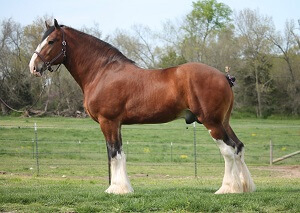 When talking about food, an average Clydesdale horse consumes around 2% of its body weight per day. Grains are not recommended unless suited for a show. Depending on your area, you will have to pay anywhere between $110 and $150 for a ton of hay. So, for instance, if the horse has a weight of 2,000 pounds, we can assume that he will eat 20 pounds of hay per day. The food intake may need to be increased if the horse is preparing for a future performance show. The monthly costs with the horse's food will depend on the availability of the hay, but you should budget $120 to $600 per month.
Similar to all animals, vet bills are another cost to consider, for both routine and surprise vet visits. The annual costs would be around $260 and would include the fees for the annual checkup, the annual visit, the deworming process, and teeth cleaning. Of course, the costs will be higher in case of an emergency procedure and treatment.
Plan on spending $30 to $40 per month for a farrier, who will offer basic care. Also, for a full set of shoes, you will have to pay around $240.
If you are just starting out with owning a horse, you need to consider the costs of the equipment as well. This may include harness, halters, a show-quality tack (if you plan on showing the horse), saddle, bridles, and blankets. Also, you should upgrade your horse trailer because most Clydesdale horses don't fit comfortably.
In case you want to show your horse, it is absolutely necessary to train him and for this, it's best to hire a professional. Expect to pay $60 to more than $80 per hour, depending on who you choose to work with. Usually, clinics are available and cost anywhere between $220 and $650 for a weekend training session.
If you don't have the land to raise and take care of your horse, you will have to take into consideration a boarding option, that may cost $550 to more than $2,100 per month, depending on the place where you are living, the contract terms and the amenities.
Important things to consider
It is a majestic horse with captivating beauty. Although a massive horse, the Clydesdale is very energetic. The bone structure is very solid. The forehead is wide and has a flat and wide muzzle profile. The eyes are lively and the ears are large. Its large head is supported by a strong and beautifully arched neck. His massive body is muscular and athletic.
It is around six feet tall and weighs between 1,500 and 2,500 pounds. It is a brave but friendly, versatile, and obedient horse. Also, it is used for traction, rural and forestry activities, parades, or for patrolling.
Clydesdale is at the top of the tall breeds, along with Shire or Percheron.
To qualify for the Budweiser Clydesdale, horses must have white markings ("socks") on their feet and a white mark on their face. Castration is also necessary.
The Clydesdale breed, along with the Shire, has been promoted by the Royal House of Great Britain over time, being very important horses for the agricultural sector.
Even today, the Clydesdale horse breed is still recognized as a beautiful horse breed and is frequently entered in various competitions, including draft horse exhibitions. In these pulling competitions, the horses that can pull the most weight are determined.
https://www.thepricer.org/wp-content/uploads/2023/03/Clydesdale-Horse-cost.png
380
610
Alec Pow
https://www.thepricer.org/wp-content/uploads/2023/04/thepricerlogobig.png
Alec Pow
2023-03-16 06:28:57
2023-03-11 17:14:52
Clydesdale Horse Cost