Competitive Cheerleading Cost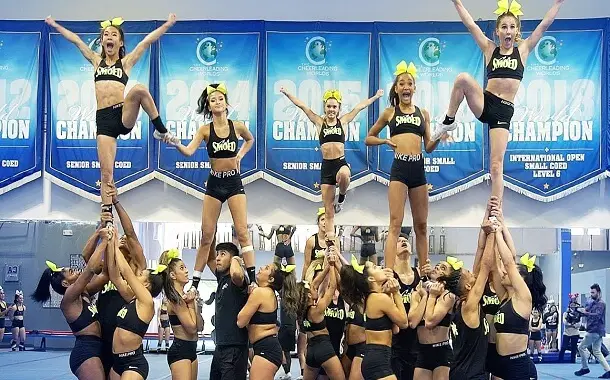 If you are passionate about cheerleading, but for some reason, you can't or don't want to join the high school cheer team, you have the possibility to join a competitive cheer league. With this type of league, you will have more opportunities to do more challenging stunts, meet new people, compete with other squads, and build your self-esteem.
 How Much Does Competitive Cheerleading Cost?
So, if you want to start competitive cheerleading, you will have to budget for registration fees, practice clothes, a uniform, and shoes. Besides these initial fees, you will have to pay a monthly fee, which would be anywhere between $85 and $120, depending on your level. Be prepared to spend anywhere between $2,100 and $4,500 per year to cheer in a competitive setting. Everything you would need to participate in a club at competitions should be included in this cost.
When talking about the startup costs, you should plan on spending anywhere between $60 and $120 for the registration fee, while the practice clothes, shoes, and uniform would cost you anywhere between $320 and $550. The factors that will affect the cost of these clothes include the type of clothing, the brand, and the club's requirements. Most of the cheerleaders who start to cheer competitively spend a minimum of $520 in their first month alone.
You might also like our articles on the cost of FloMarching, Football helmets, or Soccer goals.
According to a member of the Yahoo! Answers forum, you should expect to pay around $510 for the uniform, a fee of $110 per month, and a competition fee of $860 per year. Some other costs would include traveling expenses, parties, makeup, yearly banquets, and bows. Also, this member said that an average competitive cheerleader should expect to spend a minimum of $3,200 if not more per year.
In general, parents spend anywhere between $2,100 and $3,100 per year for the tuition and competition fees for an all-star program, according to a Cincy Magazine article. The costs of the uniforms will not be included in this estimate, and these may cost hundreds of dollars.
At the Dynasty Athletic All-Stars, the monthly fees are anywhere between $140 and $155, totaling $1,680 to $1,860 per year, depending on your level. These fees would include all of the costs related to a one-week thumbling class, music, coaching, and choreography. Also, you will have to pay a uniform fee, which is around $550.
Competitive cheerleading overview
Spectacular jumps, human pyramids, rustle of pompoms, costumes with glittering sequins, elements of acrobatic and rhythmic gymnastics, "stunt" movements (throwing a teammate in the air and seeing them perform twisting or turning movements), dynamism as much as it is humanely possible and joy without edges – this is what the cheerleaders do.
Traditionally, the cheerleaders dance to the music of the marching band or orchestra and enchant the eyes of those present with a choreography based on marching steps. As a mandatory accessory, pom-poms allow them to create captivating group figures, such as waves in different formations.
On the border between sports and art, the dance of the cheerleaders has a special charm, even more so when you have the opportunity to watch a performance of a professional team. Although it seems a spontaneous and improvised activity, the routine that makes up this style of dance is long repeated and requires a high degree of involvement and an iron concentration.
Competitive cheering is different from high school cheerleading because it also involves traveling. Also, in general, every competition is overlooked by the USASF and/or NACCC.
What are the most common additional expenses?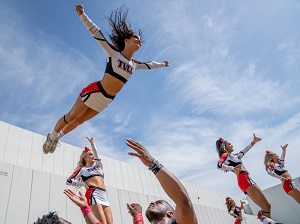 You will have to pay a competition fee every time your cheer team joins a competition. This fee would be $100 to $1,000, or even more.
In case the competition takes place far away, you should budget for accommodation, airline tickets, and other, depending on how far you have to travel.
Plan on spending around $260 for choreography and music.
Some clubs may charge a one-time tryout fee, which is around $80.
Expect to spend anywhere between $310 and $550 for the competitive cheerleading outfits, while the practice outfit would cost around $110 when you factor in the shorts, bra, and shirt.
The make-up and bows would cost around $130, while for the shoes you will have to pay anywhere between $55 and $120.
Important things to consider
Even though you may find a league you want to join, you may not be able to do it as most of them have tryouts that are organized during certain periods of time.
Your ability to cheer competitively will be greatly aided by a background in dance or gymnastics, or both.
There are clubs that may force you to sign a one-year contract.
The activity carried out is quite hard and requires a lot of work. The cheerleaders train for two to three hours several times a week in the gym. The life of a cheerleader means work for pleasure and most girls admit that they do this sport out of passion.
How can I save money?
Take your time and look at the requirements of a minimum of three clubs. Compare not only their prices but also their philosophies, reputation, and the number of competitions in which they participate. After that choose the one that you think is the best for you.
Competitive cheering will always be more expensive than cheering at a high school. You could encourage your child to join the high school cheer team, to save some money.
https://www.thepricer.org/wp-content/uploads/2023/01/competitive-cheerleading-cost.jpg
380
610
Alec Pow
https://www.thepricer.org/wp-content/uploads/2023/04/thepricerlogobig.png
Alec Pow
2023-01-06 06:22:46
2023-09-20 19:32:34
Competitive Cheerleading Cost