Last Updated on December 22, 2022 | Written by CPA Alec Pow
First Published on September 1, 2022 | Content Reviewed by

CFA Alexander Popivker
Corky's is a restaurant in the United States of America famous for its BBQ. This particular type of BBQ is made in Memphis style and is the best in the area.
Clients love to dine at Corky's for the cozy and warm environment, and the "feel like home" atmosphere. Plus, the service is excellent and you will get your order pretty fast.
If you want to get an idea about how much you should budget for eating at Corky's, you can take a look at the table below, where you will find their latest menu prices.
Item
Size
Price

Appetizers

Barbecue Nachos
$8.99
Barbecue Shrimp
$9.99
Corky's "Wangs"
$7.99
Onion Loaf
$5.99 – $7.99
Hot Tamales
$6.99
Spinach Artichoke Dip
$7.29
Fried Cheese
$6.99
Bacon And Cheddar Skins
$6.99
Smoked Sausage
$6.99

Steaks

12 Oz. Rib Eye
$17.49
11 Oz. Sirloin
$13.99
Prime Rib
$19.99 – $21.99

World Famous Ribs And Combos

Slab
(for two)
$21.99
Ribs
$13.99 – $18.99
Pull Pork Dinner
$9.99
Beef Brisket Dinner
$10.49
Taste Of Corky's
$21.99
Corky's Combo
$18.99

Specialty Potatoes

Lead Belly Baked Potato
$7.99
Oversized Veggie Baked Potato
$6.49

Sandwiches

BBQ Pork Sandwich
$7.29
BBQ Chicken
$7.99
BBQ Beef
$7.99
Catfish Poyboy
$7.49
Shrimp Poboy
$8.99
Corky's 1/2 Lb Burger
$7.49
Steak Sandwich
$8.99
Smoked Sausage Poboy
$8.49

Other Selections

Grilled Chicken
$10.99
Cajun Style Catfish
$10.99
Shrimp Dinner
$14.99
Chicken Tenders
$10.49

Side Items

Garlic Mashed Potatoes
$2.59
Baked Beans
$2.59
Cole Slaw
$2.59
Fries
$2.59
Broccoli
$2.59
Baked Potato
$3.19
Baked Sweet Potato
$2.99
Vegetable Of The Day
$2.49
Add 5 Shrimp To Any Entree
$5.99
Rice Pilaf
$2.39

Salads

House Salad
$4.99
Caesar Salad
$10.99
Chicken/Pork
$6.99 – $9.99
Southern Fried Chicken Salad
$9.99
Smoke House Salad
$10.99

Soups

Potato Soup
$3.99 – $5.49
Seafood Gumbo
$4.99 – $6.49
Soup And House Salad Combo
$6.99

Kids Menu

Chicken Tenders
$5.99
Grilled Cheese
$4.99
Hot Dogs
$3.99
Ribs
$6.99
Pulled Pork Sandwich
$5.99
Kid Cheeseburger
$5.49

Homemade Desserts

Pecan Pie Ala Mode
$5.99
New Orleans Bread Pudding
$4.99
Banana Fosters
$6.79
Corky's Fudge Sundae
$4.99
N.Y. Style Cheese Cake
$4.99
Brand History
The first Corky's restaurant was opened in 1984 in East Memphis, on Poplar Avenue. It was founded by David Pelts and since then the company expanded and opened new locations across the area.
You might also like our articles about the prices you will find on the menus of Sonny's BBQ, Dickey's BBQ, or Smokey Bones.
Nowadays there are eight Corky's restaurants located in three American states such as Arkansas, Tennessee, and Mississippi.
Over time the Corky's restaurant chain has been awarded for its great food and service. For instance, it has been voted 22 times as the number One BBQ joint from Memphis.
Our review
Corky's restaurants are designed in such a way that you will feel like you are teleported back in time, in a cozy and warm dining space. The meals served here not only taste very good, but they also look amazing.
One of the customer's favorite food items on Corky's menu is the dry ribs. These have been described as being delicious and absolutely incredible. Besides these, you should try their rolls, nachos, and fish.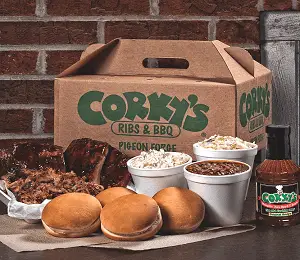 Appetizers cost anywhere between $5 and $12 and include barbecue nachos, barbecue shrimps, hot tamales, fried cheese, smoked sausages, and many more. For a soup such as Seafood Gumbo or Potato Soup, you will have to pay anywhere between $3 and $7. Salads are priced from $5 to $11 and include Caesar salad, pork/chicken salad, house salad, smokehouse salad, and Southern fried chicken salad.
If you are in a hurry, you can grab one of the Corky's sandwiches which cost anywhere between $7 and $10. Some of the options include the BBQ pork sandwich, the BBQ chicken, the BBQ beef, the catfish Poboy, the steak sandwich, and the smoked sausage Poboy.
Be prepared to pay anywhere between $10 and $25 for a portion of Corky's famous ribs and combos. Also, the steaks are priced from $15 to $22, and you can choose between the Prime Rib, 11 Oz. Sirloin and 12 Oz. Rib Eye. Some other selections include the Chicken Tenders, the Grilled Chicken, the Cajun Style Catfish, and the Shrimp Dinner. These cost anywhere between $10 and $15.
Corky's also has a Kids' menu that includes food items such as grilled cheese, chicken tenders, ribs, hot dogs, kid cheeseburgers, and pulled pork sandwiches. Be prepared to pay anywhere between $4 and $8 for one of these food items.
As for the desserts, Corky's offers the New York-style cheesecake, pecan pie Ala mode, Corky's fudge sundae, New Orleans bread pudding, and banana fosters. Desserts are priced from $5 to $8.
The staff is very friendly and efficient. You will not have to wait too long for a seat and your order will be on your table in around twenty minutes.
Corky's FAQs
At what time does Corky's open?
Corky's opens every day at 11:00 a.m. However, it may vary from one location to another, so you should check their official website to see which is the opening hour of the location you are interested in.
At what time does Corky's close?
Corky's closes at 08:00 p.m. from Monday through Thursday, and at 08:30 p.m. on Friday and Saturday. But again, it depends on the location and the day of the week. You should verify this information on their official website.
Is Corky's BBQ a restaurant chain?
Corky's has several locations around the United States of America, so it can be classified as a restaurant chain.
Where was the first Corky's restaurant opened?
The first Corky's restaurant was opened in East Memphis, on Poplar Avenue.
How long has Corky's been around?
Corky's is on the market for almost forty years, being founded in 1984.
Who owns Corky's BBQ?
Corky's is owned by the BBQVC Food Group, LLC company.
https://www.thepricer.org/wp-content/uploads/2022/08/Corkys-menu-prices.jpg
380
610
Alec Pow
https://www.thepricer.org/wp-content/uploads/2023/04/thepricerlogobig.png
Alec Pow
2022-09-01 10:59:32
2022-12-22 18:48:37
Corky's Menu Prices