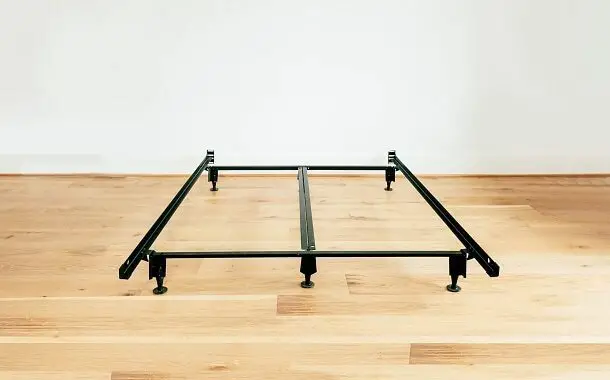 We all know that a good night's sleep is essential for a healthy and happy life. That is why it is so important to choose a bed frame and a mattress that matches your personality and the character of your home, your lifestyle, the space itself, and the housing situation. After all, we all spend much of our lives sleeping – so your bed should be a place to love and care for and fit in perfectly.
The bed frames can have a lot of looks and materials, from plain wood or metal to plush upholstered options. Some even have built-in storage. A bed that defines style in the bedroom or one that blends in with the rest of the room? Or something in between? The choice is yours.
How much does a bed frame cost?
The average cost of a bed frame will be influenced by some factors such as the material of the bed, the design, the quality of the materials, the brand, and the place you buy it from. For example, you can find a bed frame on Amazon for around $220. Though, for some beds, the frame is only $95, while for others is around $360. Also, there are brands that charge $810 to $1,550 for a bed frame.
You might also like our articles on the price of an Alaskan King bed and mattress, a quality mattress, or the Perfect Sleep Chair.
However, the cheapest bed frames are those made of metal, which cost around $100, while the wood bed frames are more expensive. For example, the cost of a West Elm Mid-Century bed frame made of eucalyptus wood is almost $900.
Cost of bed frame by size
You should not be surprised that the cost of a bed frame will depend on its size. However, you may be surprised to see that the difference in costs is not that steep. For instance, a full- and queen-sized bed from Ikea have the same price, while the king-sized beds cost 30% to 35% more. Here is a price comparison between the beds from Ikea and Zinus based on various sizes, so you can get a better idea about how much would you have to pay.
| | |
| --- | --- |
| Ikea | Zinus |
| $350 | $200 |
| $350 | $220 |
| $450 | $275 |
Cost of bed frame by brand
The brand has a great impact on the cost of a bed frame. There are producers that are more affordable, while others may charge more than $1,500 for a bed frame. However, a high-quality bed frame can ensure a better night's sleep and support your mattress. Here are the prices charged by some of the most popular brands of bed frames:
West Elm: $1,400;
Zinus: $200;
Ikea: $360;
Casper: $210.
The most popular ones on Amazon are the Zinus frames. These are made of metal covered in upholstery and are pretty minimalist. You can purchase a Zinus bed frame with a headboard for around $300.
Another popular brand, Casper, sells bed frames made of aluminum which come with a headboard at a price of around $900. You can also purchase a box spring with wooden slats from them for almost $210.
Cost of bed frame by material type
When it comes to the material of the bed frame there are two common options: metal or wood. As for the metal you can choose from iron, and aluminum and for the wood, there is oak, maple, and many more.
Wooden bed frames are much more expensive than metal bed frames, but these are more durable and less prone to squeaking. Expect to pay less than $100 for a standard metal frame.
The upholstered frame is made of solid wood and/or metal, after which it is covered in various good-quality fabrics or natural leather for a sleek look and high comfort. In general, quality upholstered beds can be found at higher prices because both the frame and the materials that cover the bed are of good quality if you do not go for cheap and poor-quality variants.
The chipboard frame is very common because it is cheaper compared to other materials, especially compared to solid wood. The disadvantage of the chipboard bed is that it is not very resistant, it has a shorter lifespan and there is often a risk of deforming because of weight or shrinking and this influences you both financially and in terms of health.
Cost of adjustable bed frames
Another type of bed frame you can find on the market is the adjustable bed frame. These beds can be electronically controlled to adjust the angle of the bed. In general, these are recommended for those who suffer from a medical condition, but also for those who like to read from bed, for example. The fact that you can adjust the mattress according to the activity (reading, watching TV, working on a laptop) is an advantage that gives you extra comfort and ensures a correct body position.
As you might expect, the cost of an adjustable bed frame is higher than the cost of a non-adjustable bed frame. Some of the brands that offer adjustable bed frames include Amerisleep, Lucid, Nectar Sleep, Casper, Tempur-Pedic, and Beautyrest. The cost of an adjustable bed frame would be anywhere between $500 and $1,350.
Conclusion
The choice of bed is an important aspect and that is why you must know how to choose the best bed if you want to have a peaceful sleep.
Bed frames are not decorative pieces of furniture; their role is much more important than that. If when you choose a table or a carpet you spend more time analyzing the aesthetic aspects; when you choose a new bed frame you have to dedicate much more time to its quality parts.
https://www.thepricer.org/wp-content/uploads/2022/05/Bed-frame-cost.jpg
380
610
Alec Pow
https://www.thepricer.org/wp-content/uploads/2023/04/thepricerlogobig.png
Alec Pow
2022-05-31 08:58:55
2022-05-30 06:27:09
Cost of a Bed Frame