Cost of A Gallon Of Paint
The paint that you choose could mean the difference between a pleasant and comfortable environment or an uncomfortable one. Cheap interior paint can be tempting to buy for budget reasons but these paints are often disappointing in the long run – they don't produce desired results and might be far away from what you want.
One of the biggest mistakes homeowners make when trying to paint a room is not choosing the right color or paint type for the room. A gallon of paint can cost anywhere from $30-$45.
To help you buy the right product, we will review the most common paint prices and types. Popular brands and appropriate applications for different rooms in your home are also included below.
How much will the paint cost?
Flat paint is the cheapest, while high-gloss can set you back as much as $100 per gallon. You can spend between $30 and $55 on average for a gallon of indoor paint depending on brand and type. On the low end, it costs around twenty dollars to purchase one gallon's worth of flat or satin finish paints; however, if you want something more durable that will last up to 10 years then you're looking at spending closer to $100.
You might also like our articles about the cost of Certapro painters, the price of a can of spray paint, or the cost to paint a car.
The next table will give you some valuable details on price differences depending on the paint type:
| Paint Type | Cost per Gallon |
| --- | --- |
| Flat | $25 – $45 |
| Matt | $20 – $60 |
| Eggshell | $26 – $45 |
| Satin | $27 – $45 |
| Semi-Gloss | $35 – $60 |
| High Gloss | $30 – $120 |
Best kind of paint depending on the room
When decorating your home, you might be wondering what type of paint to use. This article will help answer that question by going over all the different types and where they should go in your house.
Flat paints have a higher mineral content and provide an even, rich coat to mask flaws. But due to this high amount of minerals, the finish is less durable than glossier paint with fewer amounts of minerals. This means that while glossier paint does make for a much more durable coating on your walls, every imperfection will show up way too easily.
Flat paint
Pigmented for deep coverage, flat paint features a matte finish that takes less time to apply. The ability of the pigment in this type of paint to absorb light rather than reflect it makes it ideal for covering small imperfections. However, unlike other paints which are more tolerant to vigorous cleaning or rough treatment because they don't utilize pigments as much (such as gloss), these types perform best in spaces where there is little exposure such as an adult bedroom, office space, or private library room – places you wouldn't typically find kids or pets running around.
Eggshell paint
Eggshell paint is a popular choice when looking for the perfect balance of glamour and durability. Not quite matte but without the shine of satin, eggshell features a very slight sheen similar to that on chicken eggs which gives it its name. Eggshell falls just between flat and sating paints in terms of durability with dining rooms being an ideal place for this type as well as formal living rooms.
Satin paint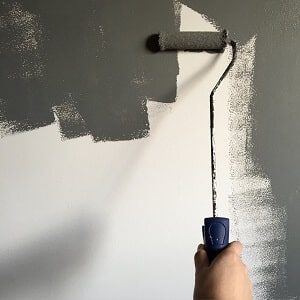 Satin paint has a lustrous sheen instead of an overly bright shine that can sometimes be seen in other paints. This type is durable and easy to clean, but because it's slightly more noticeable than flat or eggshell finishes you may need some touch-ups on any imperfections before the final coat dries completely. It cleans up much easier than most others though. Satin finish paintings are perfect for children's bedrooms as well as hallways, family rooms, and entryway areas since they have such great durability while also having lower costs when compared with average interior painting jobs.
Semi-Gloss
The semi-gloss finish is a great option for trim and moldings, as it has an eye-catching shine and can withstand wear. It's also well suited to rooms with moisture like the bathroom or kitchen since it's easy to clean. The best part? Semi-gloss paint will outlast most other paints because of its durable coating which makes this a favorite choice in kitchens where oils splatter are common occurrences.
High-Gloss
High gloss paint is perfect for exterior trim, cabinetry, and windowsills. It also shines as a superhero in terms of durability. However, it can be difficult to apply and may show every bump or mark due to the high sheen of this type of paint job. If you are looking for an interior wall color that will make your living space stand out, High Gloss Paint may not be the right choice, and we recommend considering other options like Satin Finish.
Most common house paint brands
Paint is available in a variety of budget ranges and quality levels. Whether you are on the tightest of budgets or able to spend more for premium quality, there's paint that will work for your project.
Budget-Friendly: There are many brands of paint, but the most common ones include Glidden, Olympic Kilz, and Ace Royal Interiors. But there is a major issue with low-cost paints; they often end up costing more than mid-range quality products because you need to apply more coats in order for it to cover correctly – this bumps your total cost.
Mid-Range: If you are a DIY savvy homeowner or professional painter, then these brands may be the perfect choice for you. They offer quality coverage and performance without breaking your bank account. The best part? These companies also provide eco-friendly options that support good health and environmental standards. Behr, Sherwin-Williams, Valspar, or Benjamin Moore are some of the most known in this price tier.
Premium-Tier: Top-of-the-line paint can be found in a variety of colors. Farrow & Ball, Little Green, Craig, and Rose Fine Paints are just some brands that offer high-end paints for those with an eye to luxury living. These expensive products boast unique color schemes as well as superior pigment quality over their cheaper counterparts. This means you'll want to consider your personal needs before purchasing one from this category because not all will suit every residential need equally well in terms of performance or cost-efficiency. If you find a certain shade you love but it's not offered by any other brand then go ahead and get a top-notch product at its finest price.
https://www.thepricer.org/wp-content/uploads/2021/05/paint-cost.jpeg
380
610
Alec Pow
https://www.thepricer.org/wp-content/uploads/2023/04/thepricerlogobig.png
Alec Pow
2021-05-24 11:08:32
2021-05-24 11:08:32
Cost of A Gallon Of Paint