Cost of Kickboxing Classes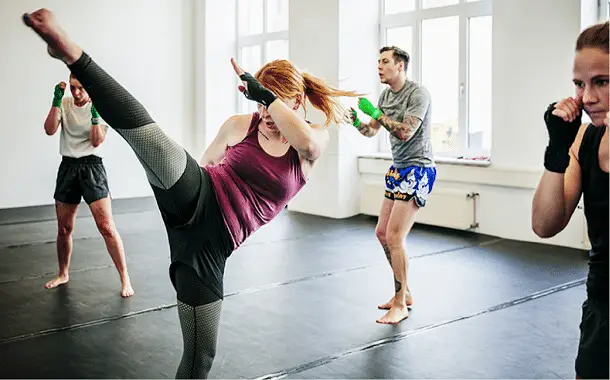 Historically, the kickboxing dates back to Asia around 2,000 years ago.
Modern competitive kickboxing began in the '70s when American karate professionals established tournaments that integrate punches and kicks that were not permitted in karate.
So essentially, kickboxing is a combination of very different basic fighting sports having as base Karate, Muay Thai, Kun Khmer, and Boxing. Simply put, it is seen as a hybrid martial art made from the components of numerous basic styles. And due to this, there is no single worldwide administration controlling this sport. As a result, there is no single kickboxing world winner. Bouts are being arranged by various promotion companies without consistent guidelines.
Typical Expense of Kickboxing Classes
Kickboxing studios typically charge by the month. Kickboxing classes cost varieties from $70 to $140 for unlimited classes each month. Some will provide walk-in rates of $10 per class. There are other places that need members to sign annual agreements, with members paying a registration charge that starts at $75 – $125.
Other studios provide a package of classes. The price of kickboxing classes of 20 sessions generally costs around $295.
Just how much do kickboxing classes cost when you chose to commit for a longer period of time? American Kickboxing Academy provides 3, 6, and 12-month unlimited classes for $417, $774, and $1,428 respectively, with a one-time registration charge of $75 with the three-month alternative. Go with the 6-month period to register at just $49 or 12-month and the charge is waived completely.
You can also check out our articles about to cost of martial arts classes, yoga classes, and swimming lessons.
Kids get 20% discount rates.
What Should you Expect?
Classes are normally 45 minutes to an hour-long, starting with a 15-minute warm-up with stretching exercises or cardio by jumping rope.
Numerous studios or fitness centers provide different classes for novices as well as the knowledgeable.
A minimum of half an hour is devoted to very focused kickboxing training, which consists of punching and kicking a heavy bag or sparring with other students or the trainer.
A quick cool-off period will follow, which normally consists of push-ups and crunches for strength, stretching, and flexibility.
Workouts are typically barefoot or with special shoes made for kickboxing.
Kickboxing class can aid you to tone your body and enhance your cardiovascular health, unlike the majority of the physical fitness regimens that focus on cardio exercise alone.
You may discover yourself having a hard time with the dance and martial arts influenced moves at least for the first couple of sessions. Do not worry. Some are great at it; some are not. If you are among those least lucky ones, double the effort. You should ultimately discover yourself gradually bettering your coordination.
Extra Expenses
The price of kickboxing will be bigger depending upon whether studios have free gears or not. Not all studios offer free gloves, headgear, and other protective items for brand-new members. So please be ready to bring some when you want to start kickboxing classes.
Below is a list of pieces of equipment and items that are usually required in kickboxing: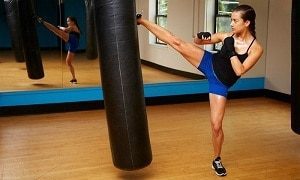 Gloves: Boxing gloves are created to secure the fighter's hand throughout a fight and at the same time minimizing superficial and skin injuries. Price: $24.99 – $49.99.
Protective Headgear: Like all other helmets, it safeguards the head from injuries brought on by direct contact. Price: $39.99 – $199.99.
Mouth Guard: This is utilized for protecting the zone around you mouth and jaw, and especially the teeth. Price$2.99 – $14.99.
Tops, Pants, and Trousers: Professional kickboxing suits encourage totally free movements by kickboxers. Price: $19.98 – $79.97.
Specially made hand Wrap: This offers great safety for the knuckles. The wrists, along with the fists of a professional athlete, can be protected if covered. Even fists of the very best fighters worldwide can get harmed. What would make you believe yours can't? Price: $6.99 – $29.99.
Shin pad and guards: Have you seen how Paul George of the NBA broke his leg? You surely do not want that… or do you? Although it is a very different sport, kickboxing is more susceptible to that type of injury. So prepared. Price: $69.99 – $149.99.
Kick Boxing Boots: All sorts of sports need a particular kind of shoes so that they would feel comfy walking around, specifically if it requires a great deal of running and jumping. Price: $69.99 – $79.99.
These pieces of equipment and gears might or might not be necessary at the studio of your choice. For novices where you are being taught only the essentials and without an adversary but a punching bag, they may simply ask you to bring light clothes that you normally use in fitness centers.
However, with professional training that includes a challenger, as a safety measure, you may wish to stay in complete fight equipment. As some might say, being overdressed is much better than being underdressed. And the saying works every time.
Kickboxing pupils and professional athletes must take caution in using these pieces of equipment and devices. They need to be utilized only when they are in great condition. Considering that these products undergo a great deal of wearing with time, utilizing them in their broken phase might do more damage than help.
Where to Find a Professional Kickboxing Studio?
You can start by having a look at some kickboxing studios and learn more about the training style that is being carried out prior to registering, and ask yourself if you are physically and psychologically prepared. You can find a lot of interesting info online to help you identify the very best studios in your geographical area with kickboxing class fees that match your spending plan.
Tips Before You Register for a Class
Before you get too fired up and choose to register for a kickboxing class, you should think about a couple of fundamental standards:
Are you fit enough to sign up with the program?
Kickboxing is a high-impact and high-intensity, kind of workout, and not all individuals are fit to take on this type of activity, specifically if you have actually been a lazy person for the most part of your life. Visit your family doctor and get a thorough consult for any chronic health problem that may render you unsuited for exhausting workouts as a safety measure.
Check out the studio even before you register
Some wish to sign up with the classes simply for the sake of it, or because all their friends are doing it. Prior to choosing to register, ensure that this is what you really want. Participate in a couple of classes and see if you believe it is something you might enjoy doing.
Find out whether the trainer is any good
Who would wish to follow a trainer who does not understand what he's doing? Learn if he is a qualified trainer and a top-level belter in martial arts prior to registering. That way, he can teach you properly as a professional.
Start gradually and at your own speed
The secret to an excellent workout is not to strain your body over the limit, specifically when you are only starting with kickboxing. Overextending yourself and overexerting effort throughout movements can trigger injuries like a sprained ankle, pulled muscles, and tendons, to name just a few. So cool down.
Drink a lot of water.
Keep yourself hydrated always – throughout the classes it is extremely advisable to drink a lot of water.
Kickboxing is seen as a great workout due to the fact that it teaches conditioning and discipline, while also being an excellent aerobic exercise. So whether you do train for tournaments or to simply stay fit and healthy, it is useful to the general wellness of the body.
https://www.thepricer.org/wp-content/uploads/2020/09/kickboxing-classes-cost.png
380
610
Alec Pow
https://www.thepricer.org/wp-content/uploads/2023/04/thepricerlogobig.png
Alec Pow
2020-09-06 13:41:59
2020-09-06 13:41:59
Cost of Kickboxing Classes