How Much Does a Backyard Lazy River Cost?
Last Updated on June 19, 2023 | Written by CPA Alec Pow
First Published on February 22, 2022 | Content Reviewed by

CFA Alexander Popivker
If you want to have a multi-functional, one-of-a-kind pool in your backyard then a lazy river is the ideal option. This is not just a pool, but an expression of your personality and lifestyle.
When building a lazy river pool the possibilities are endless; you can build one that looks like those from the exclusive resorts or create one that simply follows a windy path and is surrounded by tropical flora.
How Much Does a Backyard Lazy River Cost?
According to our research, a small backyard lazy river costs $100,000, if it has a simple oval shape. On the other hand, for a 400-foot backyard lazy river, you should expect to pay more than $510,000.
The expenses of building a lazy river are influenced by many factors such as the features you would like to put in the river, the size and depth of the river, the geographical location, and the materials used.
In order to make a budget, you should plan on spending anywhere between $130 and $160 per linear foot. However,  this price range does not include the extra features added after the river was created, the water features, and the landscaping.
According to Aquatic Excellence, the construction cost of a 10.000 linear foot lazy river may be more than $1.5 million, while the expenses of a 500 linear foot lazy river are around $920,000.
Building a lazy river pool overview
Depending on the size of the pool, a typical backyard lazy river will hold, in most cases, tens or even hundreds of thousands of gallons of water. In order to create a good experience, the majority of the experts recommend building a lazy river that is at least 50 to 60 feet long. According to an article on Pol Spa News, a lazy river should be at least three and a half feet deep and six feet wide.
You might also like our articles about the cost to build a pool house, an endless pool, or to have your pool water delivered.
In contrast to a traditional pool, for a lazy river, you will need medium or low-head pumps, that are installed strategically in order to create the "flow" effect.
The methods used to build a lazy river are almost the same as for constructing a traditional pool. Like with a traditional pool, the site conditions will determine the thickness of the wall, the steel schedule, and other features. Though there may be a difference and this is represented by the conditions of the soil.
Because of the chances of varying soil conditions along with the property and the size of the lazy river, a reputable professional will make sure that the construction will not be settled unevenly.
What are the extra costs?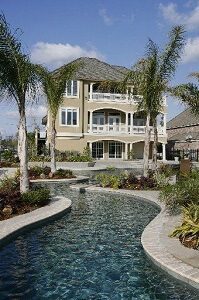 As with any type of pool, you should consider the costs of long-term maintenance as well. According to the owners, the monthly costs of properly maintaining a lazy river are around $1,100 since the pumps and the pressure valves have to work permanently in order to keep the water running. Also, you should budget for chlorine and cleaning. Keep in mind that the costs increase with the size of the river; the larger it is the bigger the cost.
According to an Aqua Magazine article, a homeowner from Texas had to face some obstacles when creating a lazy river in his backyard. He had to install dedicated gas lines to a permanent tiki torch, upgrade the transformer nearby to provide enough electricity for the continuous current, create a center island within the lazy river to make a lounge space, and add landscaping features.
In most cases, the costs of all of these are not included in the estimates presented above. Also, some owners choose to add a bridge leading to the island created by the lazy river, add lavishing landscaping with boulders and build a separate changing room/bathroom.
Some extra permits needed to create a lazy river can add to the whole expenses.
Important things to consider
If you decided to build a lazy river in your backyard then you should hire a reputable professional specialized in creating custom lazy rivers and pools. This type of construction can not be done by pool builders that do not have experience in this field. You will be able to find answers to all of your questions regarding the building of a lazy river if hiring a professional.
But, before signing the contract make sure that they are experienced, read reviews, and ask for references.
How can I save money?
As you could see, the costs of building a lazy river are variable and depend on the dimensions of the river and the features you would like to add. As this job is so complex, make sure you look for multiple price offers and choose the contractor that works the best for you.
https://www.thepricer.org/wp-content/uploads/2022/02/Lazy-River-installation-cost.jpg
380
610
Alec Pow
https://www.thepricer.org/wp-content/uploads/2023/04/thepricerlogobig.png
Alec Pow
2022-02-22 08:07:26
2023-06-19 12:29:20
How Much Does a Backyard Lazy River Cost?