How Much Does a Pickleball Court Cost?
Pickleball is a fast-paced activity that combines elements of tennis, badminton, and table tennis, played on a smaller tennis court, indoors or outdoors. Instead of racquets, players use large paddles to hit a perforated plastic ball on top of a permanent net.
The game is growing rapidly in popularity, with the American Pickleball Association already having more than 15,000 players nationwide, at least one in each state. And the numbers continue to rise, especially after a promotional material played by NBC, according to which there are more than 650% pickleball players today, compared to six years ago.
Pickleball appeared 50 years ago in Bainbridge Island, near Seattle, and was invented by a group of desperate dads who were looking for new ways to entertain their children during the summer holidays. Initially, pickleball was played using homemade equipment and had a number of rules that evolved from year to year.
But it has caught the attention of many families because of the fun, the fast pace, and the challenges it offers. The name seems to come from Pickles, the dog of one of the founding fathers. Actual pickles have nothing to do with the game, otherwise, they would have been found next to the grills after the competitions.
How Much Does it Cost To Build a Pickleball Court?
In the current version, pickleball is played on a court the size of a badminton court that is 40' long and 20' wide, with a net in the middle, raised to a height of 34 inches (a few inches lower than for tennis). The short net is part of the charm of this sport, which makes it much more accessible to players of all ages.
When talking about the costs of building a new pickleball court you should know that there are multiple options and it depends on the sum of money you would like to invest, the people who are going to play on it, and how often, where it is placed and if it is part of a recreational center, school or club.
Depending on various factors such as the base you are using, the type of striping and coating, the local labor rates, the markers, the fencing, and lightning.
The average cost to build a pickleball court would be anywhere between $22,000 and $45,000. However, for the high-end court, the costs could be more than $305,000 for an 8-court Community Complex equipped with complete lighting, fencing, and other facilities.
The final costs will be influenced by the type and quality of the materials you buy.
There are areas where the construction of a post-tensioned concrete pickleball court would cost around $36,000 without including the site preparation, compaction, grading, and others.
On the other hand, there are areas in the United States where the cost of a single post-tensioned concrete court on top of finished grade rock or dirt, with fencing and lights installed, plus the site net posts and acrylic coating would be anywhere between $27,000 and $32,000, depending on the rates and lighting choices.
You would be able to save some money if instead of building a pickleball court from scratch you convert a tennis court into a pickleball court. Though, if you are building the court for training, professional games and tournaments, socializing, or clubbing, then you should be prepared to invest some money into this construction project.
Also, you can transform your backyard into a pickleball court. It will increase the value of the property and will look beautiful as well.
In case you decide to transform the backyard into a pickleball court then you should know that the cost will depend on some factors such as the ground you are building on, and whether it is ready-made concrete or grass. The cost will be higher if there is nothing else than grass.
Estimated budget for building a pickleball court
Factors such as the place where you want to build it and its type will determine the cost of building a pickleball court. Below you will find a list of the estimative costs associated with building a pickleball court.
The cost of court resurfacing: $3,600 to $5,500;
The cost of court tape or new net: $330;
The cost of a basic court with fencing and lightning: is $22,000 to $37,000;
The cost of an 8-court Community Complex without lightning: $115,000 to $155,000;
The cost of an 8-court Community Complex with lighting and fencing: is more than $305,000,
These estimates may seem to be pretty high but it is worth every penny if you love this game.
Factors that influence the Pickleball court cost
The size of the court
The standard size of a pickleball court is 20'x40', but it can be changed according to your needs.
You can go for a larger size if you want to leave space on the sides for running off the court after you play a ball.
The costs will increase with the size of the court.
The cost of preparing the land
The most significant expenses are the ones with preparing, pouring, and framing the pad. This cost represents half of the entire cost of a pickleball court.
You can choose asphalt for the court, or you can cover it with a basic 4" or 6" concrete layer.
You might also like our articles about the cost of a tennis court, a splash pad, or an endless pool.
Compared to asphalt, the concrete slab is more practical and accessible. For instance, you will have to pay around $6 per square foot for a plain 4" or 6" concrete pad.
The cost of court surfacing
Your pickleball court will look great with the proper sport surfacing. In general, the paint used for court surfacing is very heavy with grit which must be applied with a squeegee and not a roller.
Also, you can lay down a good primer at the beginning to get the best possible result.
If you want your court to look outstanding you should hire a professional, but you can also paint it by yourself.
The cost of the constructor
If you want to have a court for pickleball of the best quality then you should always choose an experienced and certified constru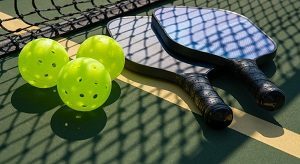 ctor.
When estimating the entire cost of building a pickleball court you have to take into consideration the costs of hiring constructors.
It is important to hire an experienced court contractor because it will help you to keep the overall construction expenses reasonable and will also help you avoid any mistakes during the pickleball court construction.
The cost of lighting
If you want o play pickleball at night then you should invest in lighting. A typical outdoor court will need four LED lights and two or four poles.
Also, you will have to hire an electrician to install the lights. This would cost you around $5,100 or even more.
The cost of the net
One of the essential accessories of a pickleball court is the net. You have to be sure about the size of the net you need before purchasing. Depending on the durability, the average cost of a permanent pickleball net would be anywhere between $300 and $395.
The cost of better-quality materials
If you want to make sure that your pickleball court will last a long period of time then you should take into consideration always buying high-quality materials.
This may seem too expensive at first but will save you a lot of money in the long run.
Somewhat similar to tennis, pickleball is mainly played in doubles. But it can also be a great one-on-one sport – no matter how many players are on the field, its size is the same.
The cost of a pickleball court by type of surface
In general, pickleball courts are made of snap-together tiles, concrete, or asphalt. But there can be other types of materials used as well for a better surface.
Plastic tiles
If you are building a new court, plastic tiles would be a great option. However, these are more expensive than concrete and asphalt. They would cost anywhere between $6,100 and $7,100.
Asphalt
Compared to concrete, this material needs more maintenance. But this is also affordable.
Concrete
Thanks to its affordability and durability this is the most popular pickleball court material.
The builders will lay this surface in the area you want and will grade it for proper drainage. Once the concrete is dried you can paint the surface and draw the lines.
Other materials
When it comes to padding you can choose also other materials in order to make a more comfortable playing experience.
Convert a tennis court into a pickleball court
If you are lucky and have an old unused tennis ball court at your disposal you can convert it into a pickleball court. You can simply do it by lowering the net to almost 34" into the center. You can use the center strap in order to bring down the net.
If the net cord tension is very high, this can be easily lowered by adjusting the ratchet on the net post.
Also, you can split the tennis court in two and use it for both pickleball and tennis. This is a great option if you want to enjoy both games, plus will require half of the conversion work.
The conversion cost will be determined by different factors. In case you choose to hire a professional to do this job you should plan on spending anywhere between $17,500 and $21,000 to convert two tennis courts into six pickle courts.
On the other hand, if you are part of a tennis club and would like to change your indoor court, then you can do it just by using a net and markers. This would be a really cheap alternative.
https://www.thepricer.org/wp-content/uploads/2022/02/pickleball-cort-cost.jpg
380
610
Alec Pow
https://www.thepricer.org/wp-content/uploads/2023/04/thepricerlogobig.png
Alec Pow
2022-02-03 10:28:15
2023-04-30 21:31:02
How Much Does a Pickleball Court Cost?