Even if in the summer and in the warm season you generally prefer to spend your time outdoors, a covered porch can prove to be useful at any time of the year, and a fully closed one or one that has closing possibilities can be used even when it snows or rains heavily.
The choice of the closing system must be made in relation to its shape and surface, with the time spent in the respective space, in relation to the design and architectural style of the house, and, last but not least, in relation to the budget you have.
How Much Does it Cost to Enclose a Porch?
The amount of money you are going to spend for enclosing a porch will be affected by various factors such as the company you choose to do the job, the size of the porch, the complexity of the job, the materials being used, your geographical location, and the design.
You might also like our articles about the cost of Eze-Breeze windows, Sunrooms, or window blinds.
Basically, it all depends on what you want because a porch can be enclosed in many ways. If you have a porch in good structural shape, expect to spend anywhere between $7,000 and $27,000 for enclosing it. If you want to add many amenities like a fireplace, plumbing, lighting, and more, the cost will be much higher. As each job is unique and different, you should get multiple quotes from local licensed contractors and compare their offers.
Usually, a partial enclosure is done if you already have a patio space that is not enclosed. Depending on the work that has to be done, this type of enclosure costs anywhere between $6,000 and $14,000. But the cost would increase if you were to add electrical work, doors, or windows.
The costliest option will be the full enclosure, which will work as a separate room. Depending on the factors mentioned in the beginning, this will cost $17,000 to more than $28,000. A full enclosure will include everything a normal room inside your house has – the roof, foundation, walls, doors, and windows. These all will be built from scratch and attached to your house, matching the exterior of your house and looking as natural as possible.
According to a member of the Gardenweb online forum, the cost of enclosing a 10'×18' concrete pad patio with glass windows is around $11,000.
Also, members of the Texas online forum said that you should expect to spend anywhere between $6,000 and $12,000 for fully enclosing a patio which already has two walls on its side and a roof, and adding framing, siding, electrical, flooring, windows, HVAC and drywall.
Factors influencing the cost
The type of enclosure
You can choose to enclose your porch in many different ways, including a traditional sunroom, four seasons, three seasons, screen, or solarium. As it will vary with the construction, each design will impact the overall price.
The size of your porch
Probably, the main factor that affects the cost of enclosing a porch is the square footage. The larger the patio is, the more work will be involved.
The type of roofing
Usually, contractors offer two options when it comes to roofing:
an awning, that is removable and cheaper, but not as resistant as a traditional roof;
a patio roof, that is similar to your house's roof.
The number of windows, doors, and flooring
Stick with the square footage and make sure to consider the floor covering, windows, and doors when calculating the costs. The larger the space, the higher the costs.
Types of porch enclosures
Solariums
This type is very popular among the sun lovers. A solarium will be covered with glass from bottom to top, including the roof.
Screen room
A screen room enclosure is created by installing screens around the whole porch, while keeping the same view. This type of enclosure will let the breeze come in, but keep the insects out. In general, this option will be the cheapest, but during bad weather, you will not be as protected as with other types of porch enclosures.
Four season room
With a four-season room, your porch will be transformed into a weather resistant room that you can enjoy any season. This setup will function as an extra room for your house and may include full climate control, insulation, and glass walls.
Three season room
This type of room may be comfortable all time of the year, depending on your geographical location. As its name says, in general, a three-season room is comfortable during any season, except the winter months. Usually, a three-season room is not designed to be climate controlled and uses a four- or three-pane glass.
What are the additional expenses?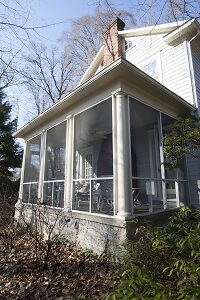 In general, the price estimates presented above will not include the cost of the windows, in case you need them. Plan on spending anywhere between $350 and $800 per window, depending on the brand, quality and setup. For example, a traditional enclosure, looking like a room, would need two windows, while a sunroom will need windows to cover more than half of the room. Also, don't forget about the window treatments, in case you need them.
Depending on the place where you are living, most probably you will need permits. For full enclosures you will need a permit for sure, while for a partial enclosure it may not be required, depending on the job. In general, if you want to change the existing structure of your house somehow, you should talk with your local government and ask about the needed permits. Usually, these permits will cost you $650 to more than $1,100.
You should consider adding cooling and/or heating and for installing these you will have to hire a professional to run vents to the new enclosure. Maybe you don't want to install vents, but a ceiling fan and/or space heater would be a good idea.
Usually, partially enclosed porches can have a motorized screen installed in order to protect you from the bad weather by simply pushing a button.
Another cost to consider is the flooring. Depending on the type of the flooring, a simple concrete pour or an insulated floor, the cost may be $3 to more than $25 per square foot.
Obviously, you will need furniture once your porch is enclosed. Plan on spending some money on furniture as well, in case you don't have it already.
https://www.thepricer.org/wp-content/uploads/2023/02/porch-enclosing-cost.jpg
380
610
Alec Pow
https://www.thepricer.org/wp-content/uploads/2023/04/thepricerlogobig.png
Alec Pow
2023-02-20 06:44:36
2023-02-15 08:00:59
Cost to Enclose a Porch