Cost To Install Aluminum Fence
The look of the fence is an element that helps individualize your home. The selected fence model and the color combination between the fence and other elements of the facade or roof create an elegant and, at the same time, robust appearance.
The aluminum fences are resistant to any kind of weather conditions, rust being a totally non-existent problem for aluminum. All components of the fence are electrostatically painted, providing additional strength to the panel. At the same time, this type of fence is much lighter than classic fences, taking into account the low density of aluminum.
How Much Does It Cost To Install Aluminum Fence?
There are several factors that affect the cost of installing an aluminum fence, but the most important is the style. The national average cost of aluminum fencing is anywhere between $8 and more than $62 per foot, without including the labor costs.
In the table below you will find the cost estimates involved with installing an aluminum fence.
| | | | |
| --- | --- | --- | --- |
| Item | Unit Cost | Quantity | Line Cost |
| Aluminum fencing | $10-$75 per linear foot | 200 | $2,000-$15,000 |
| Material Cost | $40-$100 per linear foot | 200 | $8,000-$20,000 |
| Additional materials: connectors, posts, and other items necessary for assembly | $30.00 per linear foot | 200 | $6,000 |
| Labor Cost | $20-$50 per linear foot | 200 | $4,000-$10,000 |
| Total Cost | $80-$255 per linear foot | 200 | $16,000-$51,000 |
As we already mentioned, the type of fence will affect the costs of aluminum fence installation. For example, privacy fencing costs around $35 per foot, while the cost of black aluminum fencing would be around $60 per panel. Also, the powder-coated aluminum fencing costs $60 per foot, the ornamental aluminum fencing costs $28 per foot, and for the pool surround fencing you will have to pay around $60 per panel.
Cost considerations
One of the great advantages of aluminum fencing is the fact that it will last for years without needing to be painted. So, you will save some money on maintenance.
You migh also like our articles about the cost of corrugated metal fences, barbed wire fences, or chain link fences.
You should plan on spending some extra money on digging and setting up concrete post holes if this is necessary for installing the aluminum fence.
However, you might be able to save some money if you plan the layout of the fence before ordering it. This is because all the potential obstacles like utility lines are identified in advance and the layout can be planned to avoid them. So, you will not have to do all the work involving digging and setting concrete.
The costs will get higher on steeply graded or sloped lots, and if there are any obstacles like rocks, trees, boulders, or stumps, which must be removed.
When installing an aluminum fence, many homeowners choose to add self-closing gates and this can be done by buying specialty hinges and gate components.
If you install the aluminum fence due to security reasons, you should know that this material is not as strong as steel or iron.
DIY considerations
The installation of aluminum fencing is a very complex job and should be done by a professional, and not by yourself, especially if the fence is located on a slope or a terrain with obstacles.
Also, it is not recommended to paint the fence, but to hire a professional team if this job is necessary in the future.
Why choose an aluminum fence for your house?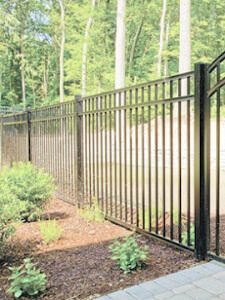 If you are at the point where you have to choose a type of fence for your home, here are some things you should keep in mind.
Aluminum fences do not require meticulous care
The way to maintain the fence is of course something worth taking into account when choosing the fence, but it is important to remember that, as far as the aluminum fence is concerned, it does not require complex maintenance and no special solutions are needed for it to stay in top shape.
The aluminum fence offers a formidable resistance over time
Both the fence and the gate represent long-term investments, so from this point of view, it is important to choose a quality material. One of the basic qualities of aluminum emerges from the fact that it is a material that resists very well over time to adverse environmental conditions, such as moisture, sunlight, dust, or pests, conditions that can, of course, destroy other types of fences easily. The aluminum fence, however, can successfully cope with these conditions, being perhaps one of the most durable types of fences on the market.
The aluminum fence brings a special aesthetic contribution to the house
On the list of basic advantages of the aluminum fence is the fact that it can bring a special aesthetic contribution to the house. Aluminum is not just any metal, but it can be finished so that the final result is a truly special fence, which constantly attracts the curious eyes of passers-by. Aluminum fences can have a variety of shapes and can wear many colors, so they represent a very important part of the identity of your home.
https://www.thepricer.org/wp-content/uploads/2022/08/aluminum-fence-install-cost.jpg
380
610
Alec Pow
https://www.thepricer.org/wp-content/uploads/2023/04/thepricerlogobig.png
Alec Pow
2022-08-18 06:02:49
2022-08-18 06:02:58
Cost To Install Aluminum Fence