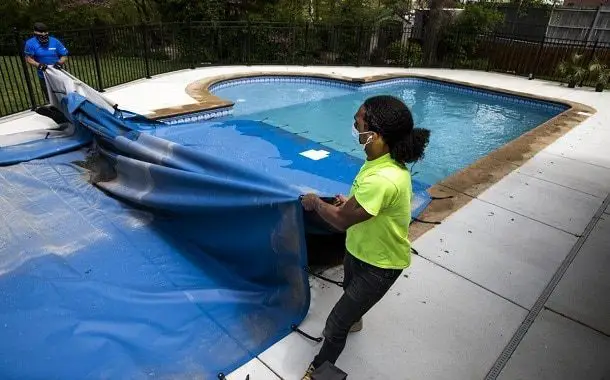 Summary: Pool Opening Service Cost
The majority of swimming pool opening services cost around $200 overall to open your swimming pool in the summer season, nevertheless, you can pay anywhere from $150 to $350 for the job. Per-hour rates vary anywhere between $75 and $100 per hour. A really filthy pool might cost more for the added cleaning and chemical expenditures.
You might also like our articles about the cost of a swimming pool, of an above-the-ground pool, and to pebble tec a pool.
Unless you reside in the Sun Belt, you most likely closed your swimming pool for the season at some point throughout the fall. As soon as warmer temperature levels will show up and summertime fun is just around the corner, it's time to get the swimming pool prepared for swimming. Keep reading to find out how to open a swimming pool for the summertime and just how much the service will cost you.
Opening a Pool: What should be included?
Whether you work with a professional to open your swimming pool or want to do the work yourself, here's what's needed in order to get a dirty swimming pool back to a state of crystal-blue perfection:
What should be included in the swimming pool opening services?
Tidy up the location around the swimming pool to prevent any debris from blowing into your future clean swimming pool.
If you have a solid swimming pool cover, get rid of standing water from it by utilizing a cover pump. Mesh covers do not require this step. Both strong and mesh covers, nevertheless, will have the debris removed utilizing a brush or leaf net.
Get rid of the swimming pool cover, clean, dry it, check it for damage, and spot any rips or tears. Put the cover in its storage bag and stow it in a clean, dry place off of the floor.
Remove winterization plugs and skimmer guards from the swimming pool and put plugs that were eliminated for the winter season back into the devices (filter, pump, strainer, heating unit, and so on).
Add water to the swimming pool, returning the water level to its normal operating level.
Clean the filter if you didn't do so when the swimming pool was closed for the winter season.
Prime the pump and open the return side valves. You can now start the filter system. Once it's running, look for any leakages.
Brush, skim, and vacuum the swimming pool.
Check the water chemistry when the swimming pool water is clean of noticeable debris. This can be done with a cheap test package, or you can take a sample to a swimming pool shop for analysis. The latter approach is advised to guarantee a correct chemical balance.
Stabilize the water chemistry by adding the necessary chemicals. Let the water circulate for 8-12 hours and test it again, then add more chemicals if needed.
Check handrails, ladders, and the diving board for damage before installing them.
Take pleasure in another season of swimming pool fun!
Advantages of Working With a Pro
Working with an expert swimming pool service technician to open your swimming pool is the very best way to prevent errors and make sure that everything is done correctly, specifically if you have never opened a swimming pool ever before. Even if you do feel you have the experience and understanding to get the job done, an expert takes the problem off your shoulders. Not only will they have the ability to carry out every step noted above without issues, but they'll also have the ability to do it far more rapidly than you could.
Typical Swimming Pool Opening Costs By Area:
Boston, MA – $266
Miami, FL – $198
Los Angeles, CA – $208
New York City City – $263
Phoenix, AZ – $237
Las Vegas, NV – $191
Houston, TX – $254
Pool Opening Average Expenses
Working with an expert pool service technician to open your swimming pool for the summer season can cost $200 – $300. On the other hand, dirty (green) swimming pools may cost $300 – $400 to open.
Taking the Do It Yourself road, you'll still need to spend on a test kit ($20 – $50) and swimming pool chemicals. A spring start-up set with all the chemicals required for your swimming pool may cost $25 – $75 at a pool shop, or you can acquire the chemicals individually (and wholesale, if you wish to save some money). The approximate annual expense for swimming pool chemicals is $350 to $500 depending upon the swimming pool size and items utilized.
https://www.thepricer.org/wp-content/uploads/2020/12/cost-to-open-a-pool.jpg
380
610
Alec Pow
https://www.thepricer.org/wp-content/uploads/2023/04/thepricerlogobig.png
Alec Pow
2020-12-30 12:52:26
2022-12-23 18:17:19
Cost to Open a Pool