Cost to Open a Popeyes Franchise
Last Updated on November 11, 2022 | Written by CPA Alec Pow
First Published on October 27, 2021 | Content Reviewed by

CFA Alexander Popivker
One of the most popular fast-food restaurants in America, Popeye's is seeing its sales increase with a rate of 1.1% in the last five years. The new chicken sandwich has been a hit and it makes more than $410,000 per year on average. This growth rate puts them at about 1 out 100 within their industry.
For those with the know-how to manage fast-service restaurants, opening a Popeyes franchise will be an attractive investment.
How Much Does It Cost to Open a Popeyes Franchise?
The average cost to open a Popeyes franchise is around $2.5 million. The cost of equipment, furniture, real estate, training, location construction, and insurance are all included in this estimation. In the table below are presented the average cost for each of these.
| Type of Expense | Average Cost |
| --- | --- |
| Franchise Fee | $650,000 |
| Franchise Fee | $55,000 |
| Legal Fees | $3,500 |
| Construction | $675,000 |
| Training | $22,900 |
| Soft Costs | $141,500 |
| Opening Supplies | $18,750 |
| Equipment, Signage & Technology | $295,000 |
| Insurance | $15,000 |
| Extra Working Capital | $28,300 |
| Business License | $550 |
| Site Preparation | $240,000 |
| Total: | $2,100,000 |
When it comes to "soft costs", you can expect a lot of service expenses. All in all, these are ad-hoc expenses that will be incurred for accounting, architectural, legal, and administrative services right when your contract is signed and until the opening date. These costs are variable and depend on the place where you are living, who you hire for these services and the size of the restaurant. However, the average costs are anywhere between $8,500 and $270,000.
In case you choose to lease the ground for building the restaurant, you should expect to pay around $5,500 per month for rent or $66,000 per year. On the other hand, buying the land would save you money in the long run. The cost of the land necessary to open a Popeyes restaurant depends on the area. For instance, in a commercial area, with high traffic, the costs are anywhere between $550,000 and more than $2,000,000.
You will have to prepare the site before starting to build the restaurant. These preparations will cost almost $210,000, depending on the land size. All the basic utilities such as electricity, water, or sewage are included in this cost.
You might also like our articles about the cost of the Dutch Bros Coffee franchise, the Walmart franchise, or the 85 Degrees Bakery franchise.
It must be mentioned that the franchise fee is a one-time payment and is not refundable. It is charged per restaurant, not for the franchise.
Also, in some situations, this fee can be decreased. For instance, it can be only $28,000 for the people that meet the requirements of Popeye's Veterans or Womens and Minorities Development Incentive Program.
Popeyes Franchise details
Most popeye's restaurants make around $350,000 to more than $410,000 in profit each year and have an average annual return on investment (ROI) of 18%. This is a pretty healthy number considering most businesses only see 10% or less.
Popeyes Franchise does not have a preference on buying or leasing the land needed to build the restaurant. In its Franchise Disclosure Document, it is made clear that the price to buy the land is variable depending on the market conditions. Anyway, it is mentioned that you do not have to pay the rent more than two months beforehand.
You have to follow all of the rules set by Popeyes for your building. You will need a design that they approve.
If you are thinking about buying a Popeye's franchise, be sure to consider everything inside and outside the restaurant. You will have to buy all of their trademark items, such as equipment, furniture, or technology.
What is required in order to open a Popeyes Franchise?
Before deciding whether or not to open a Popeyes Franchise you must make sure that you meet the following conditions:
you must have experience in the food and beverage industry;
you should have the desire to grow a brand like Popeyes;
the total net worth must be at least $1,000,000;
the liquid net worth must be at least $500,000.
Important things to consider
In order to open a Popeyes restaurant, you will need either a ground lease or to own a piece of land.
The size of a Popeyes restaurant is anywhere between 1,600 and 3,500 square feet, so your land should be at least 28,000 to 38,000 square feet. This surface is enough for building the restaurant and the parking lot that must have 25 to 30 parking spaces.
In case you choose to lease the ground you have to sign the contract for 50 to 99 years. In this situation, you own only the building, but not the land. The ground lease is an attractive option for the business owner because it allows him to build on the land at a lower cost than if they were to purchase it.
It is recommended to have the next types of insurance:
general liability;
property insurance;
employer's liability;
workers' compensation;
auto liability in case you use any vehicle.
You will have to complete a training program at the Certified Training Restaurants before opening your franchise.
If you decide to open a Popeyes franchise you can apply to open one by accessing their official website page.
You will have to hire 25 to 60 people, depending on the size of the restaurant. Take into consideration that you will need at least 8 employees per shift.
What are the extra costs?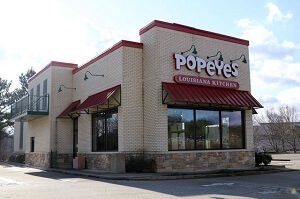 When you sign on to be an owner of Popeyes Franchises, it is best not just take their word on things. Hiring a lawyer who specializes in franchises before signing your agreement will help you make sure there aren't any hidden tricks or traps that could come up later down the line. Be prepared to pay around $550 for a lawyer only to review the franchise documents before signing them. In case you need the lawyer to negotiate the contract terms to try to lower the costs in the long term, this will result in more billable hours which means an increased cost – sometimes the total cost can be almost $3,000.
Once you open your restaurant you will have to budget for the monthly expenses for supplies that include the uniforms, paper bags, plastic silverware, training materials. These costs are anywhere between $12,000 and $24,000.
Often you will need some extra cash for the first months of operations. It is recommended to have a "safety net" that is worth the funds of expenses for up to three months, which is around $33,000.
The initial cost will not include the royalties. As a franchise owner, you will have to pay 5% of gross sales or 2% if you own a franchise that is at universities or on U.S. military bases.
Also, you will have to pay 5% of the gross sales for advertising.
How can I save money?
Negotiation is the key to saving money. Make sure you try to negotiate with Popeyes because that big-name may be tough to argue with, but it never hurts asking about lowering the costs before signing the contract.
https://www.thepricer.org/wp-content/uploads/2021/10/popeyes-franchise-cost.jpg
380
610
Alec Pow
https://www.thepricer.org/wp-content/uploads/2023/04/thepricerlogobig.png
Alec Pow
2021-10-27 08:18:22
2022-11-11 07:50:08
Cost to Open a Popeyes Franchise