Cost to Paint a Bumper Cover
Last Updated on September 14, 2023 | Written by CPA Alec Pow
First Published on September 12, 2022 | Content Reviewed by

CFA Alexander Popivker
The bumper cover is the element of the vehicle most vulnerable to damage in the form of abrasions as a result of collisions in the parking lot. After removing the abrasions and finishing the damaged areas, it is necessary to paint the protective part to return it to its original state. In this article, we will talk about the costs involved with painting a bumper cover.
How Much Does it Cost to Paint a Bumper Cover?
The cost to paint a bumper cover will be affected by several factors such as the make and model of the car, the square footage of the paint job itself, how much damage has to be repaired, and whether you want to paint both bumpers or only one.
Be prepared to spend around $200 for a basic paint job that does not color match your car's current paint, while for a quality paint job, where the color is matched and the bumper looks brand-new, you will have to spend anywhere between $480 and $550 per bumper cover.
Another cost factor to consider is the size of the bumper itself. In case you are looking for a new bumper, you can buy a bumper to be painted to match the current color of the car or you can buy a primed bumper and paint it yourself.
In the table below you will find the average costs of a bumper for some of the most popular makes and models of vehicles.
Make and Model
Cost
Toyota Prius

$120
$320 (painted to match)

Lincoln Town Car

$175
$350 (Painted to match)

Ford Fusion

$165
$330 (painted to match)

Jeep wrangler
Honda Odyssey

$155
$320 (painted to match)

Toyota Camry

$120
$300 (painted to match)

Ford Mustang

$175 to $1,250 for black primed

Nissan Sentra

$175
$320 (painted to match)

Dodge ram

$85 black textured
$155 unfinished
$265 (painted to match)
$375 chrome

Chrysler town and country

$195
$330 (painted to match)

Chevy Cruze

$120
$275 (painted to Match)

Chevrolet Malibu

$125
$265 (painted to match)

Honda Accord

$110
$320 (painted to match)

 Honda Civic

$110
$320 (painted to match)
How much does it cost to paint a truck bumper?
When talking about truck bumper covers these can be chrome-plated or standard plastic. Expect to spend more for a chrome-plated model because this is made of durable metal and can resist scratches and dents more than plastic bumpers.
You might also like our articles on the cost to paint a car, to paint a car hood, or to rent a spray paint booth.
You can use chrome finish spray for covering the imperfections that may appear in a truck bumper. It can last for years if it is applied correctly.
Expect to spend around $1,000 if you want to replate the whole bumper. On the other hand, the cost of a new chrome-plated bumper will be anywhere between $780 and $1,550, so it would be a good idea to just replace the bumper.
In case your truck's bumper is made of plastic, you can just repair and repaint it. Expect to pay around $780 for repainting a plastic bumper.
As the truck bumper tends to be larger than the car bumper, you should be prepared to pay a little bit more than the average for bumper painting projects.
Bumper cover overview
It is an articulated or built-in part of the car body, which is always located at the front and rear of the vehicle. Most often this is the most extreme point of the car, both at the front and at the back.
Depending on the design idea of the car manufacturer, the bumper of the car can be integrated into the body, visually forming a single assembly with the car. In some cases, this element can be a beautiful accessory that gives the car originality.
In fact, the decorative properties of this element play a secondary role. First and foremost, this is a piece designed for pedestrian safety. In addition, rigid articulated structures prevent damage to important parts located in the front of the engine compartment, as well as to the supporting parts of the body. It is much cheaper to replace this element than to repair a car damaged in a minor accident.
The modern bumper is a durable element that acts as a shock absorber in a collision.
Can I paint a bumper cover?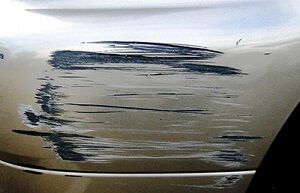 Yes, you can paint the bumper cover yourself or you can hire a professional to do it for you. Depending on the number of coats needed and the time required for drying, a professional can do the job within three to five days.
Hiring a professional comes with some benefits. For example, they can mix paint colors in their shops so you can be sure that the new color matches the current color of your car.
Also, they make sure that the paint is applied correctly and that there are no air pockets or runs while painting.
Of course, you can paint the bumper yourself in the same amount of time, but you need a certain level of skills. You should have a creative side and pay attention to detail.
Though, if your objective is only to save money and you don't paint the bumpers carefully, you risk getting an imperfect result and need to redo the job.
The time needed for this project consists of the time needed to fix the current damages, the time required to prepare the bumper for paint, and the time needed for drying.
You will have to wait at least 24 hours before applying the final polish after you apply the final coat of clear coat.
What do I need for painting a bumper cover?
You will need the right materials if you want to paint a bumper cover at home. These will include the paint, clear coat, sandpaper, and cleaning materials.
Also, you will need a spray paint gun in case you don't have one already. When painting any plastic car part, it is recommended to spray at 30psi.
How much paint do I need to paint a bumper cover?
If you want to repaint a bumper cover, you will need a minimum of one pint of paint. Also, you will need a pint of clear coat. Make sure you are not using any type of paint from the sore, but auto paint.
If you want to match the current color of your car, try to find the color code associated with it. Look for it on the tag inside the driver's door.
It is important to mention that older car models will be harder to color match even with this code. This is because over time the paint fades due to sun exposure and other factors.
It would be a good idea to get the color-matched by a professional if your vehicle is noticeably sun-damaged or is more than five years old.
How to paint the bumper cover by myself?
Painting or repainting a bumper is not as simple as applying a single new coat of paint. There are at least 10 different steps in the painting process from scratch, and you'll need to repeat a few of them before you get down to business.
These steps are as follows:
remove the bumper from the car;
remove any stickers stuck to the bar;
wash the bumper with a degreaser and soap;
use wet, fine sandpaper in areas where the bar has problems from stone impacts, for example;
wipe the bumper from top to bottom with a microfiber cloth;
apply the base coat;
imperfections must be corrected with fine sandpaper, wet the area and rub slowly until you get rid of them, and then wipe them with a microfiber cloth;
repaint and repeat – you need at least three layers!
apply two layers of paint;
allow drying for at least six hours before reattaching the bumper.
It would be ideal to do the whole procedure in an environment without dust or where any deposits can appear. Even the smallest stone will stick and remain in the paint layer.
What should you remember?
It is important to know that there are several types of paint and each of them requires professional knowledge about its properties and how to apply it. A professional body shop and paint shop also has professional painting equipment, which guarantees a high quality of services, without unwanted effects in the form of shadows, inclusions, oil from the compressed air system, or an incorrect selection of colors.
https://www.thepricer.org/wp-content/uploads/2022/09/Paint-Bumper-Cover-cost.jpg
380
610
Alec Pow
https://www.thepricer.org/wp-content/uploads/2023/04/thepricerlogobig.png
Alec Pow
2022-09-12 06:02:34
2023-09-14 08:21:21
Cost to Paint a Bumper Cover