Cost to Rent a Flatbed Tow Truck
There are some situations when you may need to rent a flatbed tow truck. In most cases, people need it just to move a heavy vehicle from one point to another when purchasing a new one or, in the unfortunate situation of an accident. This type of vehicle can tow trucks and vehicles overturned in a vertical position, vehicles coming out of the road, and help unload the load from one truck to another.
There are companies that have vehicles that offer multiple possibilities for lifting and towing trucks, quickly decongest the place of intervention and meet all the conditions imposed by labor protection when recovering and towing trucks, offering maximum safety.
How Much Does it Cost to Rent a Flatbed Tow Truck?
Plan on spending around $110 per day if you need to rent a wrecker. With insurance and mileage commonly running at 55 cents per mile, you should expect to spend around $220 per day or even more on the rental depending on the size of the rig you wish to get.
The average cost of a basic tow within five miles or less will be anywhere between $40 and $130. For longer distances, of 40 miles, for example, the cost will be anywhere between $130 and $290. Plan on spending much more, anywhere between $180 and $620, in case you need to tow something for 100 miles. However, if you need a tow for hundreds of miles, then you should budget more than $1,000.
You might also like our articles about the cost of a tow dolly, a scamp trailer, or car towing services.
Towing to a residence or a repair shop
Be prepared to pay the hook-up cost or the base rate, in case you are broken down and need a tow back home or to a garage. This rate would be anywhere between $40 and $120 or if you're more of a per-mile guy, anywhere between $3 and $5.5 per mile. There are companies that include the initial five to seven miles into their base rate. Expect to see much higher rates in the communities with low competition and only a few companies specialized in this type of service.
The cost of towing trucks and heavy-duty equipment
There are certain wrecker companies that add an extra 20% to 25% for towing a truck or a heavy-duty vehicle. For instance, the flat rate for locally towing a regular vehicle would be around $65, while the hook-up fee of a heavy-duty vehicle would be anywhere between $155 and $180. The hookup fee for long-distance tows would be around $80, but it depends on the company. The cost of a regular tow is around $4 per mile amd the cost for heavy-duty tows would be anywhere between $5.5 and $8 per mile.
What are the extra costs?
The winching costs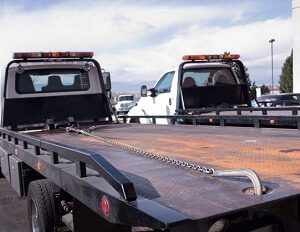 When talking about towing a car, the job should be very easy, straightforward, but it may become pretty difficult if the vehicle gets stuck in the mud. Obviously, in this situation, the costs will increase. Make sure the flatbed tow truck you are going to rent is equipped with an adequate winch in order to complete this job properly. The cost of the difficult tows would be anywhere between $55 and $220 per hour, while the recoveries that need a winch may result in an extra cost of $95 to $110 per hour.
After hours charges
In some cases, such as emergency situations or the holidays you may need to rent a tow truck after hours. Be prepared to pay an extra cost if you are renting the truck on holidays, on weekends, or during the nights.
What if I need to just lift some heavy equipment?
There are situations when it is better to just hire a flatbed tow truck and a driver, depending on your necessities. Many of these drivers have a lot of experience in lifting a vertical mill or other heavy and awkward pieces of equipment. When asking for a price offer for the truck rental, also ask for the rate charged by the drivers and see how it would be more convenient and economical for you.
Important things to consider

It is recommended to describe in detail your needs to the tow truck company so they can help you with the ideal truck for your project. Give them your exact location, the type of vehicle you have to tow, and the reason why you are towing it.
Make sure you remove all personal items from the vehicle before hiring a driver to tow it or hooking it up yourself. Also, make sure everyone stays safe, focused, and calm, to prevent any issues.
https://www.thepricer.org/wp-content/uploads/2022/02/flatbed-towing-rental-cost.png
380
610
Alec Pow
https://www.thepricer.org/wp-content/uploads/2023/04/thepricerlogobig.png
Alec Pow
2022-02-24 06:49:38
2022-02-22 23:54:33
Cost to Rent a Flatbed Tow Truck