Cost to Vacuum Car at a Gas Station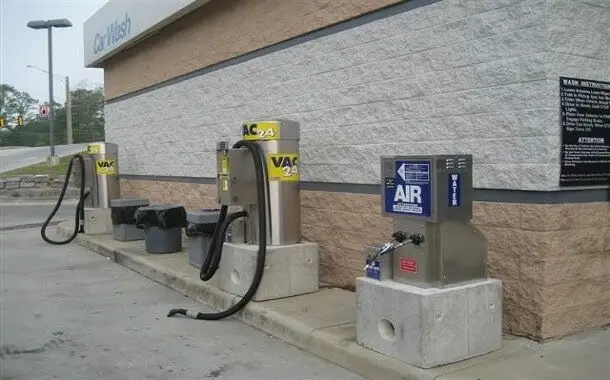 Weather conditions and other factors can leave visible marks on your car. Car washes at gas stations are at your disposal to restore the charm of your car. A bright exterior along with a clean and pleasant interior will make your driving experience considerably better, regardless of the distance traveled.
Vacuum cleaners at gas stations give drivers the possibility to not only clean their car's interior but also extend its life. Vacuuming your vehicle's carpet will ensure that you have an interior free of dirt, dust, and debris while keeping carpets safe from wear and tear by removing harmful allergens like pollen or pet dander.
How much does it cost to vacuum your car at the gas station?
Vacuuming your car at a gas station would cost anywhere between $0.75 and $1.25 per three to five minutes, depending on where you live. The amount of time it takes as well as the gas station brand will determine how much this service is worth in your area
Important things to consider

Some gas stations now have high-powered vacuum machines that require a coin deposit. Once you insert your coins into the machine, it will allow for five minutes of cleaning time and then stop unless more money is inserted again. Every station has its own countdown timer attached which tells you how many seconds or minutes remain before the service expires.
A typical car vacuum consists of a long hose attached to the gas station's vacuums. These can reach even hard-to-reach spots on your vehicle and take away large debris that many home units would struggle with, making them perfect for larger vehicles like SUVs or trucks.
Get rid of all the garbage in the car by using the commercial-grade vacuum cleaner. Before you start vacuuming the interior and cleaning the windows and windshield, you need to tidy up the interior. Collect all the garbage, food scraps, or objects that family members threw chaotically inside the car. Make sure you arm yourself with a stack of folded paper towels to wipe away grease and remove crumbs from the seats, or steering wheel. You have to do this, especially if you have small children who eat in the car all the time and leave the inside dirty.
Use a brush tip to avoid any markings. The bristles of this kind of brush will not leave any residue, so it's perfect for sensitive surfaces like upholstery and leather-trimmed seats.
These gas stations are available non-stop most of the time, so you will not have to schedule the vacuuming of your car according to an available schedule.
Keep in mind that self-service vacuum cleaners are mostly for dry vacuuming, so you should not vacuum liquids (unless clearly specified on the equipment instructions) or products that can produce sparks or flame. The proper functioning of such equipment also depends on the way you use it. Improper usage of the device can lead to clogging of the flexible hose. For example, do not vacuum textile or metal objects.
You might also like our articles about the cost of spray-in bedliner, car leather seats repair, or steam cleaning of the engine.
The interior of the car must be cleaned periodically as it can be an ideal place for the development and multiplication of bacteria.
What are the extra costs?
Besides the vacuum cleaner, you need some extra products for a bright car interior. So, we have compiled a list of things and tools useful for cleaning:
a bunch of cloths, including microfiber;
a rigid brush;
a medium hardness brush;
a soft sponge;
a stool cleaner (for leather or fabric);
stain detergent/soap/ dishwashing liquid/laundry detergent (for fabric);
soft dashboard napkins;
polishes;
cream (for leather interior).
How can I save money?
There are many car washes that offer free vacuums for their customers. If you know where to look, it is possible to find a place close by that won't be charging any fees as long as you fuel up your car. You can find one of these types of car wash through a simple online search.
If you're looking to save some money, a high-quality home car vacuum is going to be your best option. Amazon has tons of reviews for home-usage vacuum cleaners and they range in price from $25 to more than $50.
https://www.thepricer.org/wp-content/uploads/2021/09/car-wash-vacuum-cleaner.jpg
380
610
Alec Pow
https://www.thepricer.org/wp-content/uploads/2023/04/thepricerlogobig.png
Alec Pow
2021-09-21 08:11:11
2022-12-18 23:12:22
Cost to Vacuum Car at a Gas Station