Last Updated on May 20, 2021 | Written by CPA Alec Pow
First Published on November 18, 2014 | Content Reviewed by

CFA Alexander Popivker
If you really love your dog, then you will try to give him everything he needs. That means, among many other things, to offer him a comfortable place to sleep.
Your first impulse will probably be to let your dog sleep on a couch or even your bed, but that will most likely backfire, as neither one of you will sleep comfortably. That's why you should get your dog his own bed.
A ready-made dog bed won't be too expensive and it will bring a lot of joy to your pet. The final price will depend of course on several factors like the color, materials used, size, and shape.
If you opt for a standard rimless dog bed with pillows and cushions, you should spend around $30 – $100.
Different materials used to make a bed will greatly affect its final price because some of them can cost $150 or more. Among the most common are faux, microfiber, denim, and fleece.
How much will the final price of a dog bed be – in details:
Like for many other products available on the market, the quality will have a huge impact on the final cost. This means that a high-quality bed will have a big price, but not all low-quality ones will be cheap. Some of the beds will have a fairly big price only because of their design and current trends. The perfect bed should be a cheap one, in trends and of high quality and durability.
Here are just some of the dog bed brands you will find in store, each one with a different price: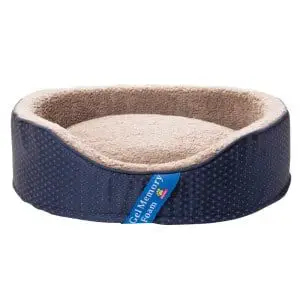 Top paw gel memory foam lounger
A bed made with comfortable foam padding, Top paw gel memory foam lounger is a simple bed for your dog, that's fairly cheap, with a total cost of anywhere from $30 to $50. 
You can think of it as a luxury sofa for your dog because it has an enhanced airflow system. Its removable and durable cover makes it a lot easier for you to wash it. It offers back support for a cozy, comfortable sleep.
Comforpedic memory foam pet Napper
With a price of $90 – $170, this is one of the most expensive dog beds available on the market. Comforpedic memory foam pet Napper offers superior comfort for your dog's sleep, with its high-tech design.
Your dog will have a relaxing sleep in this bed that uses NxG advanced memory foam for the best combination of firm and soft support.  Another quality of comfortpedic is that due to its build, it will maintain the ideal temperature, by dissipating the heat.
K & H lectro kennel heated pad
Another big name in the dog bed industry, K&H lectro kennel heated pad is suited for both outdoor and indoor use because it will thermostatically control its own temperature with a very clever system. Its price is somewhere between $45 and $130. 
Its fleece cover is easily washable and removable. The dog's body temperature will be maintained by a thermostat from inside the bed. The comfort required by your pet will be provided by its smooth sleek design.
Snoozer luxury cozy cave dog bed
This bed is perfect for a dog to sleep under the cover, because of its cozy cave-type shape. It is a nesting dog bed perfectly made to keep your pet warm. The cover is washable and removable. The Snoozer luxury cozy cave dog bed has a price of around $70 – $105.
Sta-put full fit furniture
This luxurious dog bed is made with stain-resistant fabric. The fabric design completely covers its cushions and arms. It is the ideal sofa and bed for any dog, with a price of around $70 – $85.
Carolina pet personalized kuddle bed
Get a Carolina pet personalized kuddle bed only if you want to have your dog in the most comfortable and luxurious environment. You can find it in professional stores at an average price of $70 – $350. 
Its great design makes it very easy for your dog to curl up inside of it. It's made with velvet microfiber bolsters, that provide your pet with all the comfort and warmth required.
Even though there are many types of beds with different prices, designs, colors, sizes, or shapes, they will usually be affordable even for someone working on an average salary. If you want your dog to have a relaxed sleep in a comfortable bed, then go for any of the above.
https://www.thepricer.org/wp-content/uploads/2014/11/dog-in-bed-w-human.jpg
380
615
Alec Pow
https://www.thepricer.org/wp-content/uploads/2023/04/thepricerlogobig.png
Alec Pow
2014-11-18 13:40:56
2021-05-20 12:31:13
Dog Bed Cost