Dresser Mirror Replacement Cost
No dresser is ever complete and ready to be used without the mirror. We tend to take these helpful tools as given and we tend to forget just how practical these additions are. From checking how the clothes fit us for a job interview to seeing how our style sticks out when going on a date, mirrors are indispensable in our everyday lives.
With time though, mirrors do fade in luster. Dulling or cracks can be seen as the mirror ages with time. However, whether you have normal cabinet mirrors or vintage pieces, we've got you covered on just how much does dresser mirror replacement cost.
Dresser Mirror Replacement Average Price
If you're trying to have your dresser mirror changed, you have 2 possibilities: You can either purchase a brand-new mirror from the start or try to resilver the old mirror instead.
New cabinet mirrors are sold in a lot of online retail stores. Dresser mirror replacement prices differ depending on the quality of the mirror and the furnishings, the presence of a dresser, and the manufacturer. The price will also be influenced by the measurements of the mirror.
These are a couple of the prices for brand-new cabinet mirrors:
Wayfair sells cabinet mirrors from as low as $50 to as high as $900 or even more.
Havertys sell cabinet mirrors at a rate varying from $150 to $600.
You can also purchase mirrors with accompanying cabinets. The following are the costs for a dresser with a mirror:
Gallery Furniture: Rates between $400 and $4,000.
Havertys: between $700 and $2,400.
Additionally, if the mirror you have is pricey or if it has emotional worth to you, you can resilver it. Costs to resilver a mirror depend upon the measurements of the mirror and the quality of the glass.
Historical Interiors resilvers mirrors at a rate between $58.50 and $312, depending upon its measurements.
Bear Glass charges $15 per square foot to resilver
Additions
If you were to purchase a brand-new mirror, the dresser mirror replacement expenses would include the replacement mirror in addition to the dresser (if you decided to get one too). Shipment expenses of the brand-new mirrors should also be included in the final cost.
On the other hand, if you went with the cheaper option and just resilvered the mirror, the expense for the treatment and repair work of the glass will be parts of the final cost. This covers the chemicals to be utilized, the treatment accessories, and the labor of treating the glass.
Other Costs to Have in Mind
There are other costs that might appear in addition to the price of the mirror resilvering.
Pickup and Shipment Expenses. Resilvering mirrors is a long procedure and can take as long as 4 to 6 weeks to be completed. This means that mirrors have to be taken or delivered to the center of the service provider. When the mirror has actually been fixed and treated, it will be delivered back to the owner. These expenses are billed independently from the resilvering job.
Other Repair work. Dull and faded silver might not be the only part of the mirror requiring repair work. Other chips and cracked areas will also need to be dealt with so that the mirror is back to optimum conditions. These repairs are outside the normal resilvering job.
Repackaging and Handling Expenses. Mishaps can appear along the way and damage or break your mirror. You can arrange with the company to add more protective measures to the mirror.
Purchasing Tips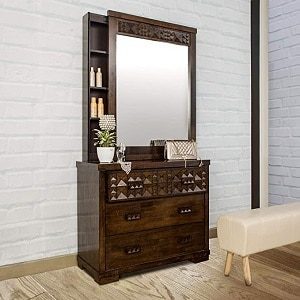 Whenever confronted with a replacement to a dresser mirror, consider just how much you want to spend. For low-cost mirrors that have little to no emotional worth, you might choose to purchase a brand-new mirror instead of going the extra mile to resilver it. Resilvering is a long and pricey procedure and must be used for pricey mirrors or those of emotional value.
Likewise, as cabinet mirrors might feature cabinet furniture, you might decide to purchase a mirror instead. The furniture is frequently more costly than the mirror itself. This simple trick can save you as much as a couple of hundred dollars.
Get at least 3 quotes from different providers. Online services such as Promatcher can link you to close-by mirror repair work and resilver servicers. You could also have your mirrors resilvered by Historical Interiors or Bear Glass.
Do It Yourself Mirror Resilvering
Additionally, you might also resilver your mirrors by yourself. Keep in mind, nevertheless, that expert services still provide much better quality. Take safety measures as the chemicals release fumes that can irritate or cause a lot of damage.
Also read our articles about the cost of an Alaskan king bed, quality mattress, and bath fitter.
Here is how to resilver mirrors in a DIY fashion:
As a safety measure, you will first have to ensure that there is enough circulation of air. This helps prevent chemical fumes from being inhaled. Having fans or blowers around can be of great help.
The first step will involve the removal of the old finishes. Next, make the surface area as clean as possible and get rid of any particles as this can affect the quality of the glass. Avoid making use of any cleaning solutions.
Apply silver nitrate and keep it there for 1 to 2 days. Seal the silver by covering it with copper paint. Coat this by adding a coat of gray paint.
You can buy mirror refurbishing packages with all the chemicals at Angel Gliding. The package varies from $49 to $1,385. Copper paint, on the other hand, is provided by eBay at a price between $4 and $21.
Elements Affecting the Dresser Mirror Cost
The expense for dresser mirror replacement is affected by all of the aspects from the list below:
The height and width of the mirror are the most important aspects that affect the cost. Mirrors with bigger areas are priced more than those with smaller sized ones.
Presence of Furniture. This will apply to brand-new dresser mirrors. As we already noted, the dresser can be as pricey as the mirror itself.
Different makers provide mirrors of different quality. Higher-end makers charge a lot more for their dresser mirrors and furniture that comes with them. Sort through the many brand names before you are ready to choose one.
The service provider. For resilvered mirrors, the expenses differ by the company. Some companies charge less while others charge considerably more. Always talk to at least 3 different service providers to understand the price range you're working with.
Mirror Quality. For brand-new mirrors, a mirror's reflectivity and flatness are determiners of how pricey it can be. In resilvering on the other hand, greater quality mirrors are dealt with more thoroughly, adding to managing expenses.
Antique mirrors to be resilvered are dealt with with a lot more attention. Likewise, older mirrors tend to have other damages that have to be fixed too. This results in a higher final price.
Costs naturally differ per state and country. Aside from this, the farther you are from a service provider's center, the more expensive the shipment will be. This is because of the transportation and shipment expenses (for resilvering mirrors).
Mirrors show how we look during a few of our important and defining life moments. You should always make sure that the mirror shows you as you are, so periodically taking care of it is a must.
https://www.thepricer.org/wp-content/uploads/2020/09/dresser-mirror-replacement-cost.jpg
380
610
Alec Pow
https://www.thepricer.org/wp-content/uploads/2023/04/thepricerlogobig.png
Alec Pow
2020-09-22 11:30:21
2020-09-22 11:30:21
Dresser Mirror Replacement Cost